If you are looking for things to do in Trentino then read on. I recently spent 10 days there exploring the mountains, cities, food and the wine (it's a tough job but hey somebody has to do it).


Trentino is the land of adventure, the landscape demands it of you. From snow-capped peaks to clear blue lakes, this is an area of Italy that I instantly fell in love with. Honestly, I was texting Karen back home saying let's move here! Throw in the distinct local cuisine and award-winning wine and there is no wonder that the Italians want to keep this slice of heaven to themselves.
If you are visiting Trentino and are looking at what to do check out what I got up to below.
Things to do in Trentino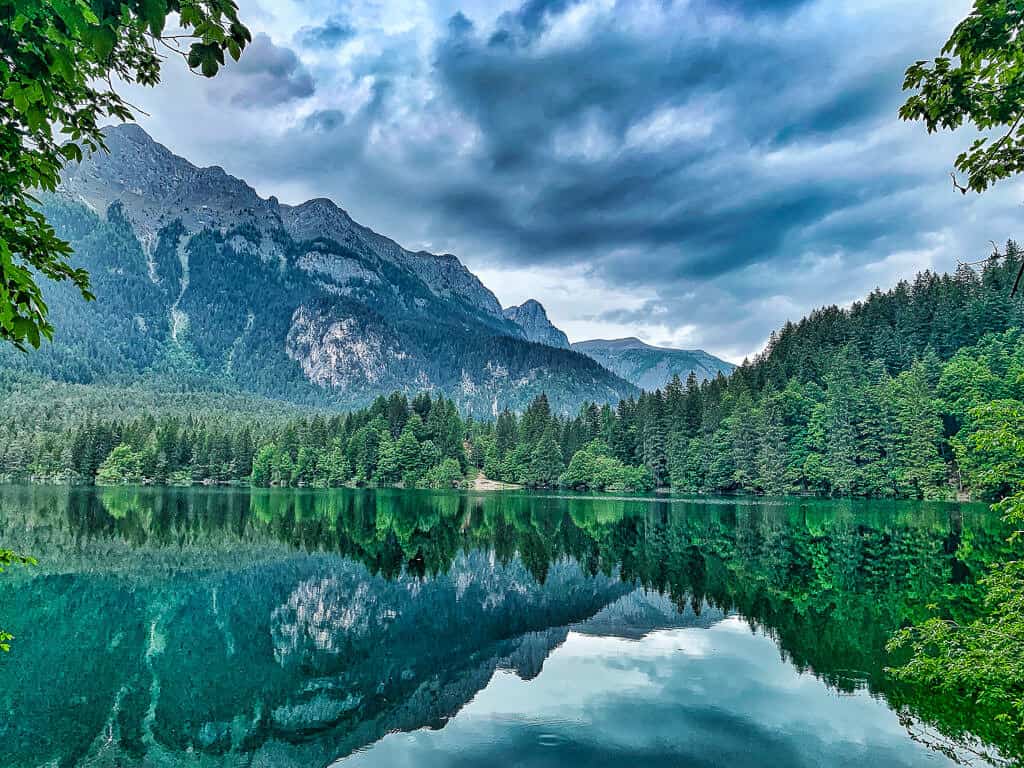 Visit Trento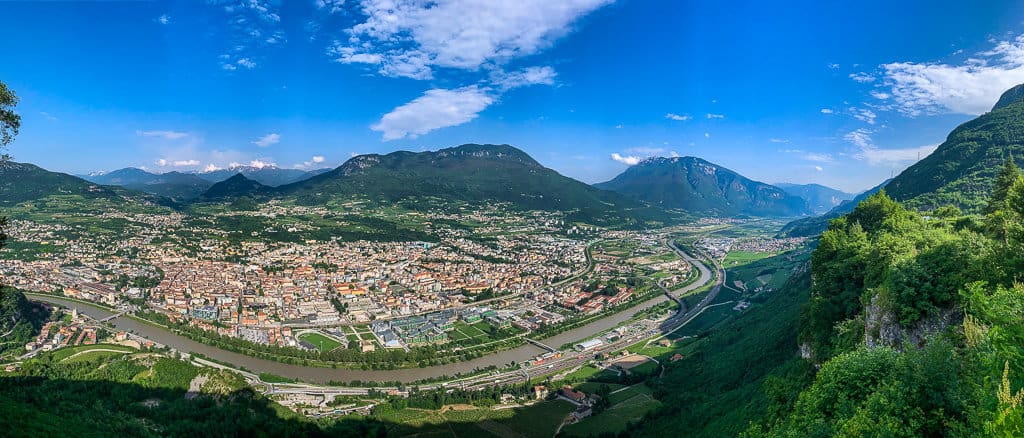 Trento is one beautiful city. This is where most visitors start and end their trips in Trentino and it is the perfect place to do so. Trento is the capital of Trentino and the third-largest city in the alps with a population of 120,000.
Even though it is the third-largest city in the alps it doesn't feel that way. It is an extremely walkable city with cobbled streets and piazzas in the old town and modernist buildings in the university area. Wherever you are in Trento you will have the mighty Dolomites looking down on you.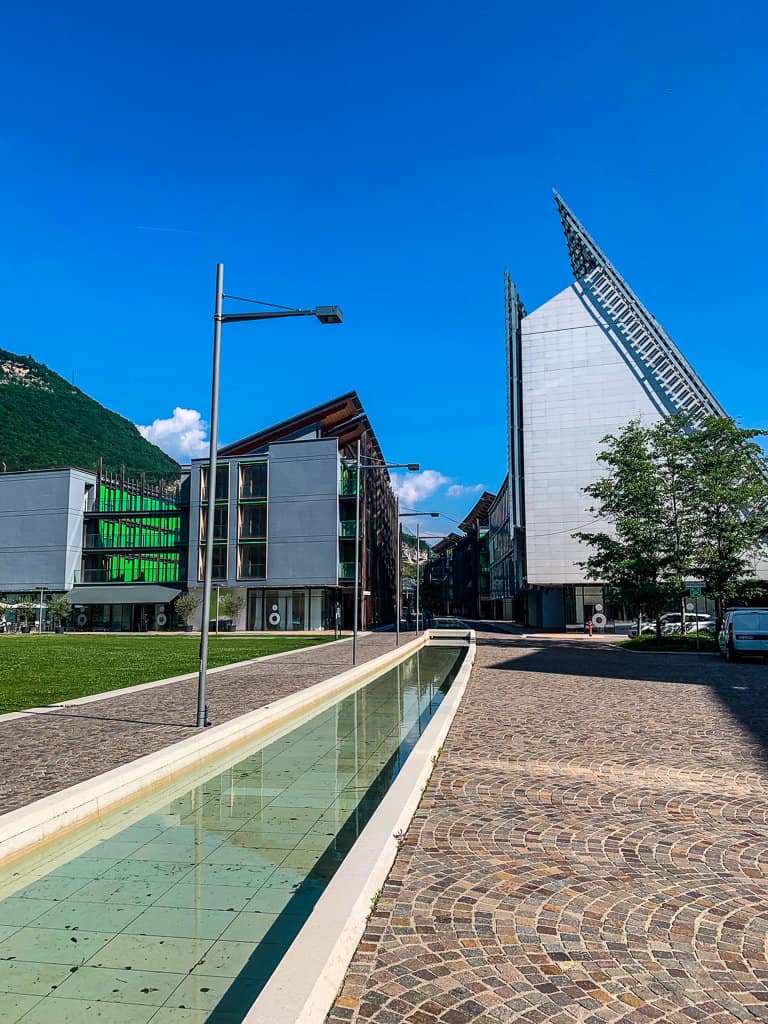 Highlights include Castello del Buonconsiglio a 13th-century castle and museum. Muse, a striking modernist building designed by the architect Renzo Piano (architect of The Shard and Centre Pompidou). The Duomo a Romanesque cathedral with fragments of medieval frescoes inside and the Museo Diocesano Tridentino a former bishop's residence dating from the 11th century. It houses one of Italy's most important ecclesiastical collections.
A real highlight for me was taking the cable car up from Trento to Sardagna. It is only a brief ride but the views from the viewing platform are spectacular. There is a small bar near the viewing platform where we sipped Aperol Spritz and put the world to rights. The surroundings are so spectacular that one drink turned into a few. Here are some other reasons why you should visit Trento.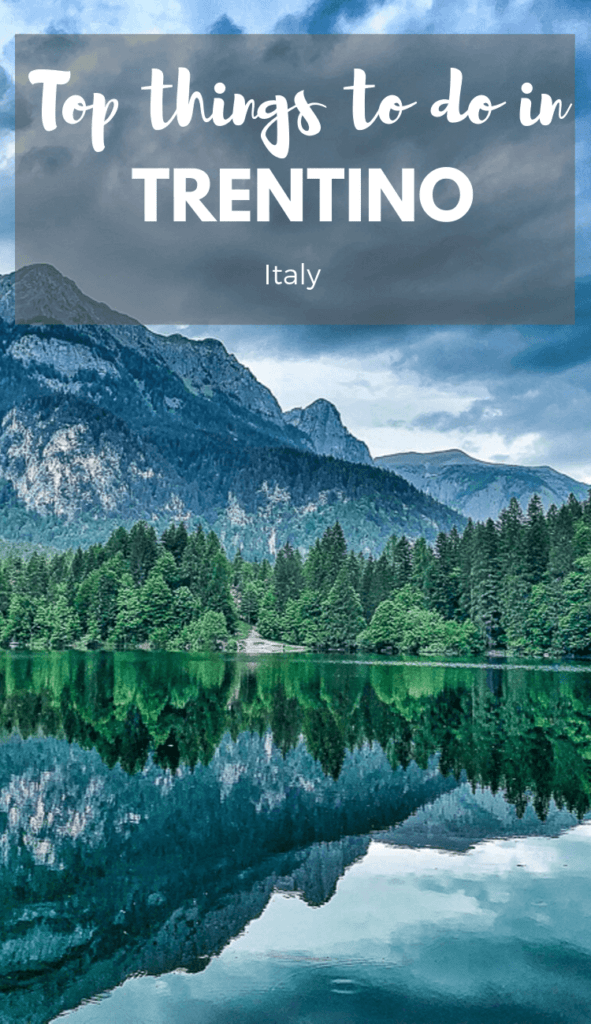 Visit Val di Non
The Val di Non valley is full of lakes and apples. This is where Italy blurs into Austria as you will see Apple Strudel next to Tiramisu. I spent a few days here trekking, kayaking and swimming, I did tell you that Trentino is the land of adventure. The scenery in the Val di Non is stunning, think soaring mountains and alpine forests. This is what I got up to:
Visit Lake Tovel in Adamello-Brenta Nature Park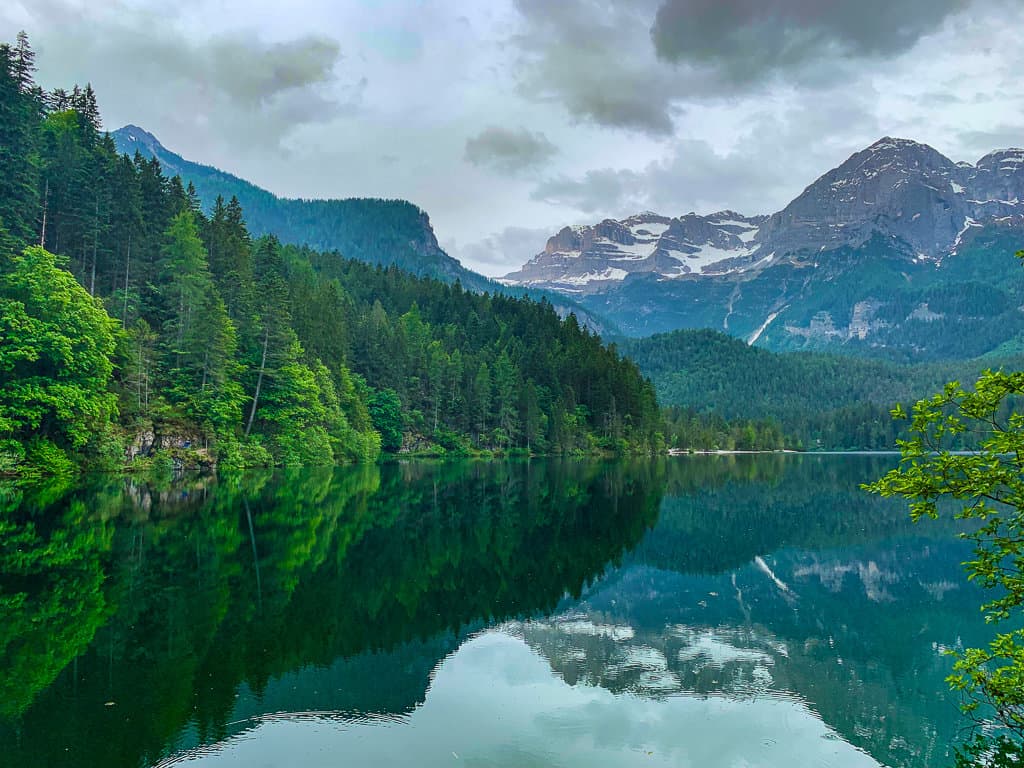 This was my first stop in Val di Non and what a way to begin my journey around the Trentino countryside. Lake Tovel in Adamello-Brenta Nature Park is a beautiful lake surrounded by forest and majestic mountains. It is 1km long and about 500 meters wide. It is an easy walk for all levels of fitness.
I loved Trento but this felt like I was seeing the real Trentino, lakes, forest and snow-capped peaks (even in June!). Lake Tovel was known as the red lake as in past summers large parts of the lake turned red because of a strong concentration of an alga called "glenodinium sanguineum". Nobody quite knew why this happened and it hasn't happened since 1964 so the truth is out there.
Swim in Lago di Tret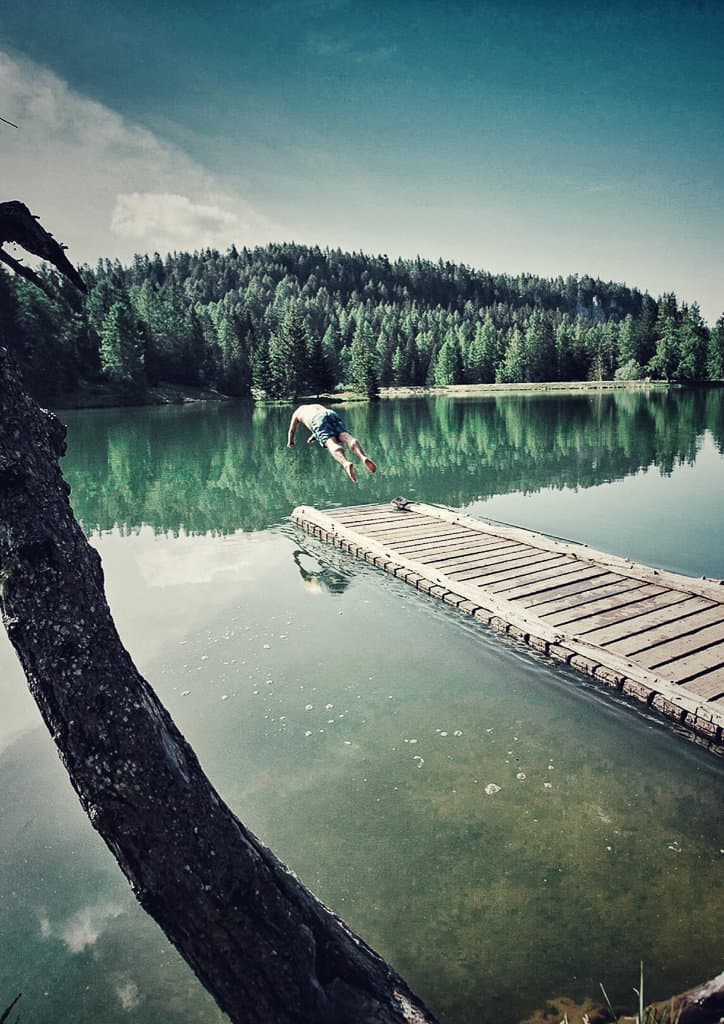 Photo by Philipp Ammon at Philipp Ammon Photography
It was 07:00 and I was running on a wooden jetty towards an alpine lake. What was I thinking when I volunteered to go swimming in a mountain lake? I was first to dive in too. It was cold but not too cold. Hey, I jumped into the Baltic Sea in January so a lake in Italy in June wasn't going to defeat me. The swim was so invigorating, imagine starting your day every morning with a swim in a secluded lake.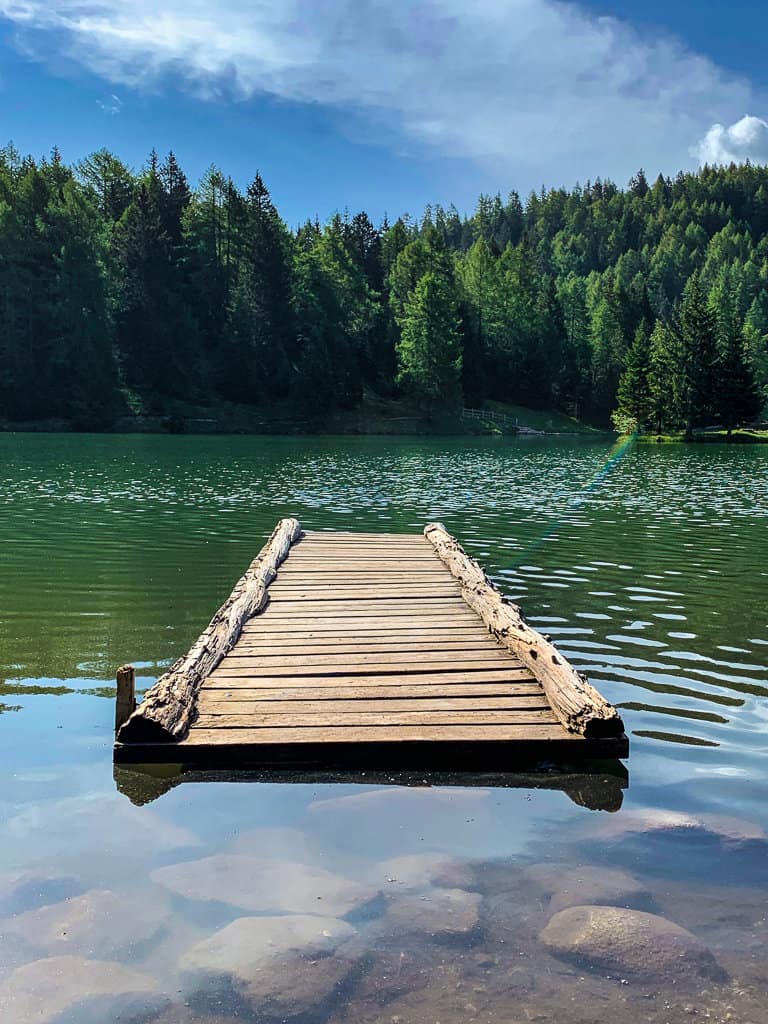 The lucky people of Trentino are spoilt for choice when it comes to lakes. The most famous lake of all in Trentino is Lake Garda which is on the borders of Trentino, Lombardy and Veneto. I didn't manage to get to Lake Garda on this trip which I'm happy about because it means I will have to return to Trentino! Lake Tret is actually an artificial lake (it looked real to me!) located near the hamlet of Tret. The trek to the lake takes about 1 hour from the Klammeben parking space, near the village of San Felice.
Kayak on Lake Santa Giustina

Kayaking on Lake Santa Giustina was an amazing experience and I highly recommend you do it when visiting Val di Non in Trentino. First, you kayak in the open water where the towering cliffs meet the lake and then you slowly kayak between the canyons which felt like we were in a Lara Croft movie.
There was a storm a few days before we kayaked so as we slowly edged our way through the small crevices we would meet tree trunks and branches in the water. The debris added to the adventure, as did the times where we had to use our hands to push us through because the canyon got so tight!
Visit Canyon Rio Sass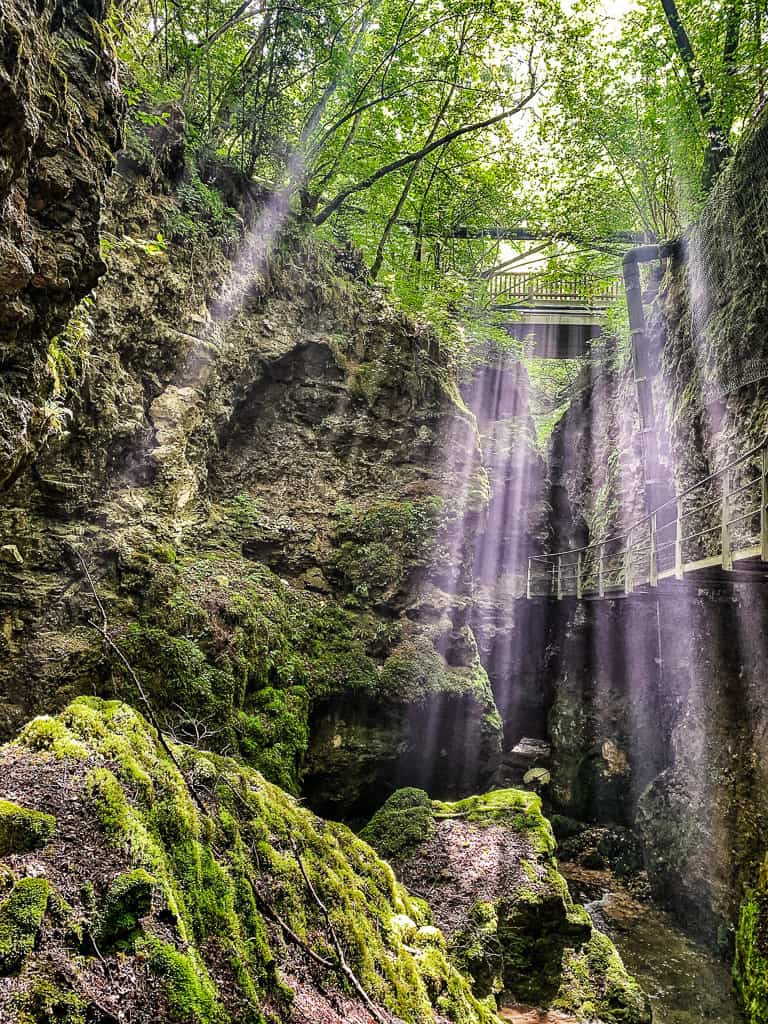 Canyon Rio Sass was an unexpected delight. I didn't know what to expect when I saw it on my Trentino itinerary, what I found was a hidden canyon right in the heart of Fondo town. The canyon literally bisects the town in half and yet, if you didn't have a guide you would never know it's there.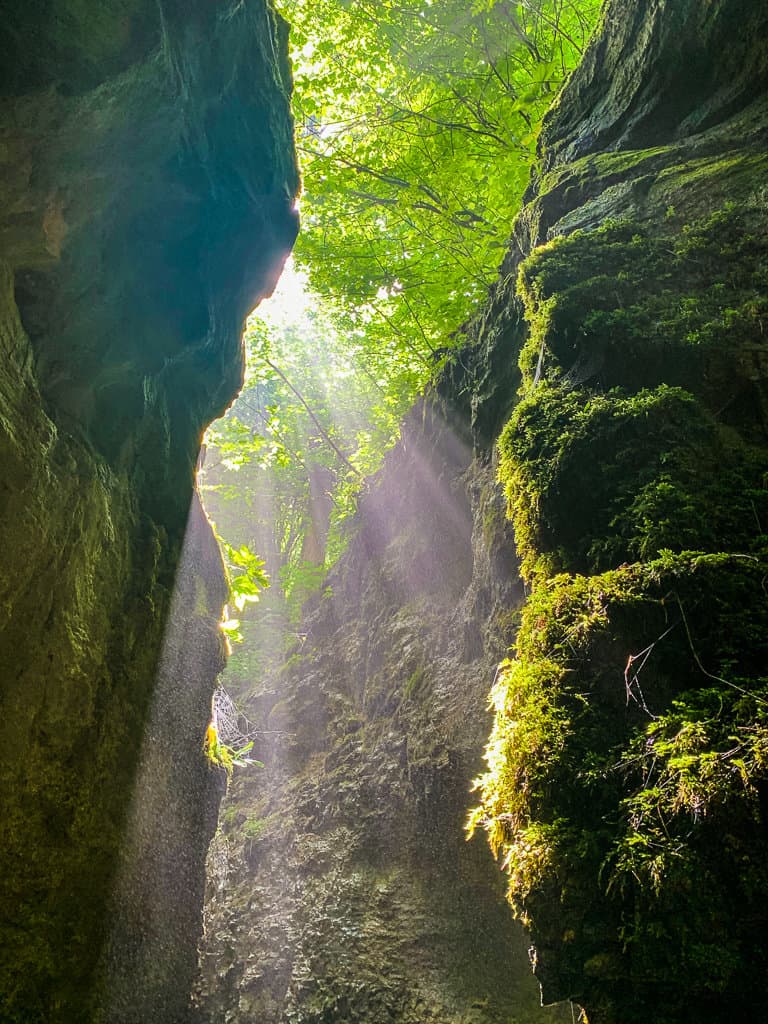 The walkway along the canyon is 1.2km long (or 1,200 steps that lead up and down). Along the walk, you will see fossils, stalagmites, stalactites and waterfalls. With the sound of the rushing water, it makes for a very peaceful walk. The further I descended towards the canyon floor I had to remind myself that there was a thriving town above me.
Visit Val di Sole
After our adrenaline-fueled days in Val di Non you would have thought our time in Val di Sole would have been a bit more sedate. No chance, in Val dI Sole we upped the ante with mountain biking and whitewater rafting. Val di Sole is a UNESCO World Heritage site and it is not hard to see why. The place is stunning with huge alpine peaks and spectacular countryside all around.
Whitewater Rafting down the Noce River

The Noce River was rated one of the world's top 10 rivers for river sports by National Geographic. Well if it is good enough for them it is good enough for me. We had a great early morning whitewater rafting down the Noce River. I often find that whitewater rafting takes a back seat compared to surfing and scuba diving but it is a great sport and open to any level of expertise.
To book a rafting experience please contact Extreme Waves
Mountain Biking the Malga Campo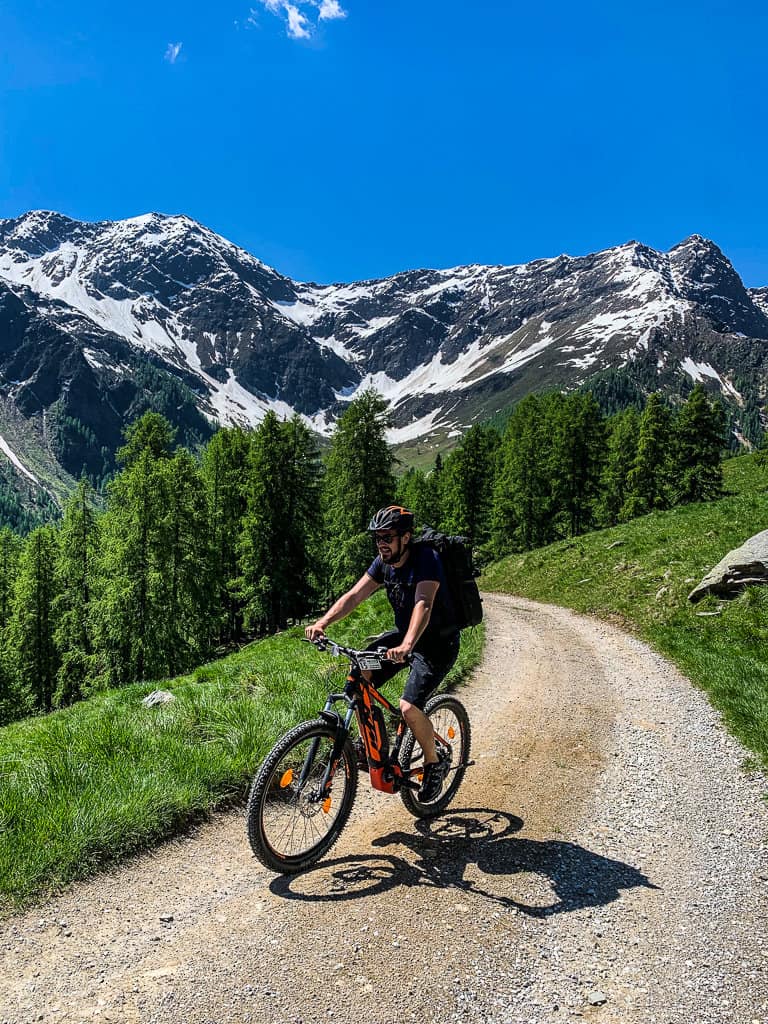 When I found out that we were going to Mountain Bike up, er, a mountain I thought to myself that there is no way that I am fit enough to do that. Then I discovered that we were riding e-mountain bikes and I breathed a sigh of relief.
Out of all the amazing adventure activities we got up to in Trentino this was my favourite. Even though we were riding e-bikes it was still a challenge but not one where you thought you couldn't make it. Needless to say the scenery as we cycled up the mountain was spectacular. We passed through forests, alpine meadows and near the summit some mountain passes.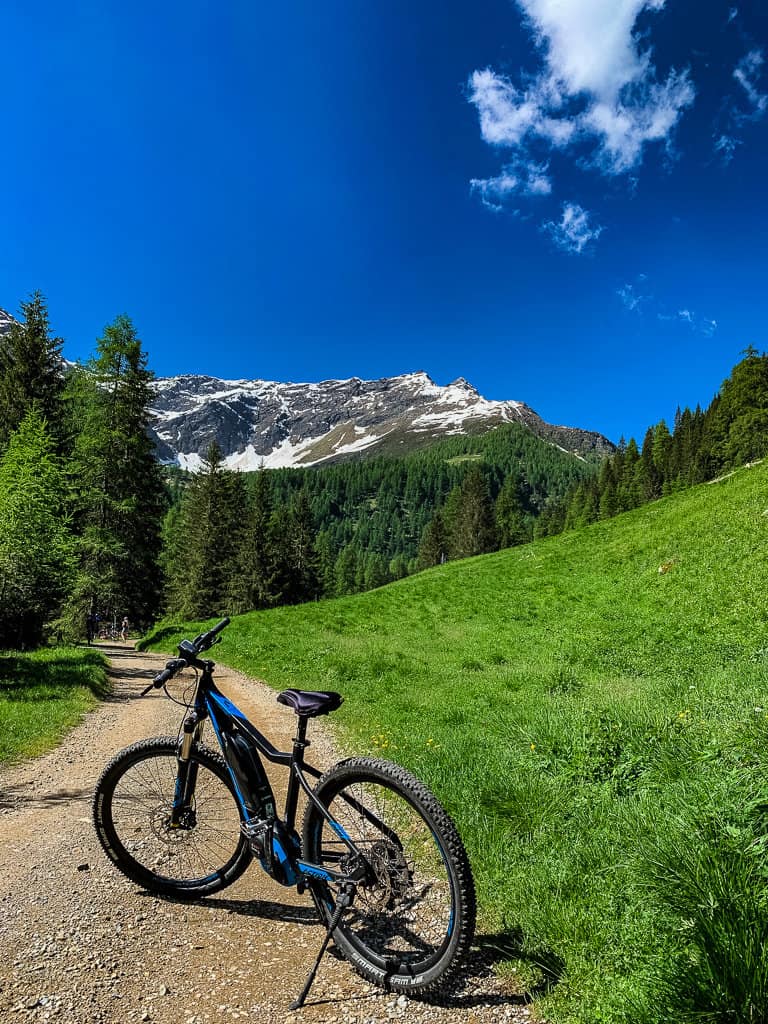 It took us a while to get to the top but the rewards were worth it. We had 360 views of the snowy Dolomites and the sun was shining. We also had beers, wines, hams and cheeses waiting for us. Never has a beer tasted so good.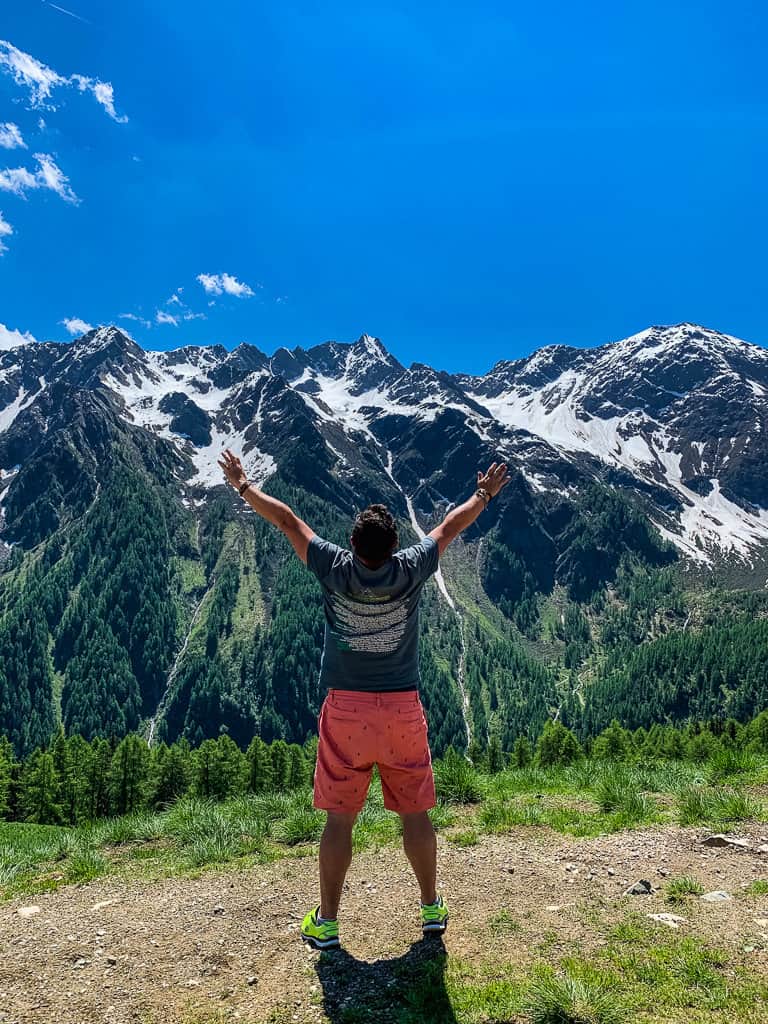 The descent back down was a completely different experience. This time we flew down the mountain and it felt like we were in a go-pro promotional video. In a funny way, it kind of felt like we were skiing as we sped down the trails.
I didn't get Mountain Biking before but after doing it in Trentino I have become an avid fan.
To book a mountain bike experience please contact Rabbi Explore
Barefoot Walking & Tree Hugging in Val di Rabbi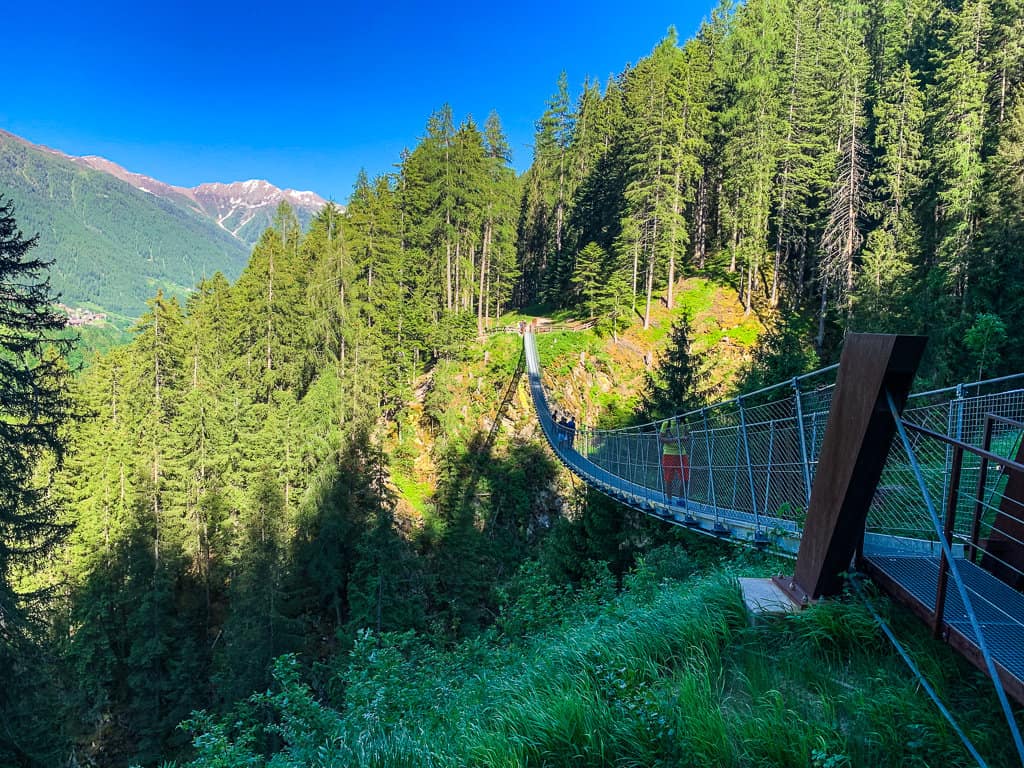 Yes, you have read the sub-heading correctly. When most of our activities in Trentino involved adventure sports these two activities were a bit more sedate but no less adventurous as you will see.
The first "challenge" was the trek up to where we would be doing the barefoot walking. The climb up was quite steep and then we had to cross an amazing bridge over the valley, think an Indiana Jones type bridge and you will get the picture. However, we didn't just walk across the bridge to the other side, oh no, that would have been way too easy. No, we stopped and meditated for a little while right bang in the middle of the bridge. No as an avid meditation fan who is not afraid of heights I was cool with this but for people who were afraid of heights, this was a real challenge.
The barefoot walking sounds very easy, doesn't it? and in a way, it was if you just let go. First, we stood in an icy cold stream to help get the blood flowing and I mean icy cold, we were in the Dolomites remember. Secondly, we had to find a partner and walk around with our eyes closed as they led us around the meadow. At first, I was worried that I would step on a sharp object or even worse a really soft one (the partner has shoes on so they didn't need to worry) but soon I let go and soon found that I was recognising what was under my feet.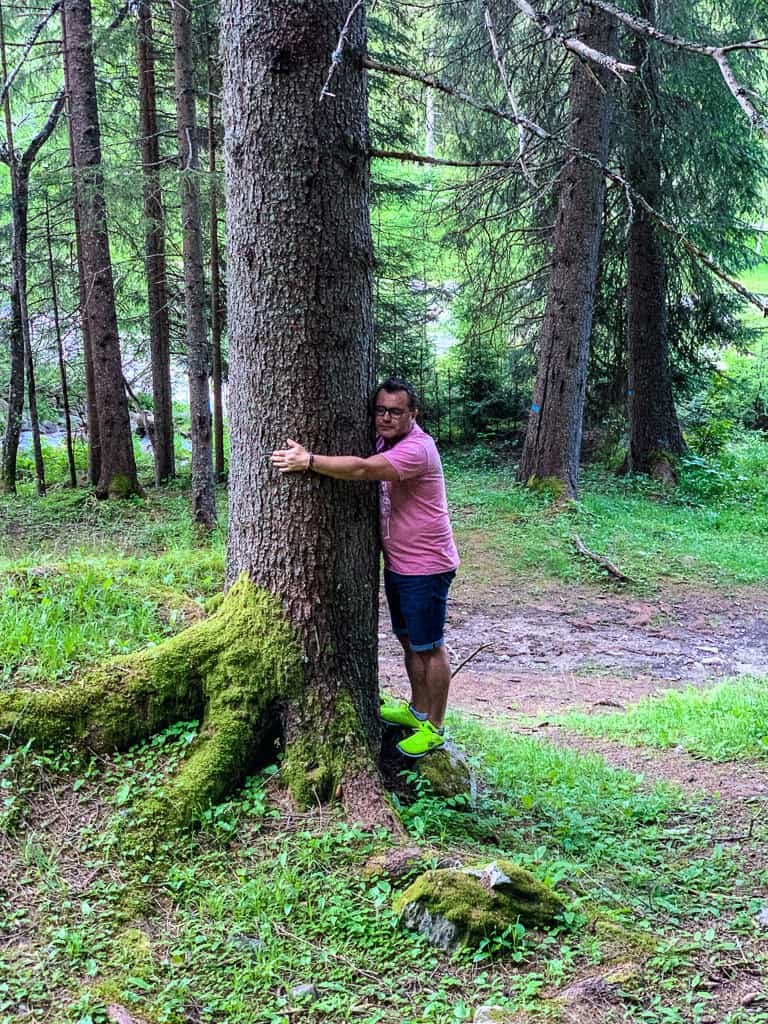 The Tree Hugging was a completely different challenge. This challenge was all about the mind and preconceptions. I am sure people in our group were thinking that they would look like idiots standing there hugging a tree. We all soon got into it though. Hugging a tree is all about slowing down and being present and connected, a bit like meditation really.
To find your own tree to hug please contact Terme di Rabbi
The Taste of Trentino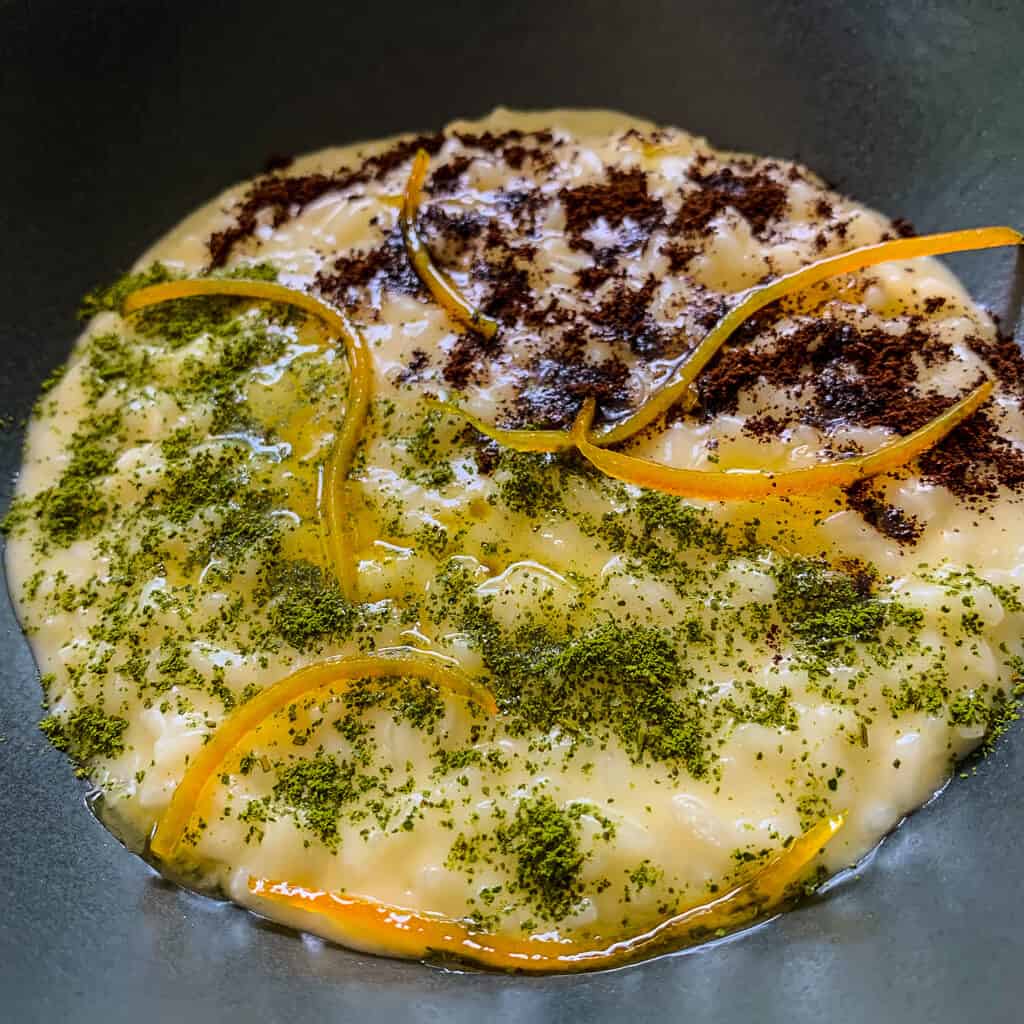 I love Italian food, it is probably the cuisine I feel most comfortable cooking when I am at home. However, sometimes when you travel around Italy the menus can get a bit samey. Not in Trentino. I ate some of the most unusual and adventurous dishes during my time there. The risottos are especially good and these were the dishes that had unusual ingredients like strawberries or coffee. We ate in some amazing restaurants in 10 days, here are some of my favourites:
Chalet Tovel – Ville d'Anaunia
Le Ciaspole – Tret
Chalet al Lago (set by a beautiful lake)
Accommodation in Trentino
I stayed in quite a few hotels in Trentino in my 10 days. I think it was 4 in total and they were all distinct in their own way. All come highly recommended and if I am back, no, scrap that, when I am back in Trentino I will happily stay in them again.
Disclosure: Some of the links below are affiliate links, meaning at no additional cost to you, we will earn a commission if you click through an make a purchase.
NH Trento Hotel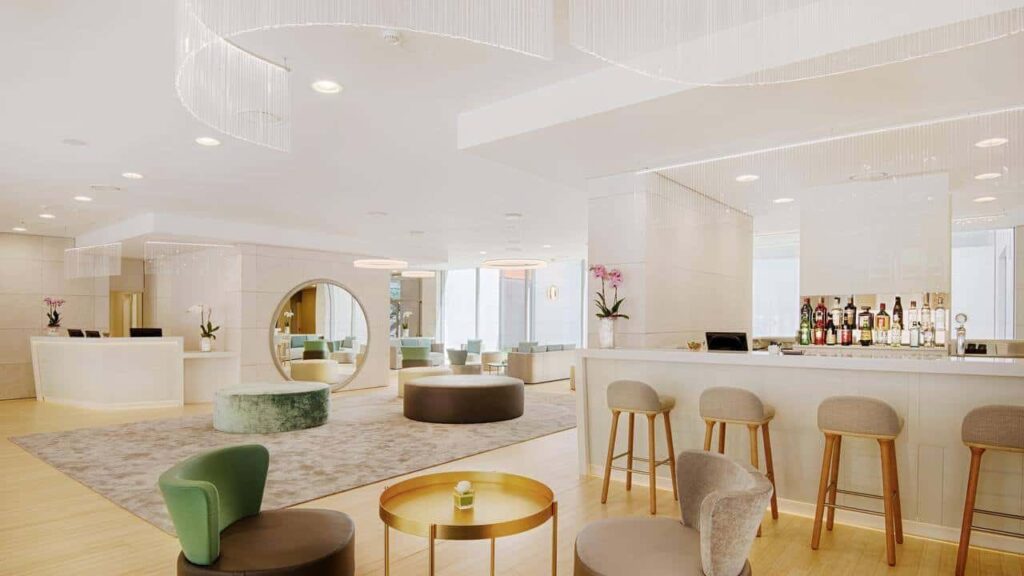 This super modern and sleek hotel wouldn't look out of place in downtown Tokyo. The NH Trento hotel is situated on the modern side of Trento next to the university. My room was super clean, comfortable and bright. There is a great hotel breakfast and the park around the hotel has views of the nearby mountains.
Check here for the latest prices.
Grand Hotel Trento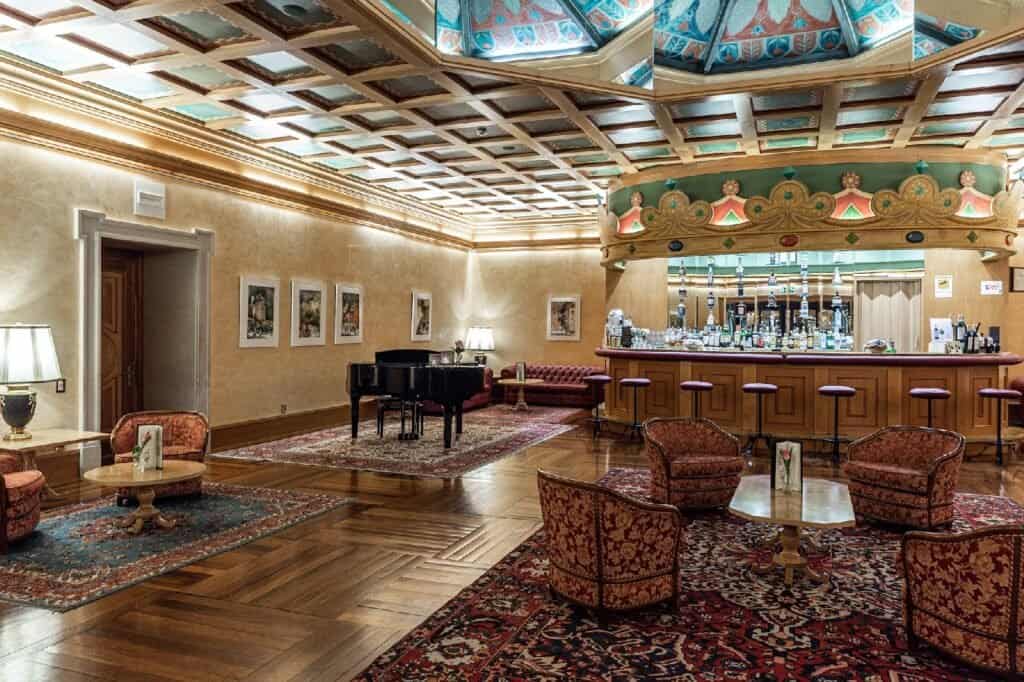 From the ultra-modern to the classic. The Grand Hotel Trento is set right in the heart of Trento with most sites walking distance from the hotel. This is a hotel that reminds you of the good old days of travel where things were done slowly and with consideration. My room was huge and very comfortable. The breakfast had a wide choice of options and the hotel bar is the perfect place for a nightcap or two.
Check here for the latest prices.
Agritourism Maso San Bartolomeo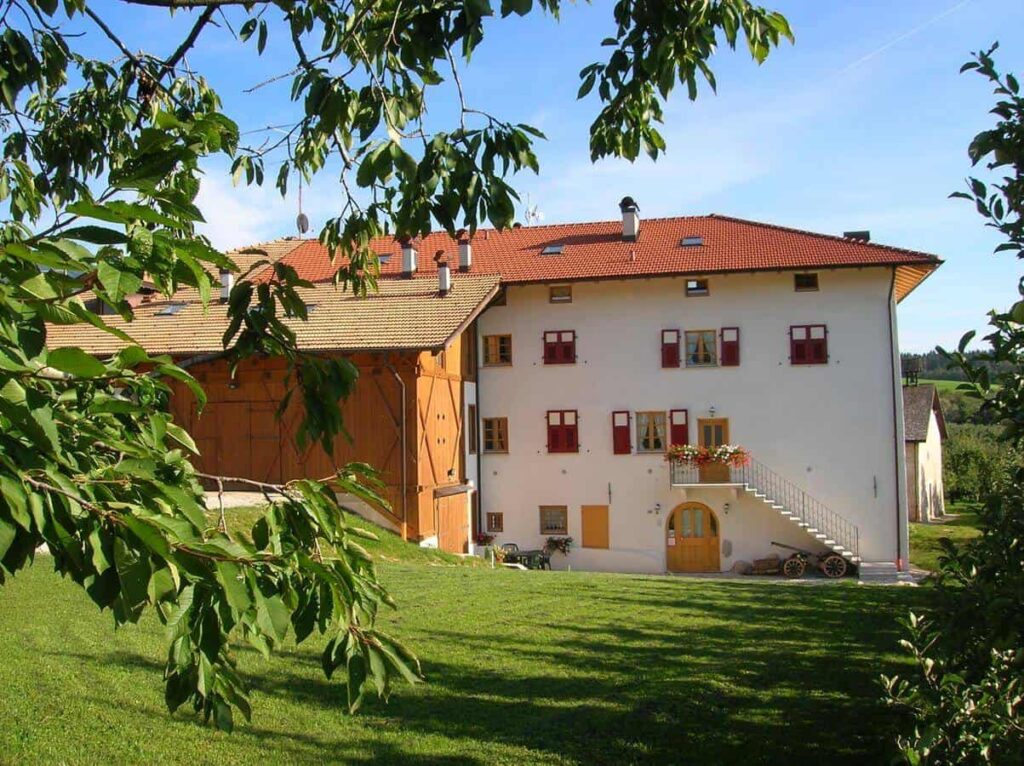 I love staying in places like the Agritourism Maso San Bartolomeo. These are the type of places where you really get to know an area and it's people. The property is set in the countryside, with views of the Alta Val di Non valley and the Brenta Dolomites. My room was super bright with great views of the mountains and the breakfasts are to die for. Ask for the homemade apple strudel. You can thank me after.
Check here for the latest prices.
Monroc Hotel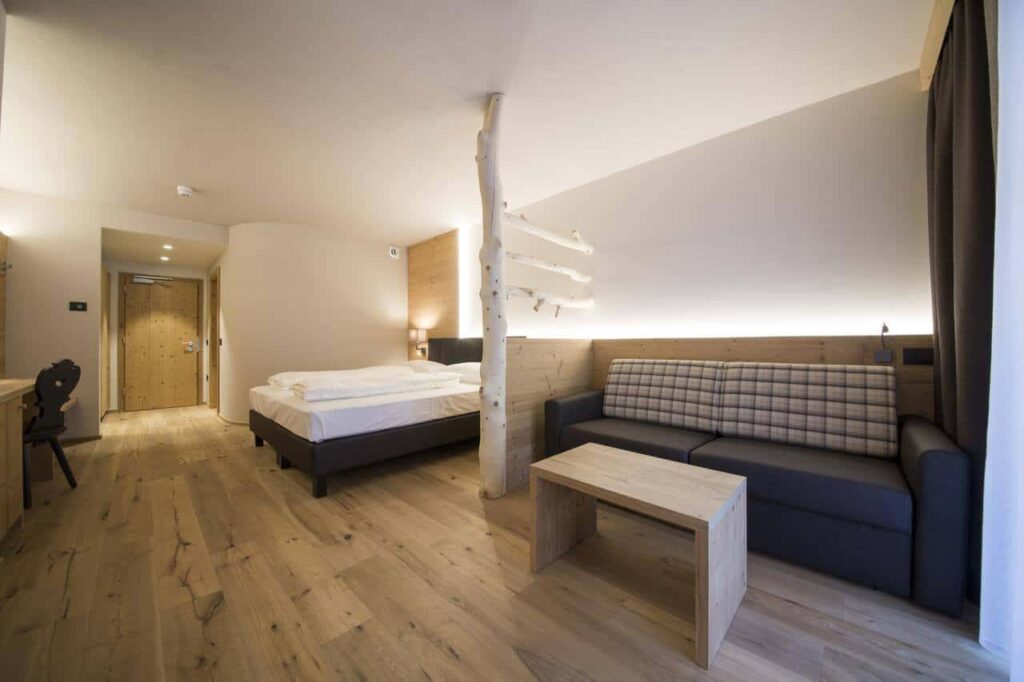 I have always wondered what it would be like to stay in a "Ski Hotel" out of season and after staying in the wonderful Monroc Hotel now I know. Of course, there is no such thing as a Ski Hotel, The Monroc Hotel had cyclists and trekkers when I was staying. I love the feel and look of alpine hotels and the Monroc Hotel ticked all the boxes. Wooden rooms, balcony's and a spa, and what a spa it is. After all our activities the one afternoon we spent in the Monroc Hotel's spa was much needed.
Check here for the latest prices.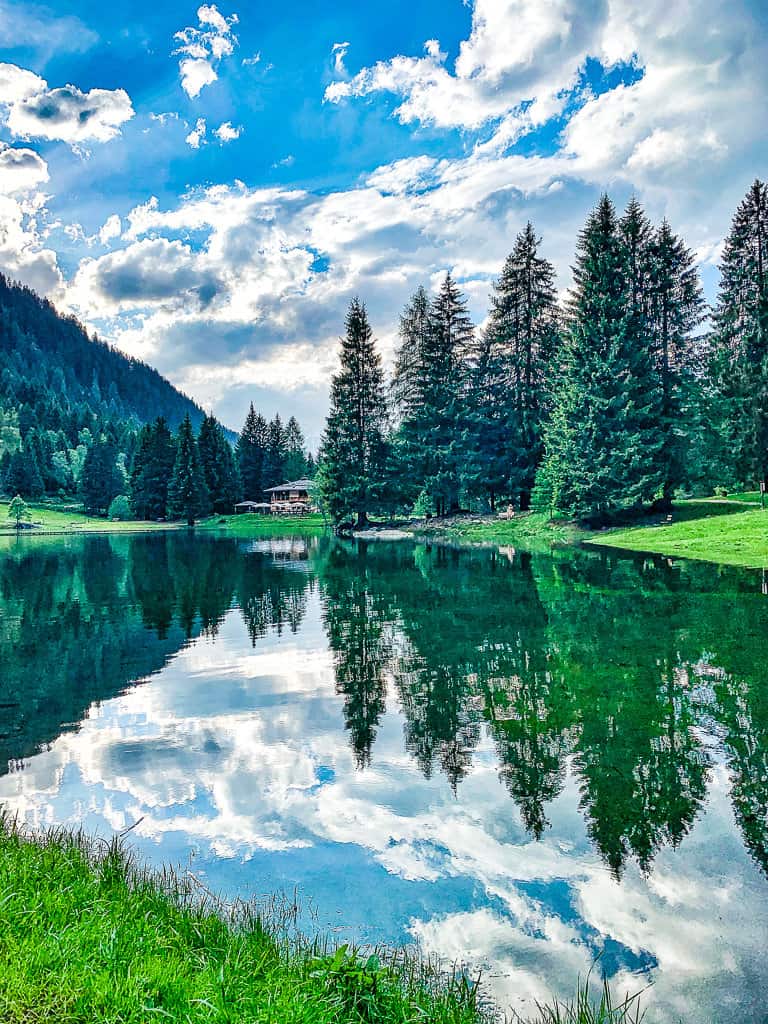 I fell in love with Trentino and I am sure you will too. What's not to love? The people are super-friendly, the food and wine are amazing, and the countryside takes your breath away. You never know, when you visit we might be living there!
For more Mountain Excursions, check out these posts below:
Places to visit in Switzerland by train: Switzerland is a stunning country no matter how you travel around it. However, we think train travel is the best. Here are places to visit in Switzerland by train.
Nepal I Love You: Beautiful Nepal I Love You (A Love Letter To Nepal). Read why we have fallen in love with Nepal. From the mighty Himalaya to its wildlife, Nepal had us smitten from the moment we landed. Add in Pokhara and the Nepali people and you have the makings to a perfect holiday.
An amazing trip to Mount Fuji: How To Get From Tokyo to Kawaguchiko for an amazing trip to Mount Fuji. See one of the best views of Mount Fuji on a day trip or longer.
#LoveYourTravels
This post was brought to you as a result of the #Traverse19 blog trip, created and managed by Traverse in partnership with Visit Trentino GlobalHelpSwap.com maintains full editorial control of the content published on this site and as always opinions are our own.