Are you dreaming of travel like us? Even though some of the world is slowly opening up to tourism we know a lot of you are waiting to see what happens over the next few months before you travel again. Once things get back to normal we would love to go back to Seoul in South Korea. We only had a few days in this amazing city and we feel we didn't do it justice. What to do in Seoul is the question we keep asking ourselves. Here is what we came up with.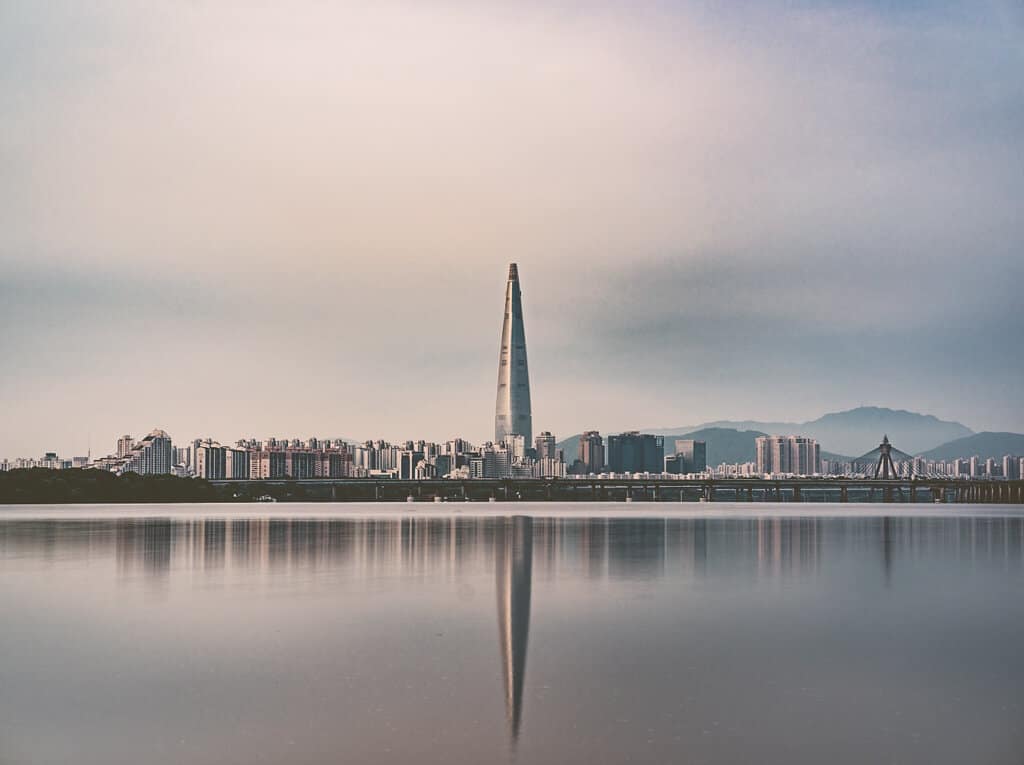 Visit Gwangjang Market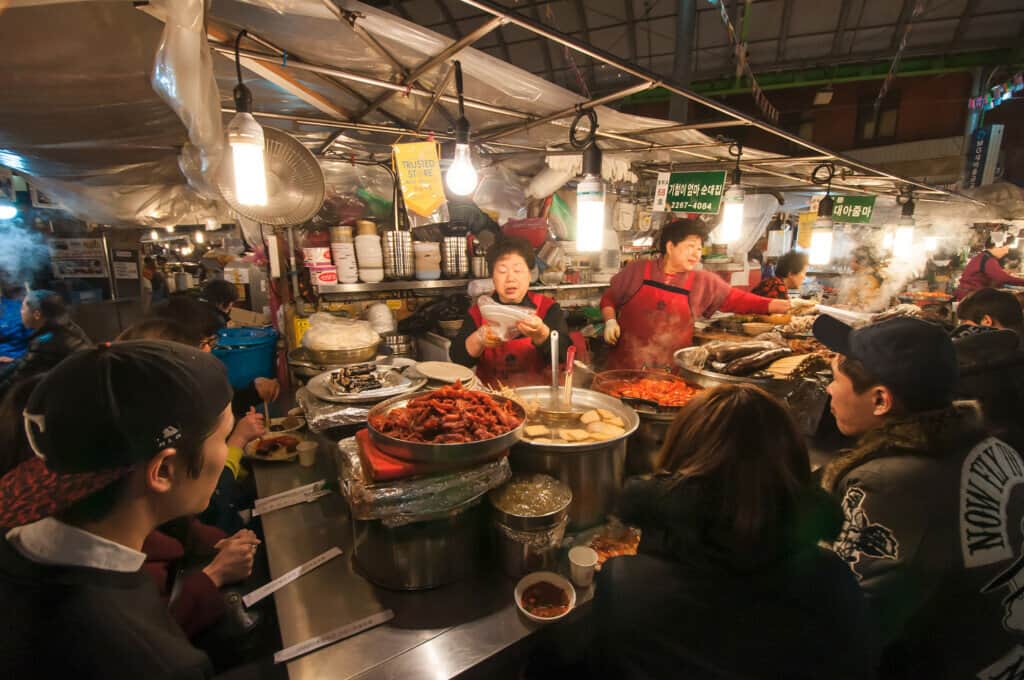 South Korea has amazing cuisine and we think highly underrated. Gwangjang Market is one of the oldest markets in Seoul and one of the largest. Apparently it has great street food snacks. Street food is a perfect way to sample lots of delicious South Korean delights without booking individual restaurants. A win-win!
Visit Changdeokgung Palace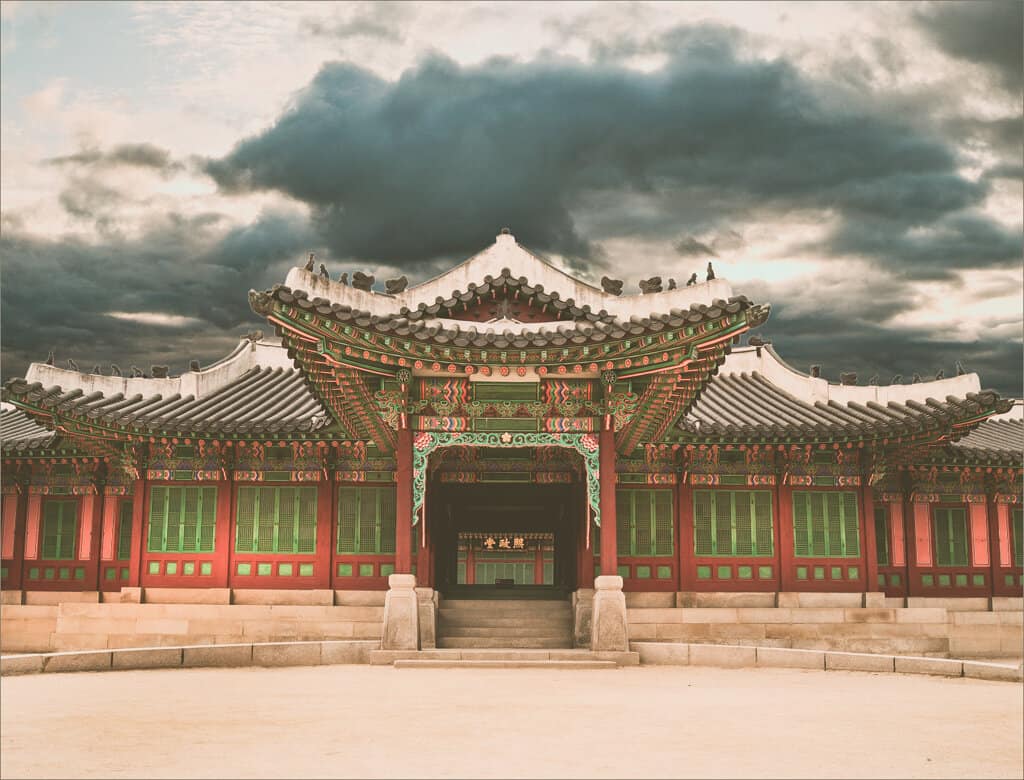 Changdeokgung Palace is a UNESCO World Heritage Site that was the main royal residence for over 200 years. There are 5 Joseon palaces in Seoul and this one is the best preserved. We would make sure to visit the secret garden within the palace and admire one of our favourite plants, the Lotus in the palace ponds.
Walk up Namsan Mountain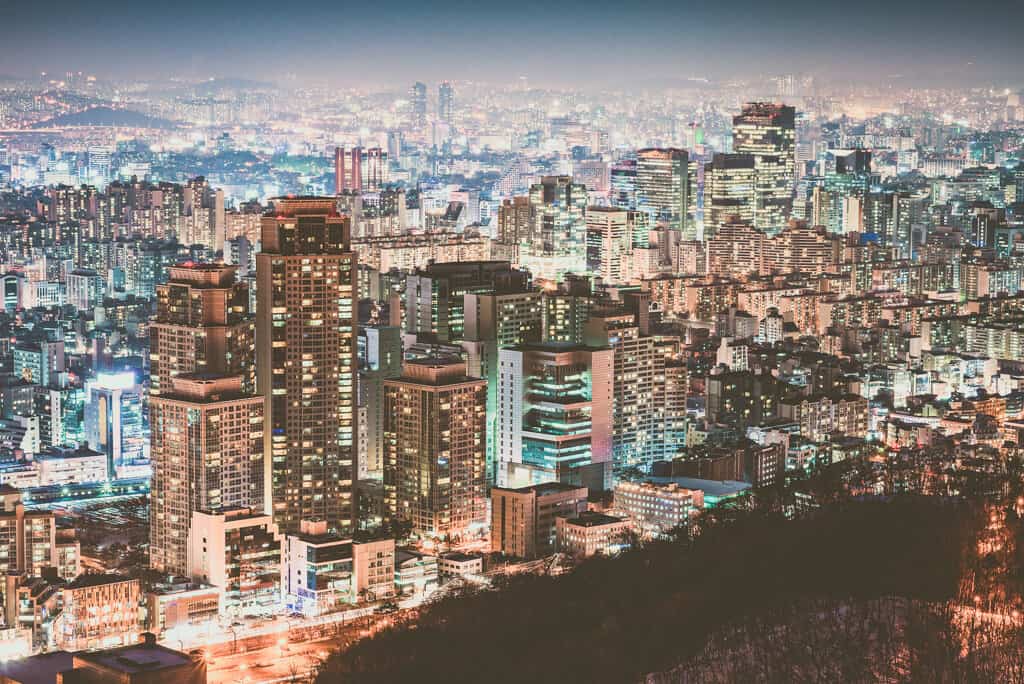 We have already walked up Namsan Mountain but this is an activity that you have to do again and again. Namsan Mountain is bang in the middle of Seoul and offers stunning panoramic views of the bustling city below. There is a park on the way up offering you shade and benches. If you don't feel like the trek you can take the cable car up.
Visit Gyeongui Line Forest Park
This is why we need to go back to Seoul. We didn't have time to visit Gyeongui Line Forest Park on our first visit to Seoul as we had to get the train down to Busan and then a boat over to Japan. This 6.3km park passes through the cool areas of Hongdae and Yeonnam-dong. Our Korean friends always go there to relax in the city and visit the bookstores that are on Gyeongui Line Book Street.
Hongdae Nightlife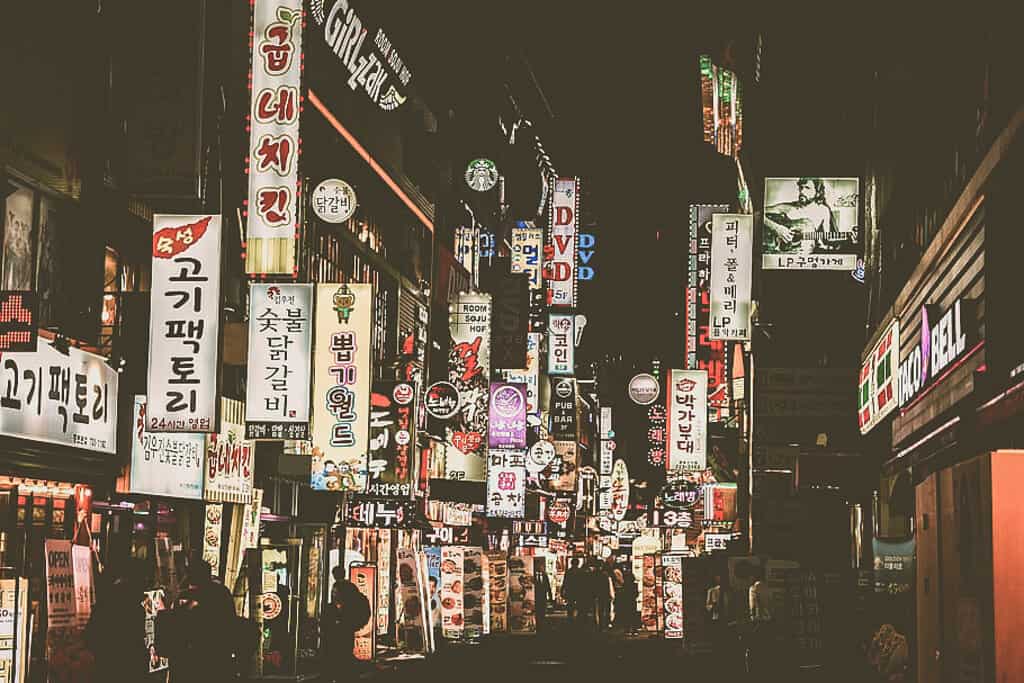 Seoul is the city where we first tried Couchsurfing. Our hosts Sunny and Joon couldn't have been more welcoming and on our last night we went out in Hongdae. I loved it straight away as there was a real buzz on the streets. Not surprising really as Hongik University is in the area. This is the area for indie music lovers, foodies, art buffs and clubbers. You can see why I want to go back, can't you!
Walk along Seoullo 7017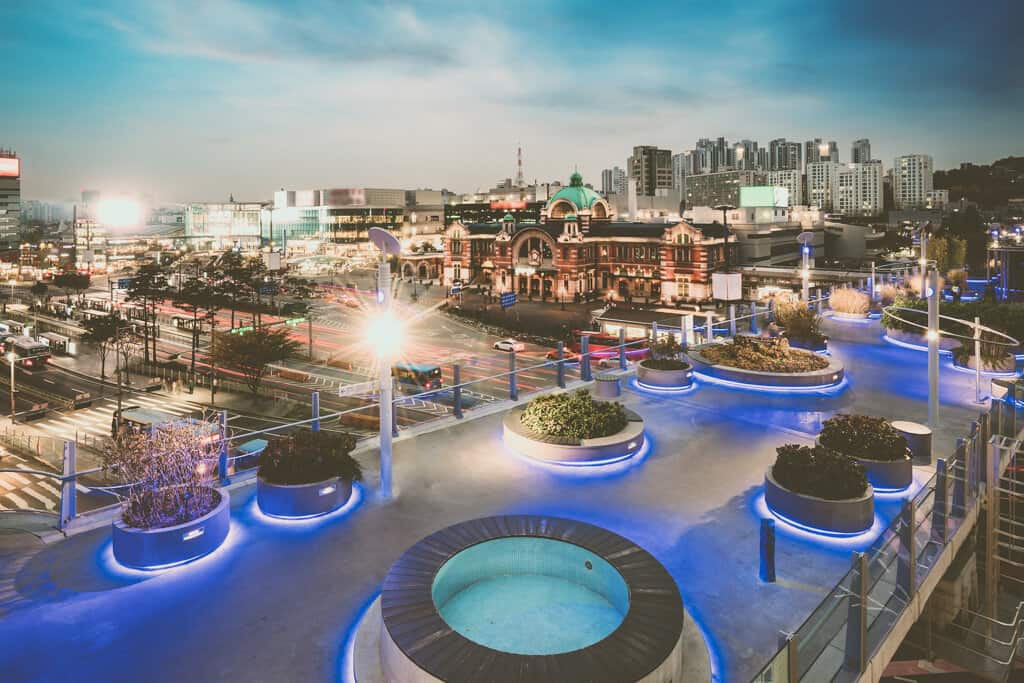 This is Seoul's version of the New York Highline. Seoullo 7017 is an eco-friendly walkway pedestrian walkway built on a former highway. It sounds right up our street. I know Paul loved the New York one. There are cafes, art installations, a garden and even a pool. That sounds a lot better than a jam-packed highway.
Insadong Galleries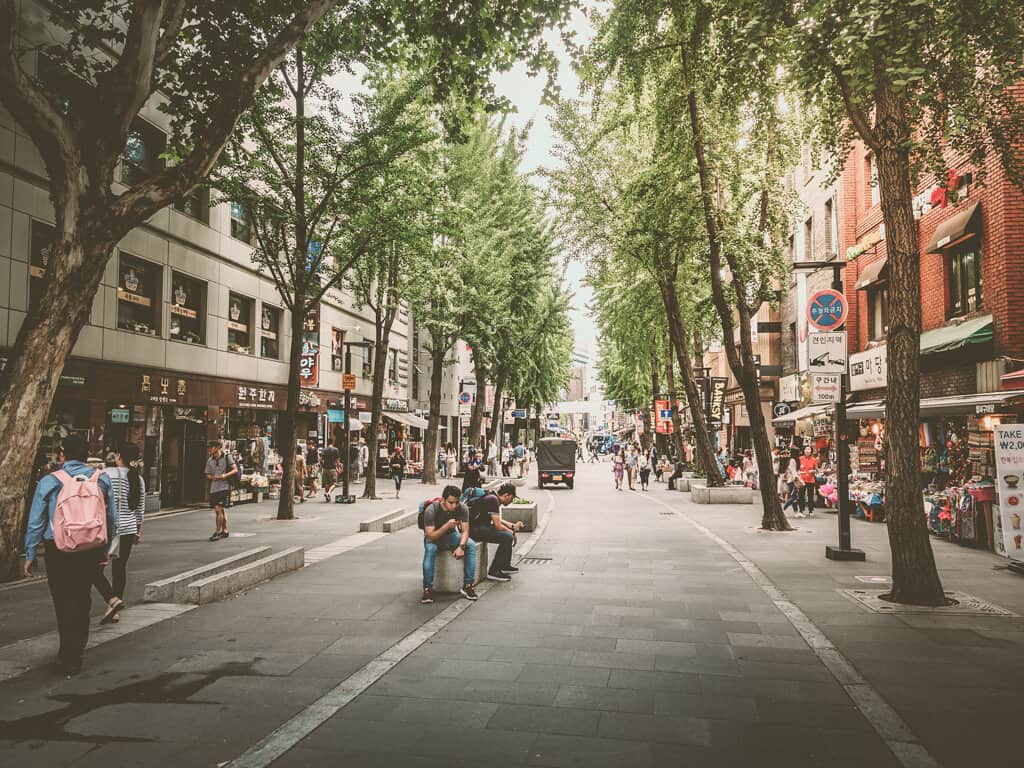 The last time we were in the Insadong area we made friends by asking directions to a restaurant! 10 years later and we are still friends with Young Sook and Nils. If you are into art then the Insadong area is for you as it is full of galleries. On Saturdays, there is a market selling traditional Korean souvenirs.
Leeum Samsung Museum of Art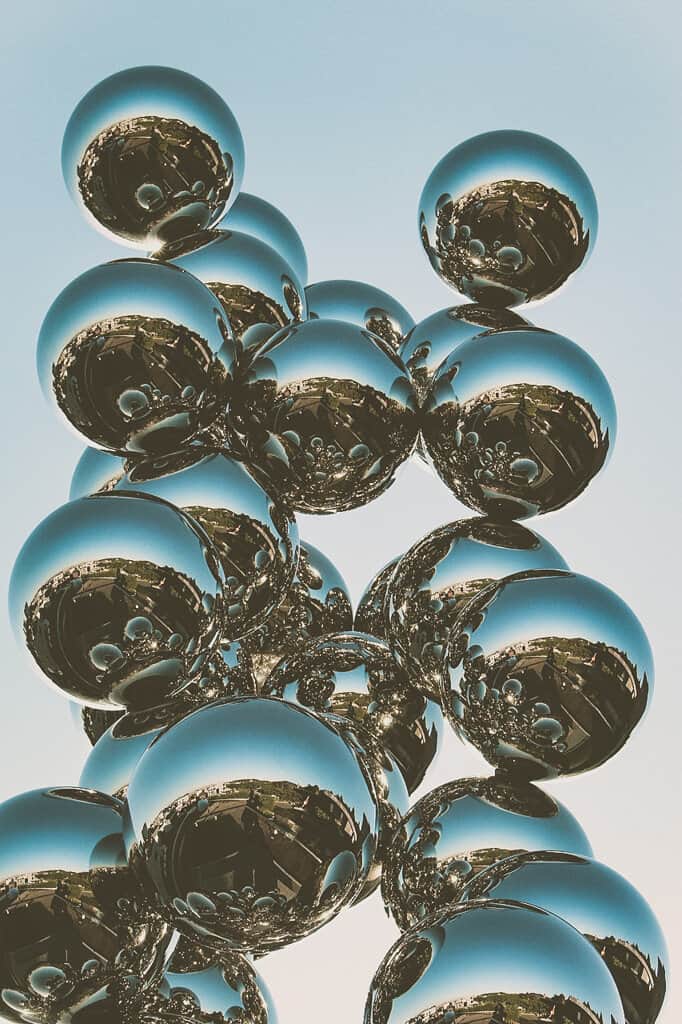 Staying with the art theme, the Leeum Samsung Museum of Art covers everything from Traditional Korean art to more modern pieces. Showcasing works by local and international artists there is something for all tastes. There is also a sculpture garden that we would love to see.
Bukchon Hanok Village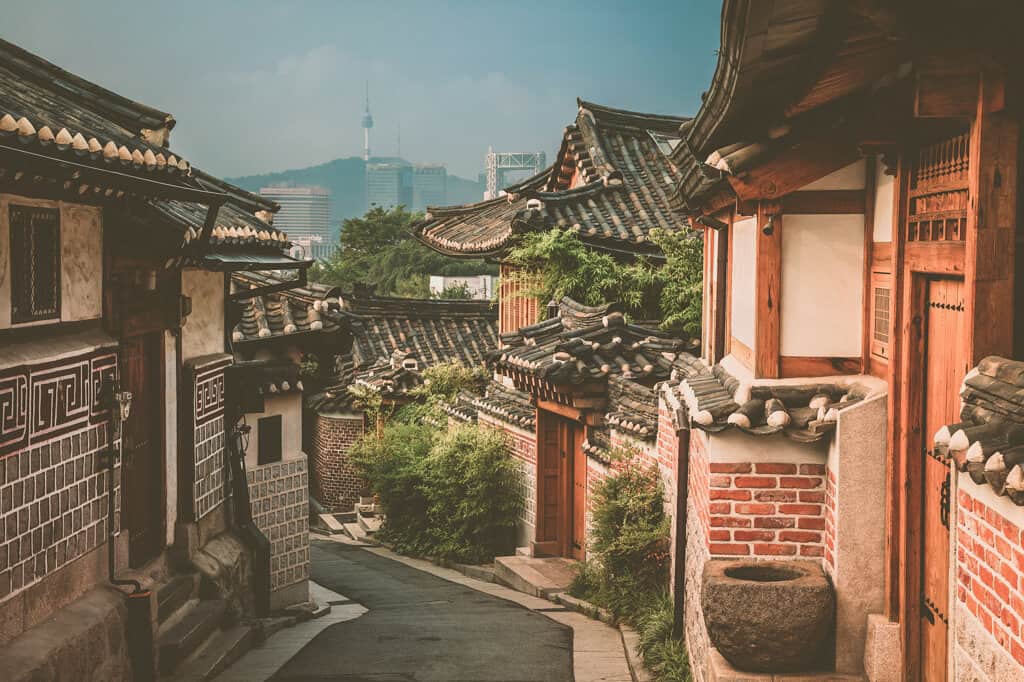 Regular readers of this blog will know how much we love traditional villages so how we missed Bukchon Hanok Village on our last visit to Seoul I will never know. The people who live here live in traditional houses called Hanok. It looks a great place to wander around and take photos. Some of the houses have been converted into restaurants and guest houses, which is a great way to experience traditional Korean life.
Walk Along The Cheonggyecheon Stream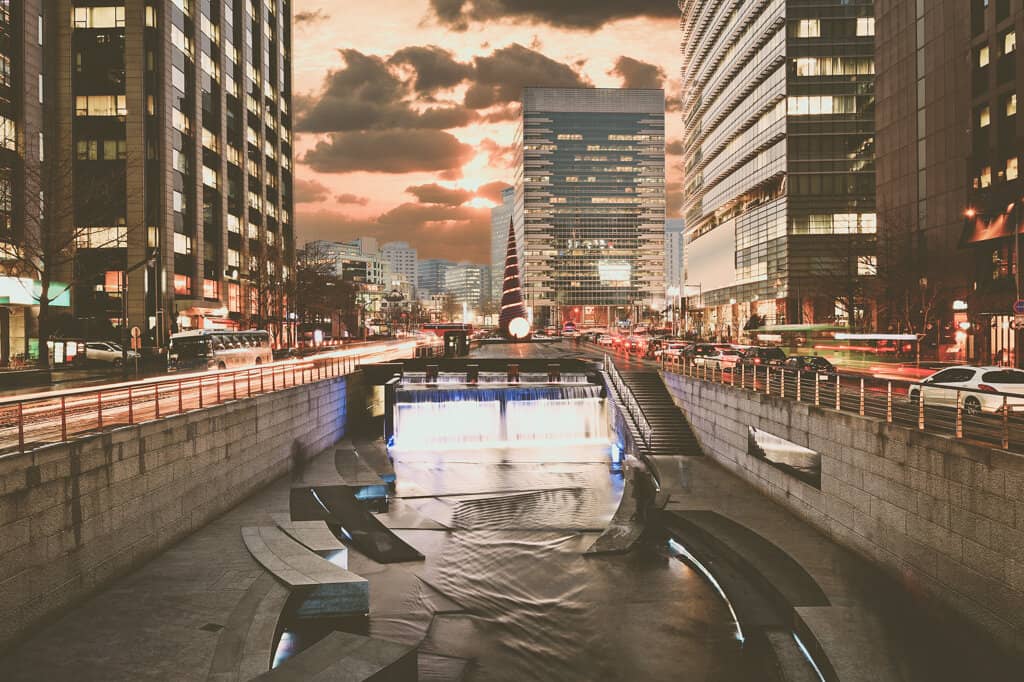 We loved walking along the Cheonggyecheon stream and would head there again on our next visit to Seoul. The stream used to be covered by an elevated highway and was completely abandoned. Now it is an urban hangout that is 11km long. It just shows you what you can do to neglected parts of a city with a bit of forward-thinking.
Visit the Dynamic Maze and Alive Museum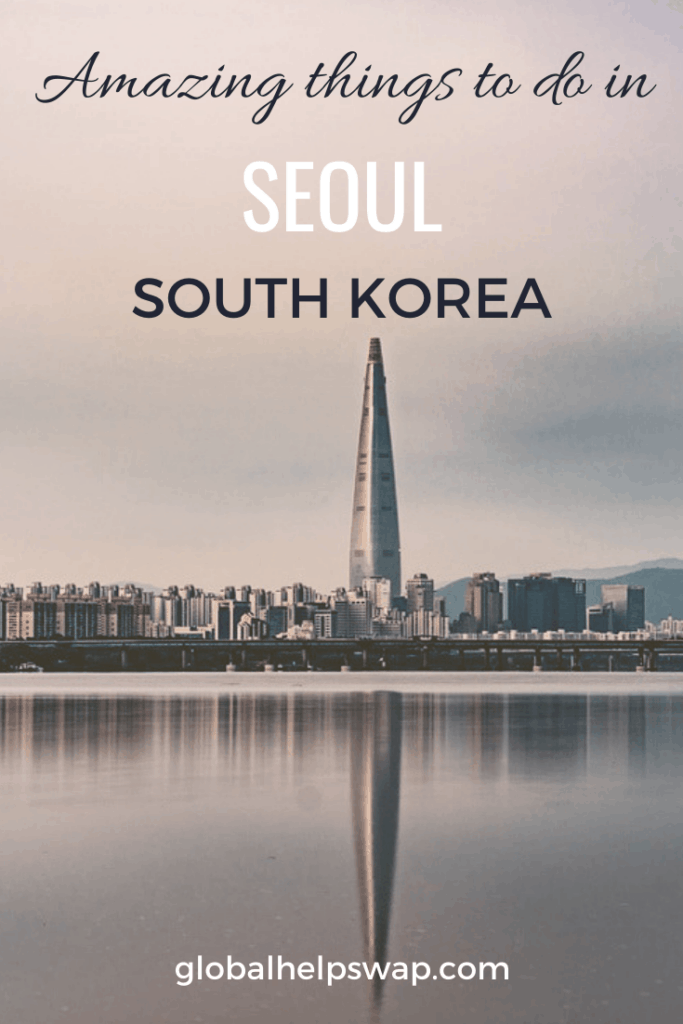 This would be very high up our list. Friends of ours have visited these places and loved them. The Dynamic Maze is an indoor maze where you have to solve puzzles and dodge obstacles to reach the finish line. I would love this, Paul on the other hand never finishes escape rooms so I might have to leave him there!
The Alive Museum uses 3D technology to create optical illusions. From what we have heard not all is as it seems and it is very hands-on. We are intrigued!
The War Memorial of Korea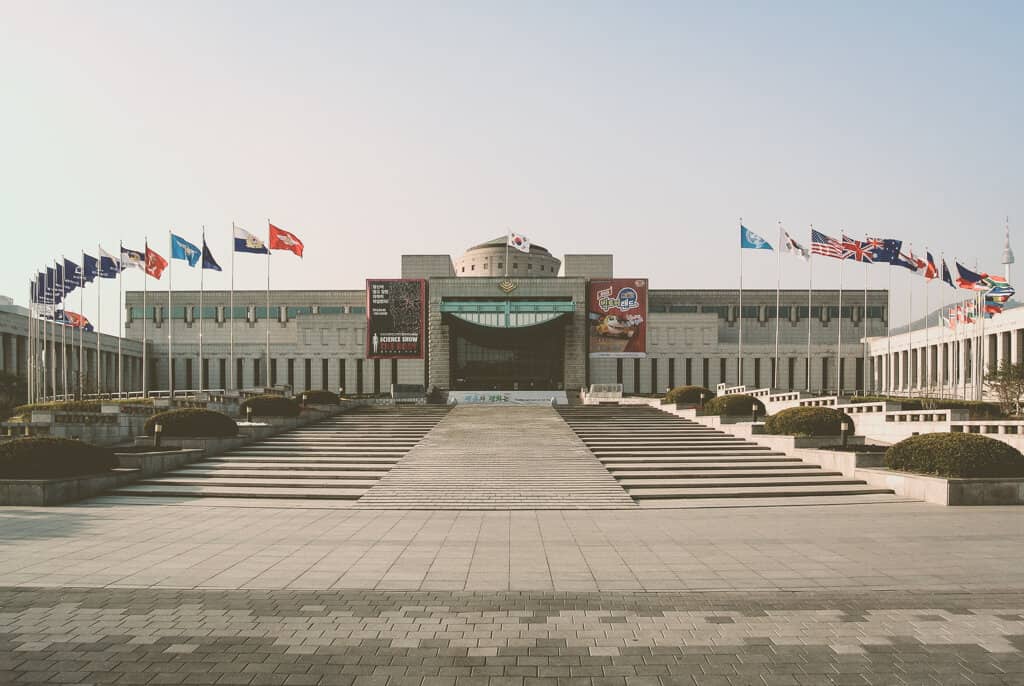 We should all learn from the past and the war memorial of Korea is a great place to learn about the past sacrifices of the people of Korea. The museum has about 33,000 artefacts and one-third of these are on display in the indoor and outdoor exhibition halls.
Take night photos of the Banpo Bridge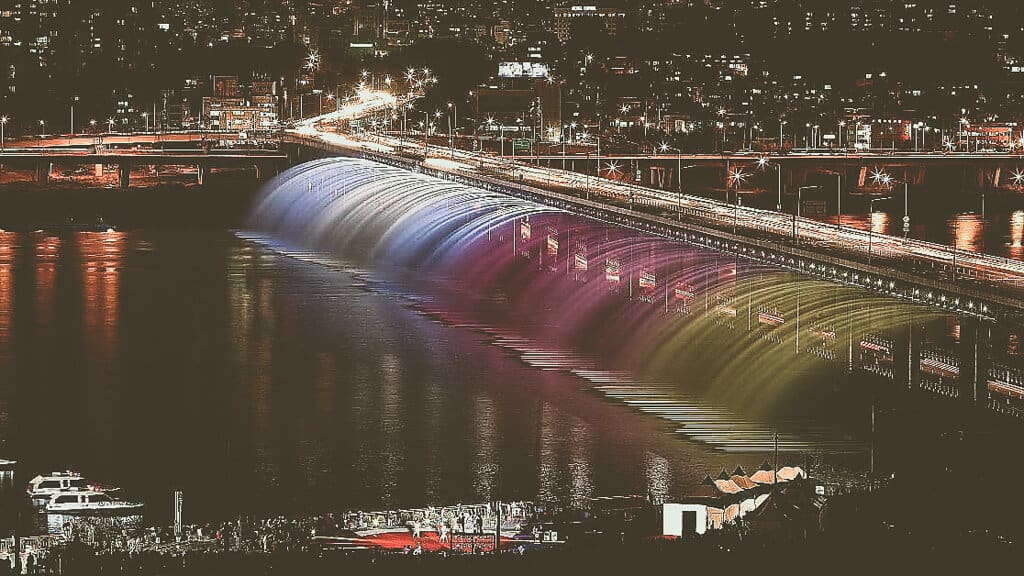 We passed under this bridge on the boat we took from China to South Korea. Unfortunately, we never visited the Banpo Bridge at night. If we did we would have observed the light show that is put on every night in the summer months. 380 water jets shoot out from the side of the bridge with rainbow lights in sync with them.
Walk around Seoul Forest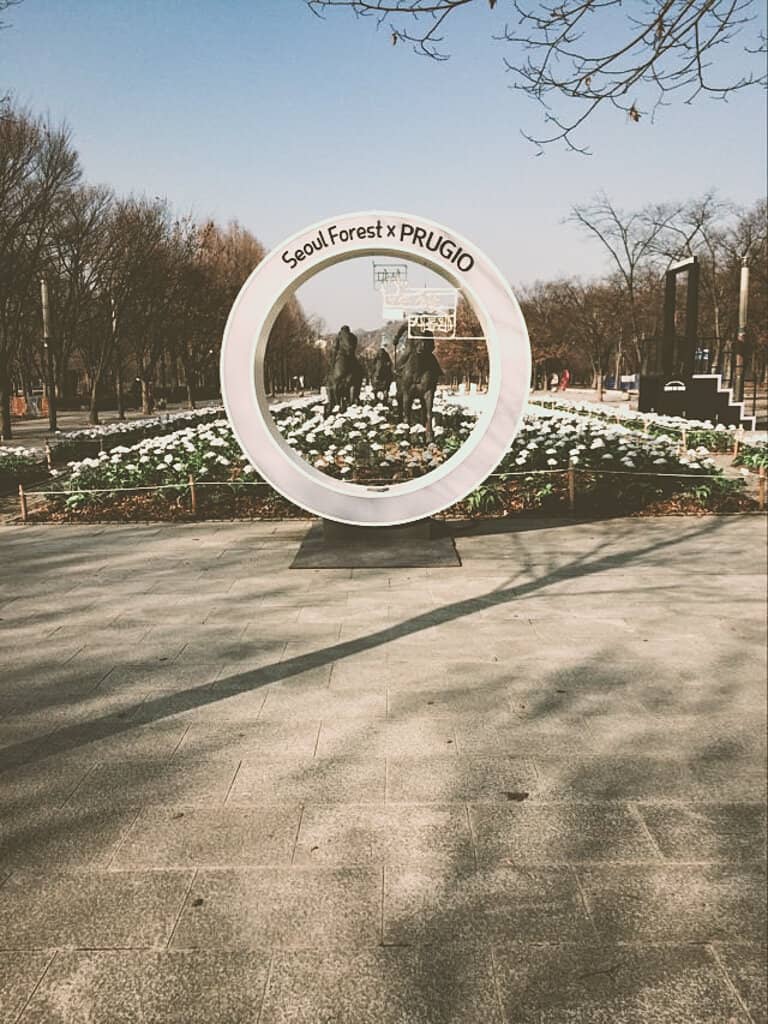 Another activity that we didn't have time for. Seoul Forest used to be Royal Hunting grounds but now the forest is a mixture of outdoor learning, botanical gardens and a bird observatory. Animals spotted in the forest are elks, chipmunks, ducks and moorhens.
National Museum of Korea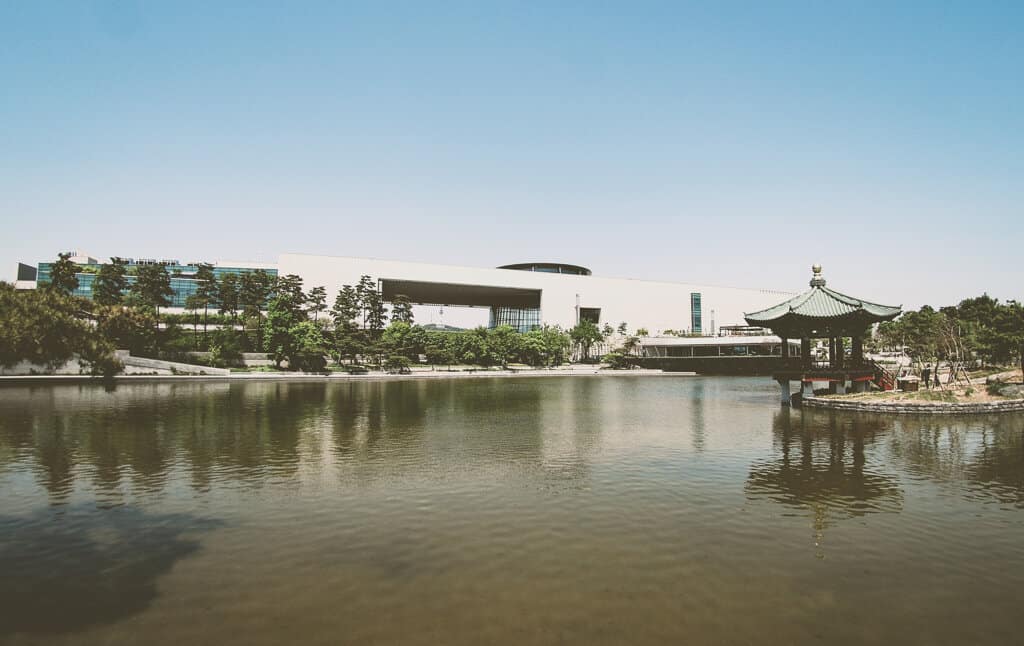 Spanning 6 storeys the National Museum of Korea is the place to learn about Korean history. With over 140,000 artefacts this museum covers history from the prehistoric period to the Korean Empire period. There is also a Children's Museum to keep the little ones entertained.
Visit the Bongeunsa Temple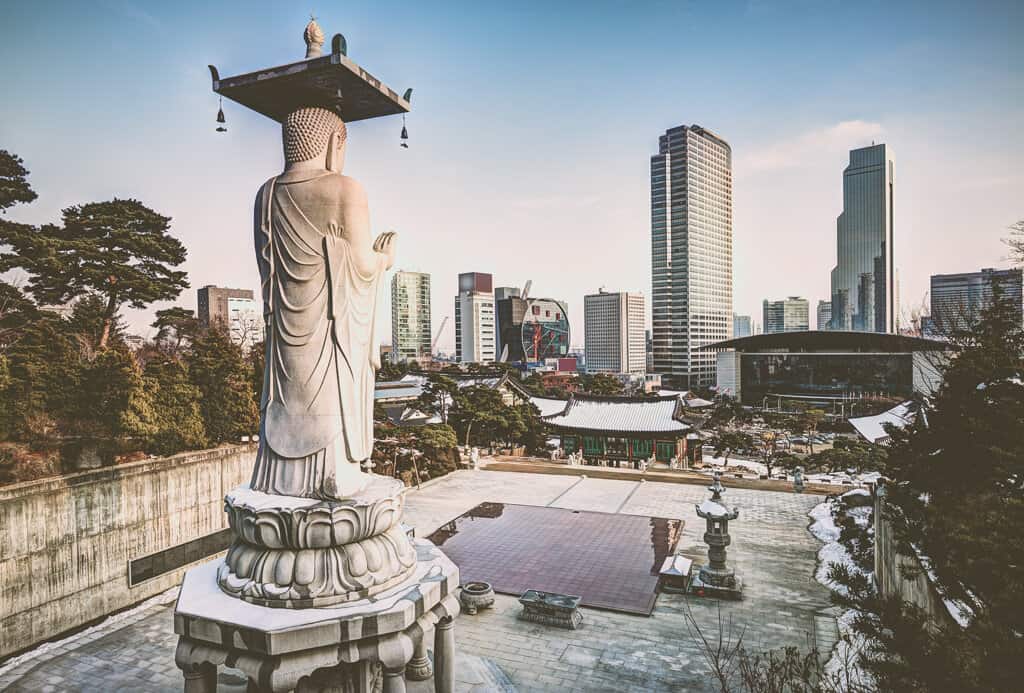 Seoul is a bustling busy city so sometimes it's good to step back and unwind from it all. The Bongeunsa Temple is the perfect place to do it. Spread over a forested area the Bongeunsa Temple is actually a series of small temples in one complex. There are thousands of paper lanterns strung around the property and there is a large Buddha statue in the main building. Bongeunsa Temple also offers a temple stay program for those curious about the daily practices and blessings.
Relax in Hangang Park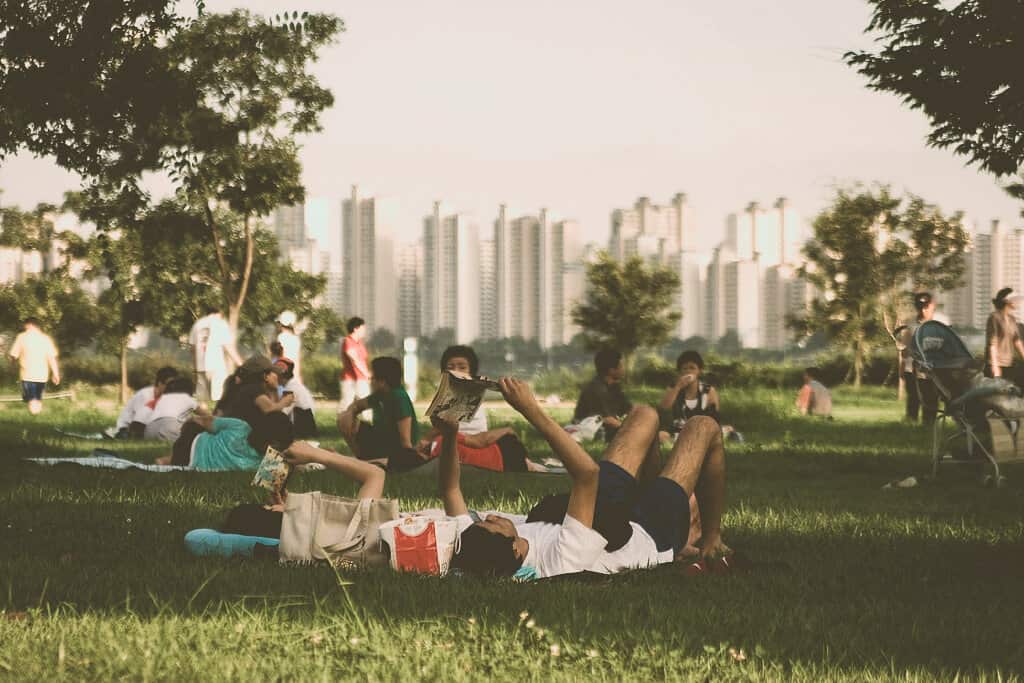 The Hangang River slices through Seoul just like the Thames does in London. Hangang Park sits along the river and is a great place to watch the world go by. Locals come here to sit and eat Korean fried chicken and drink Soju (A Korean spirit). If you fancy more action you can hire kayaks in some parts of the park and kayak along the river.
Starfield Library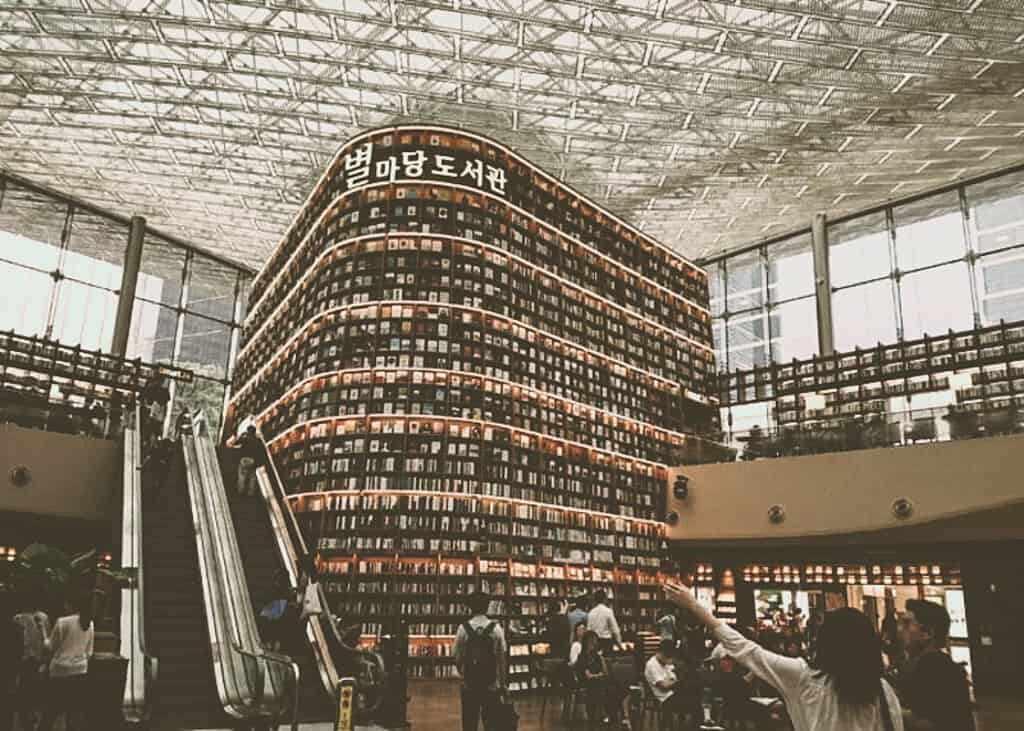 50,000 books in a beautiful building. That's a tick for us then. There are books and magazines in other languages and there are reading areas for you to relax in. They hold concerts, poetry reading and reading events here. A perfect place for a rainy day.
Go shopping at Common Ground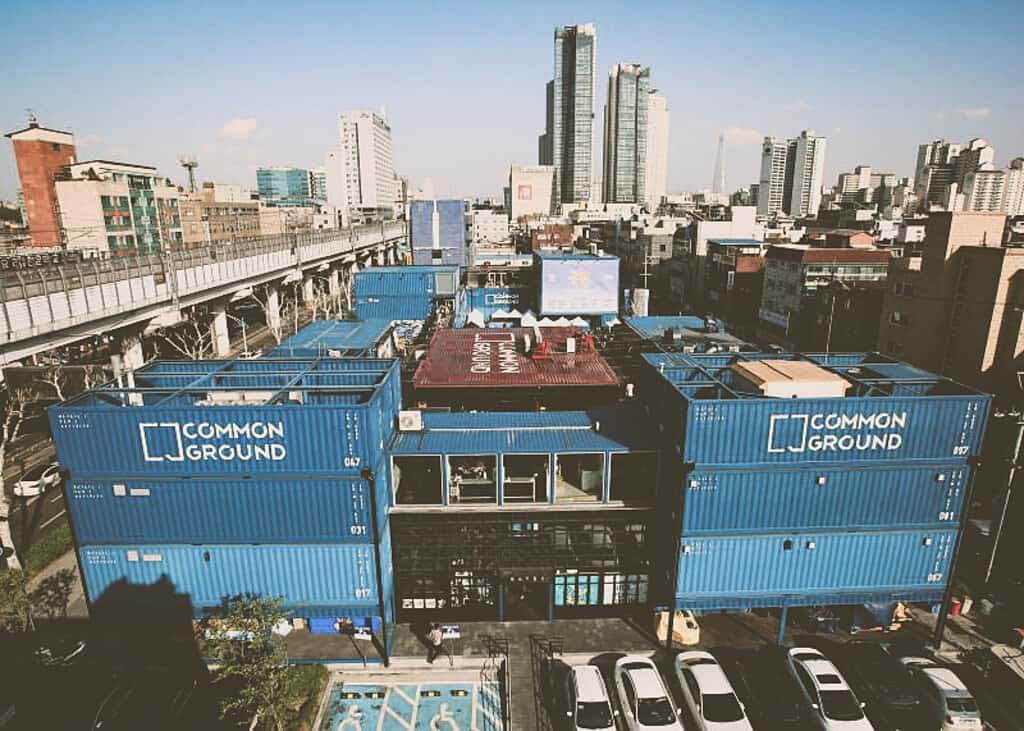 Consisting of over 200 shipping containers, Common Ground is Seoul's hipster hangout. This is a great place to shop, eat street food, drink and watch the many performances that are put on here. Orginal designers are here with their quirky styles so if you want fashion that nobody has back home, this is the area to be in.
Korean Food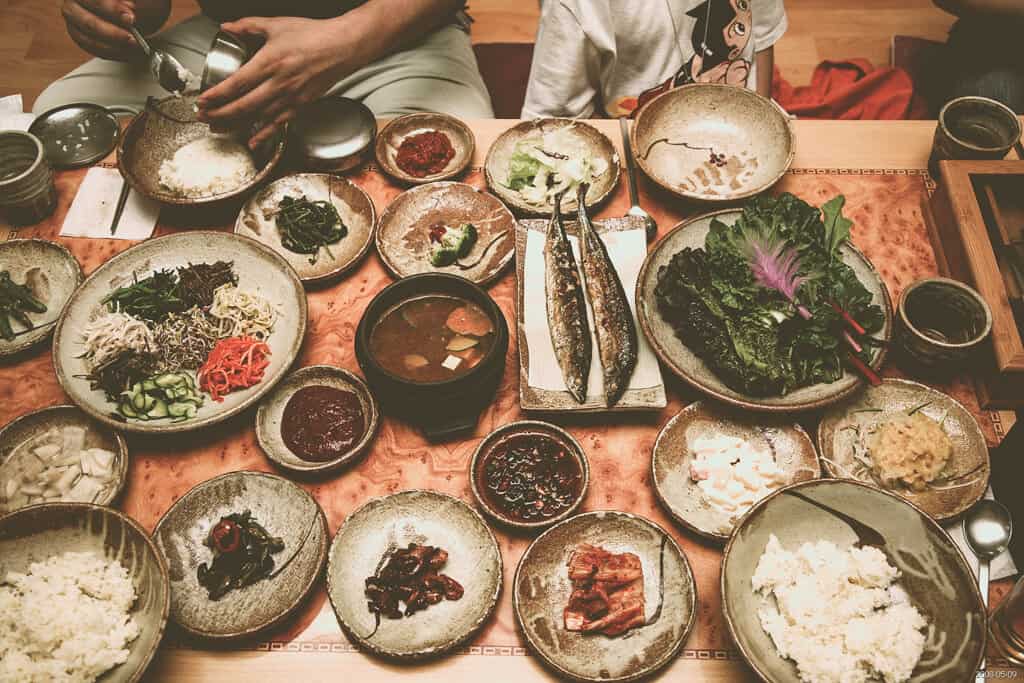 The number one activity we would look forward to the most would be eating all the wonderful Korean food again. From Bibimbap (mixed rice served with vegetables and sliced meat) to Bulgogi (marinated slices of beef or pork which is normally cooked on a bbq). Just writing these dishes has my mouth salivating. The last time we were in Seoul our hosts took us to a Taxi Driver restaurant. Yep, it is where Taxi drivers go to eat. They are cheap and full of good traditional Korean food. It was our first night and a great introduction to the city. Paul made friends with a Taxi Driver who had just come back from London watching Eric Clapton at The Royal Albert Hall.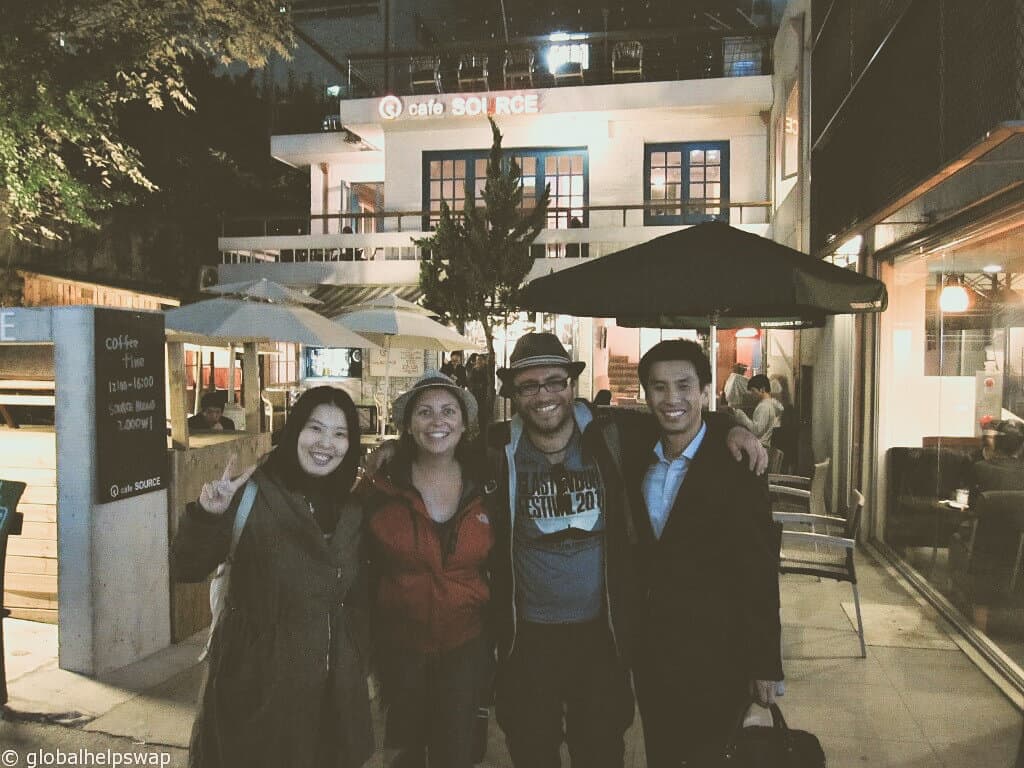 We know there are a lot of places to visit out there, we think that South Korea should be one of them. The people are super friendly, the food is amazing and there is a lot to see and do. Just make sure you stay longer than 3 days!
Read our other South Korea posts:
#LoveYourTravels
This post is part of a paid campaign to promote South Korea, as part of their #SeeKoreaNext Campaign. Although all views are my own and I have not been instructed what to include.
Karen is a trained psychologist and coach. But really she's an adventurer who believes travel can be one of life's best teachers. She writes to inspire you to take the leap and travel in a way that is memorable and meaningful.