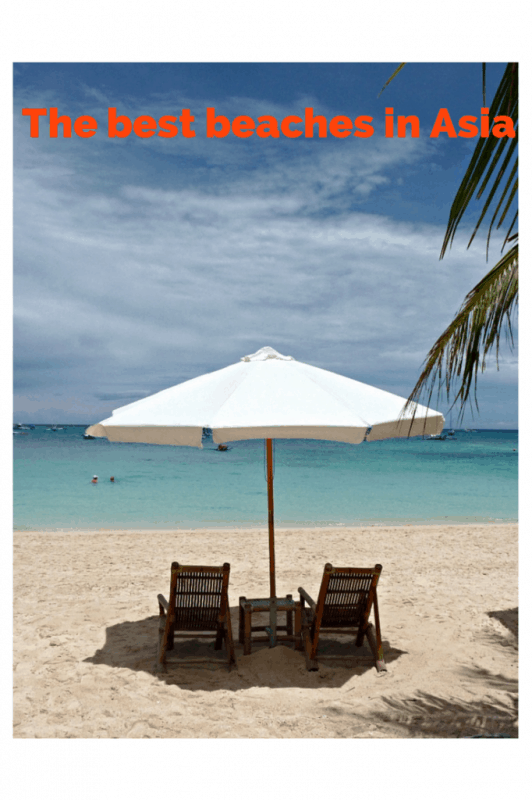 The best beaches in Asia
In a totally unscientific study we decided to choose and promote the best beaches in Asia that we have had the pleasure of visiting. By looking through our choices the two main common denominators are: 1) The water quality, 2) The sand. Which pretty much sums up a beach. Unsurprisingly, The Philippines come out on top. If you are looking for empty white sand beaches with crystal clear waters, The Philippines should be your choice.
Koh Ngai, Thailand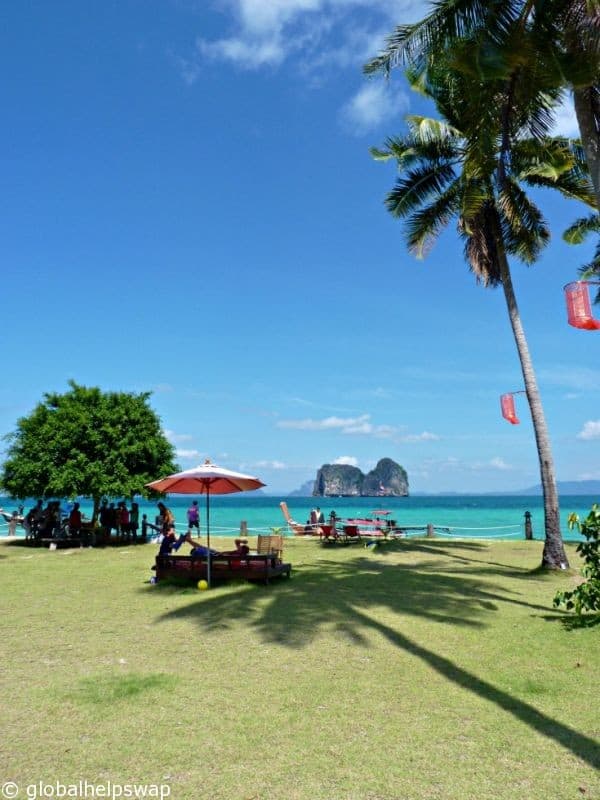 We spent two amazing days over Christmas 2010 on Koh Ngai and we have been yearning to go back ever since. The island is located in southern Thailand just over from Trang. The beach has beautiful white sand, crystal clear waters and karst formations scatter the horizon. It is the quintessential Thai beach.
Unknown Beach, Palawan, Philippines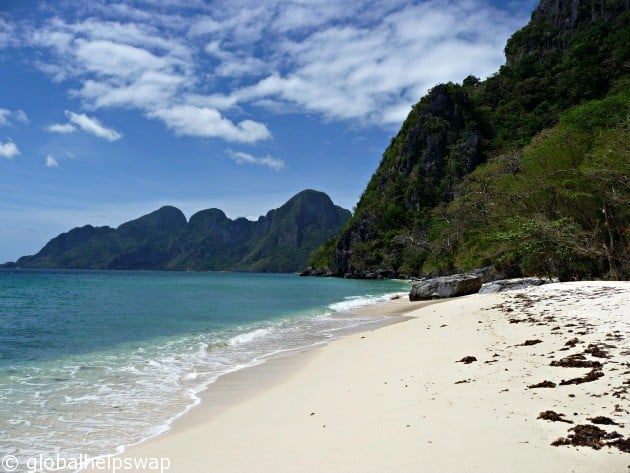 We have no idea of the name of this beach. In fact we are not even sure it even has a name. We jumped on a boat in El Nido and the boat captain dropped us off with our mates and said he would pick us up in a few hours. You can only access the beach by boat so we were the only ones on it. It was perfect. We took with us a picnic and a bottle of local rum and lived out our Robinson Crusoe fantasies, including near starvation when Karen fell in the sea, with our bag of food!
Nusa Lembongan, Indonesia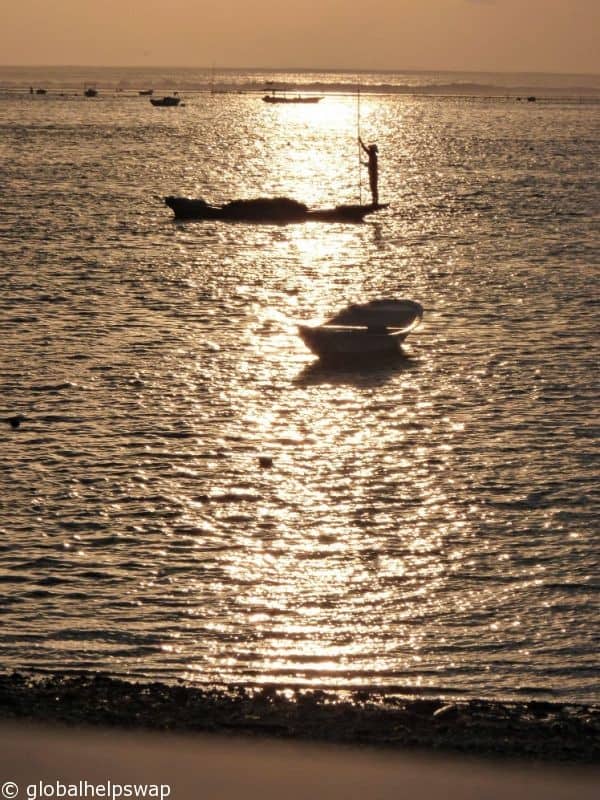 This beach is unlike all the other choices. It is not the best beach to swim in and the sand is not as white as all the others. Why is it in on the list? It's because of how the beach is used. Nusa Lembongan is full of seaweed farmers. Every sunset (which are spectacular) the farmers would bring up the seaweed and the whole community would help bring the seaweed to shore. From little old ladies to energetic children, they would lend a helping hand. It is a great sight to behold.
The Similan Islands, Thailand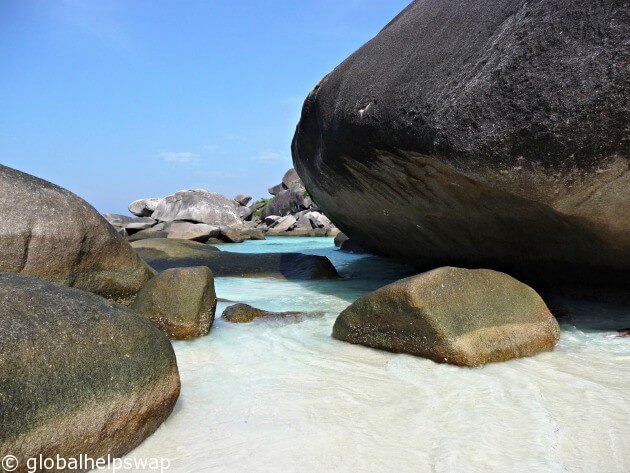 We visited this beach when we were on a live aboard dive boat in the Andaman Sea. It was between dives and we needed some relaxation time. The Similan Islands are a National Park so the beaches on them are as nature intended. It was a shame we were only on this beach for a couple of hours as we could have easily lazed our whole day away on it.
Sipalay, Philippines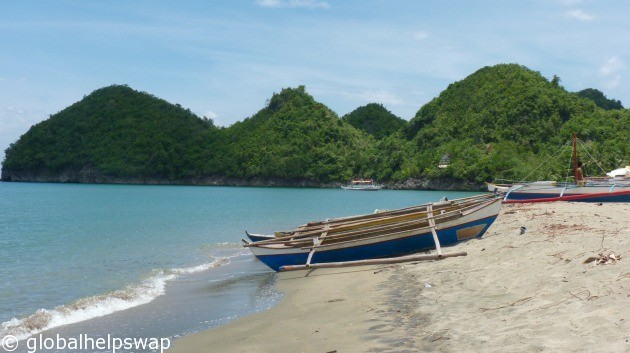 Another entry from the Philippines. What we loved about this beach was the green hills that dotted the background. We went exploring on this beach and came across a beautiful cove where you could jump in the sea from a small ledge. Again, we were the only two there. As I write this my wanderlust is kicking in which says it all.
Gili Meno, Indonesia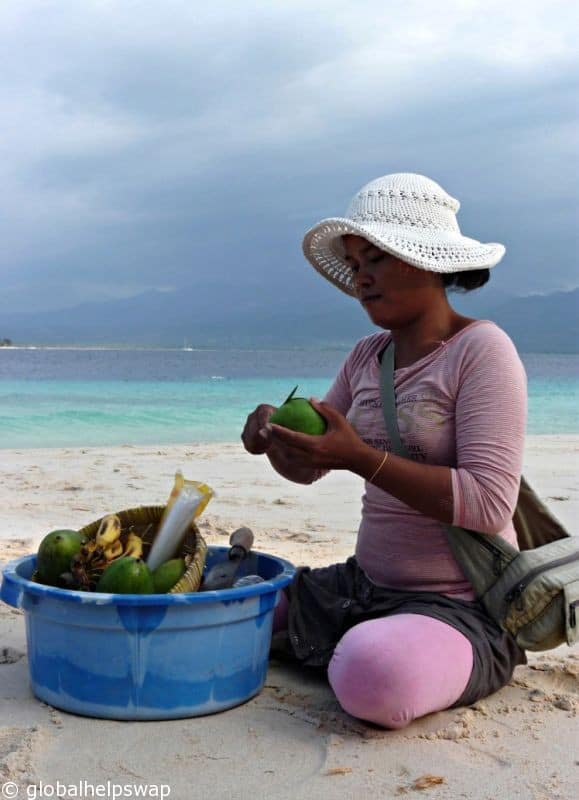 Gili Meno is a droplet of an island an hour away from Bali. We planned to go there for 3 days and ended up staying for 2 weeks! There are only 300 people living on the island and we got to know quite a few of them in our 2 weeks. Like the lady above who would sit with us every day. She had the best mangoes and papayas ever! A rieal highlight was snorkelling here – we saw at least one turtle every time we wore our masks.
Siquijor, Philippines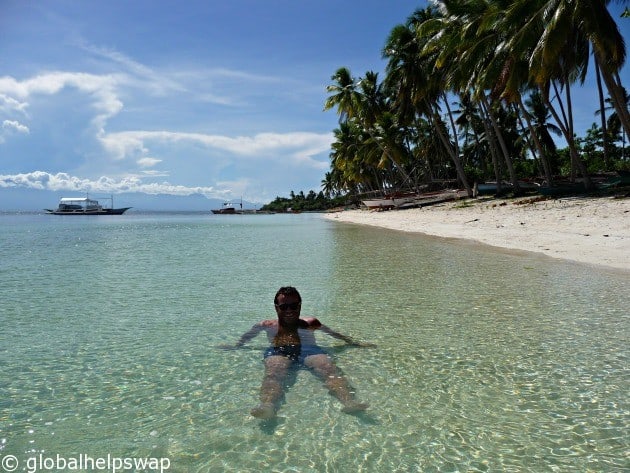 Just look at that water! We came across this beach on our first ever moped ride. Siquijor is a Filipino island that hardly any Filipinos visit. It's because the island has a reputation for witchcraft! We met some of the witch doctors in the hills and they seemed like a friendly bunch to us. Anyhow, with a beach that looks like this, I'll risk a few spells cast my way.
Boracay, Philippines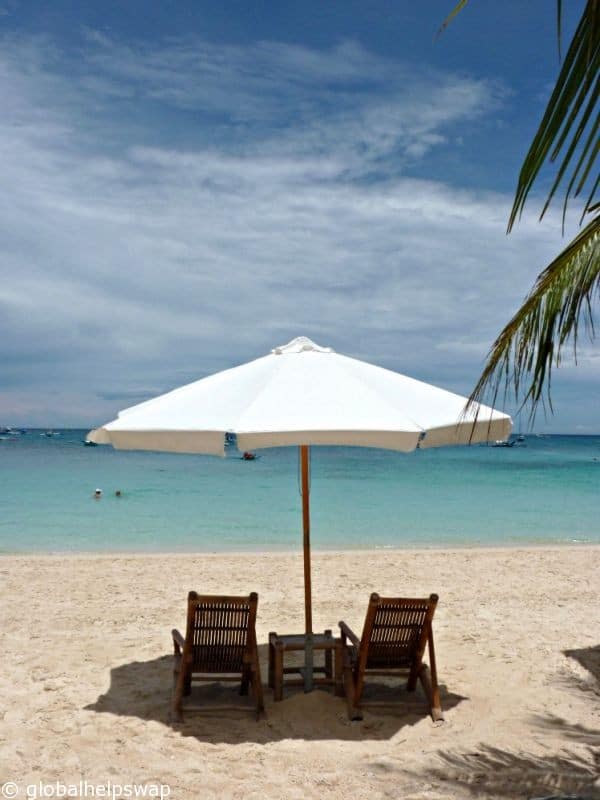 Boracay is the opposite of Siquijor. If nobody goes to Siquijor then everybody goes to Boracay. It is the gem in the Filipino crown. Most of the beaches we have chosen are empty, secluded and serene. Boracay is anything but. With a party happening every night the beach on Boracay is not a place to lose yourself. We loved it though. Sometimes you want to sip cocktails, have a nice meal and stay in clean accommodation. When we visited Boracay we were blown away at the clarity of the water. It was like a swimming pool even on overcast days. Now over to you. I am sure you have your favourite beaches in Asia. Please share them with us in the comments below.
P.S. Most responsible travellers who read our blog sign up for regular updates. You can join them by filling in the orange box below.
#LoveYourTravels