An unusual adventure in beautiful Yangshuo, China
I was buzzing. The wind was blowing in my face as I rode down the hill at a fair speed. The beautiful karst mountains of Yangshuo, China were all around me. It was like I was in the dream world of Avatar. Karen was not far behind me whooping with delight. I could do this forever I thought. Then something felt very wrong. As I was went to put my feet back on the pedals, they were no longer there! Thankfully the brakes were still working and I came to a stop.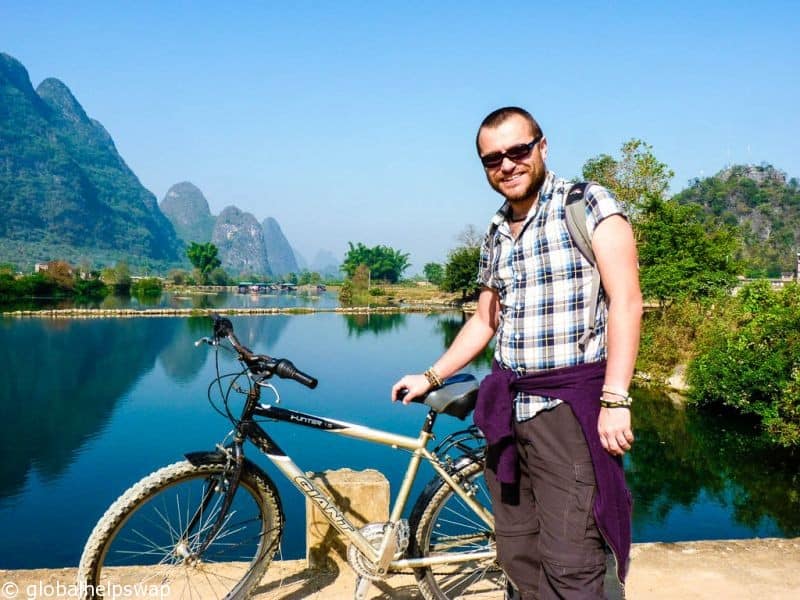 We were on our way to a place called Half Moon Hill, a karst mountain that has a hole in the middle of it shaped like a half moon. By our estimates we were half way there when my bike fell apart. We started scanning the floor to find the screw that came off to attach the pedals back. We walked up and down the long street to no avail. We had a huge dilemma. Do we go back to our guesthouse or do we carry on to our destination. Either way was long and with a broken bike it would have taken twice the amount of time to get anywhere.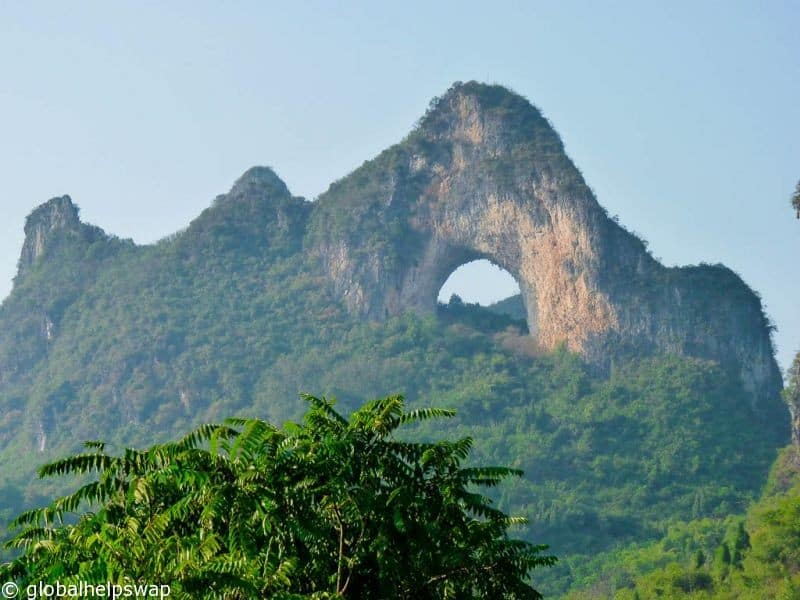 That's when she came. I like to call her Yoda (you will find out later). She was riding her bike with a wooden cart attached to it. In broken English she asked if we had a problem with our bike which we confirmed. She said she knew a man around the corner who fixed bikes and to follow her. I put my bike on her cart and rode Karen's bike with her hanging on to me. I hoped she was right with just around the corner as Karen and I was all over the place. Thankfully she was.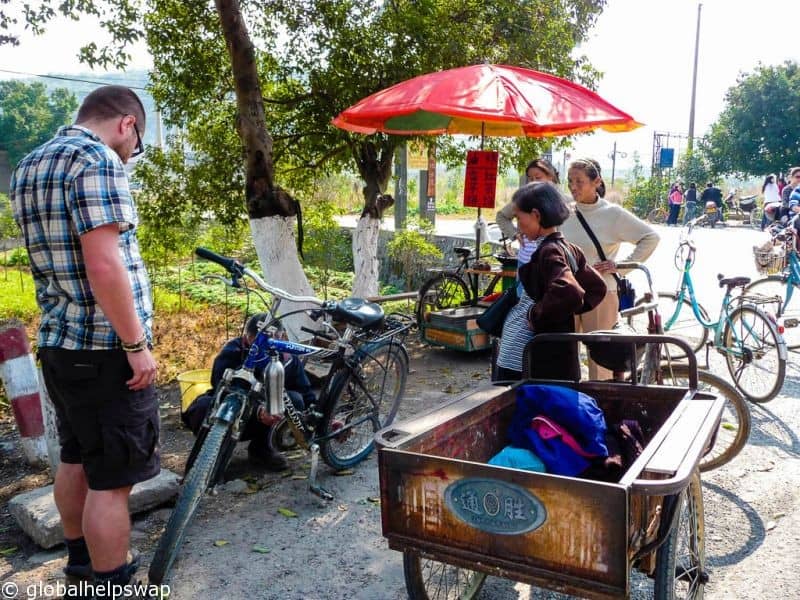 I love the ingenuity of the Chinese. They see problems and find solutions to them normally in the guise of a local enterprise. The man fixed my bike in no time. It cost me $1, as did Yoda's help. I wondered if he set up his stall here because of all us foreigners breaking down. Yoda then asked us where we were heading. We replied Half Moon Hill. She then came out with a killer line. I can help you get in the back way. Who would you rather pay, the communist government or a poor old farmer like me? How could you turn down a pitch like that!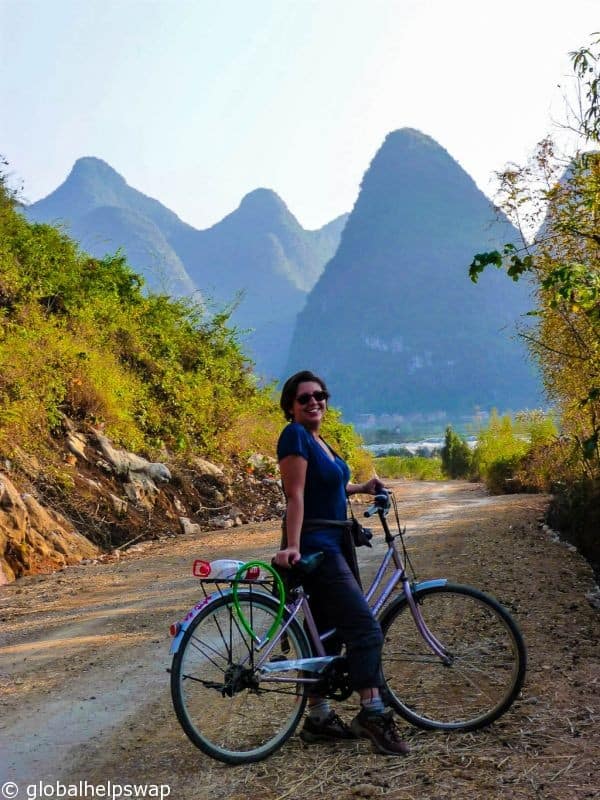 So we followed her for about 1km. We then left the bikes at the side of the road next to a vertical cliff face. She said follow me as she quickly climbed up the side of mountain. We looked up and thought she can't be serious. This is where I should mention that this lady was 80 years old! Hence the nickname Yoda. Her energy and fitness put ours to shame. We were soon panting and sweating. After about 20 mins we reached the steps that led to Half Moon Hill. She did not have a hair out of place, unlike Karen and I. She laughed and stated that we should eat more Chinese food. We thanked her and paid her and carried on walking up the steps. We felt good getting one over the local regime and helping out an old lady.
At the summit we met another remarkable woman. She sold cold drinks for all the hot trekkers that came to Half Moon Hill. (There is that entrepreneurial spirit again.) She would walk the 800 steps 4 times a day to bring up her heavy bag of drinks. Oh and she was 90.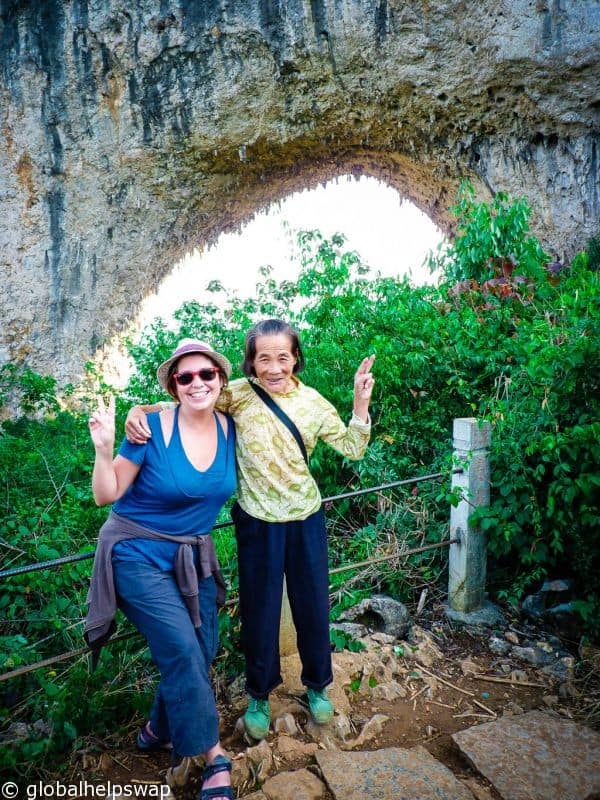 She taught herself English and spoke remarkably well. We chatted to her for a while as other trekkers came and went. We were about to head back down when she said, why don't you climb to the top? There were signs all over the place in many languages saying danger, forbidden, do not climb any further. We pointed these out, which she laughed off and said don't listen to those, I climb it all the time. So we followed our 2nd old lady of the day with a few other intrepid travellers to the forbidden summit.
The rewards were immediate. The views were stunning. The whole group instantly went quiet to soak it all in. Sometimes the beauty of nature is all you need. We stayed at the summit for 30 mins before heading back down. This time we decided to head the official way. We were slightly worried when we passed the guard on duty, thinking he would stop us and ask us for our ticket. Spending time in a Chinese jail was one adventure we didn't want.  Luckily, he was nonplussed and we got out.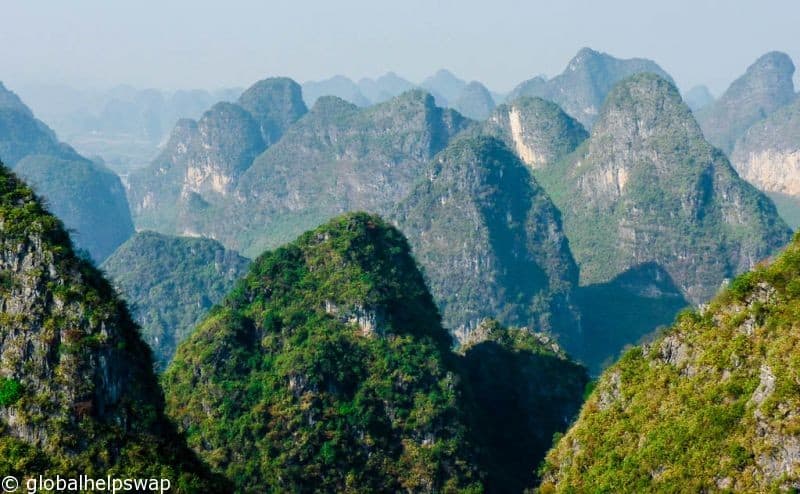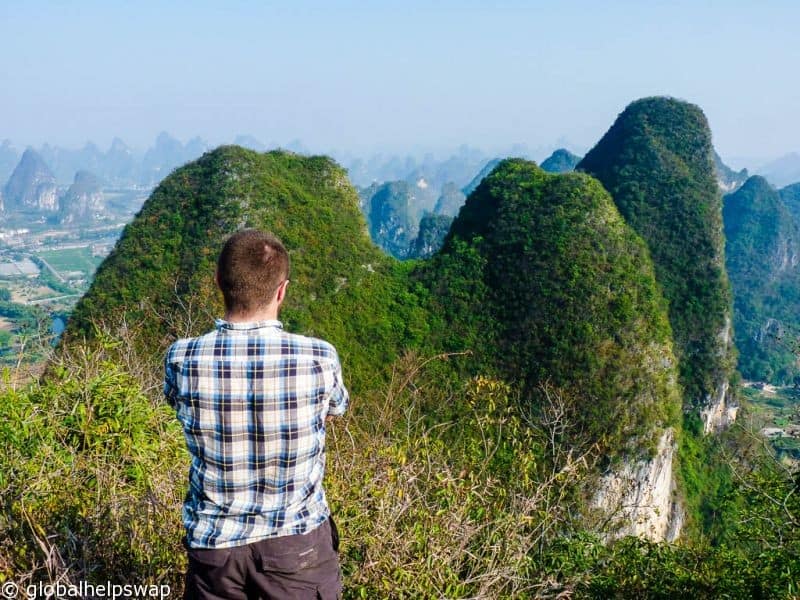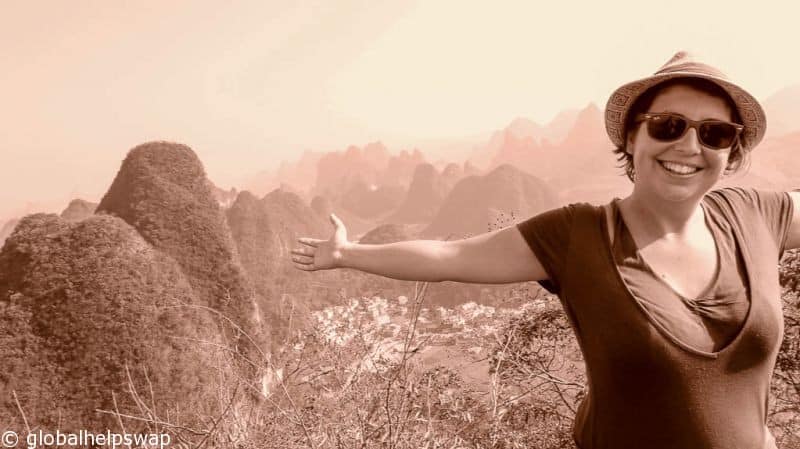 At the entrance was Yoda with our bikes and a huge smile on her face. She asked if we were hungry and if we were, she knew a great place around the corner. By this point we trusted her implicitly so we were happy to go anywhere she suggested. Once again, she did not disappoint. We went to this amazing restaurant that served delicious cheap food with killer views. We were the only two there. It was the perfect end to an unexpected afternoon.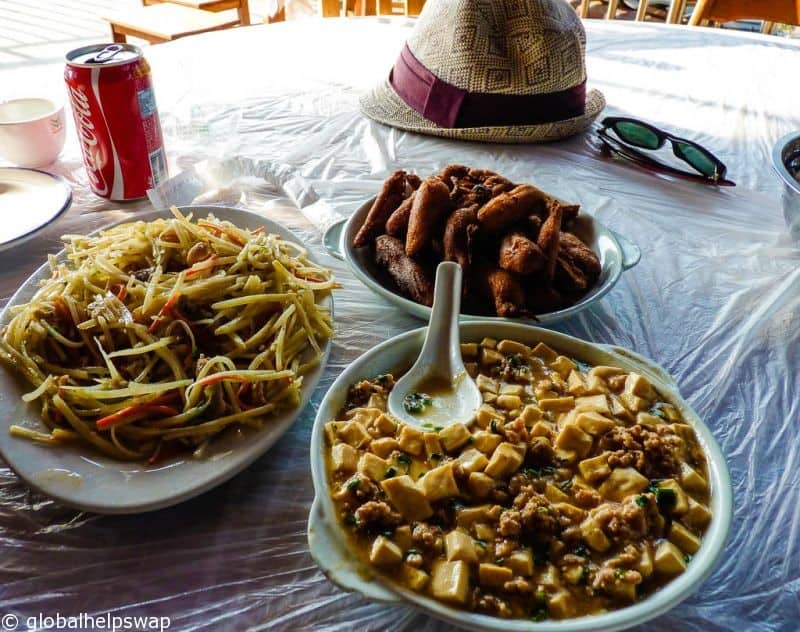 That's what I love about travel. The chance adventures. If this incident would have happened at the beginning of the trip, I probably would have turned Yoda's offer of help down. My mind was not open enough for such encounters. Now I actively seek them out. So if you are ever in Yangshuo, China and an old lady offers to help you out, jump right in, you never know where you will end up!
By the way, we stayed in one of the best guest houses ever during our stay in Yangshuo. The Giggling Tree has to be your number one choice when you come here. It is in the perfect location and serves great local and European food. We booked through Booking.com.

Have you had an unusual adventure on your travels? We would love to hear your tale in the comments below.
P.S. Most responsible travellers who read our blog sign up for regular updates. You can join them by filling in the orange box below.
#LoveYourTravels