How to spend New Years Eve in Sydney on the cheap
A few years ago we were lucky enough to be in Australia during the Christmas period. We got to spend some quality time with friends in Perth and spent Christmas with our extended family members who live in Melbourne. We could not resist heading to Sydney for the New Years Eve celebrations. As a kid growing up, I used to love watching the news on New Years Day seeing all the clips from around the world of the New Years Eve celebrations. In fact I still love watching it.
Sydney is always one of the first cities you see on the clips in the UK as it is so far east. It always looked spectacular too with the harbour full of boats, the harbour bridge setting off fireworks and the famous opera house all lighten up. So we could not wait to witness it for ourselves. However, we came across a huge stumbling block when we came to book our accommodation. MONEY.
Anyone who has visited Australia in the last few years will know how expensive it is. Prices have gone through the roof because of the recent mining boom. It is even more acute if you have travelled from South East Asia (like we did) as prices are so low in Indonesia, Vietnam and Laos.
We were expecting to find cheap hostels in Sydney during New Years Eve, how wrong we were!
To give you an example of how expensive accommodation can be during New Year's Eve in Sydney I have just conducted a search on hostelworld. Here are some of the results:
Dates from 30th Dec – 2nd Jan 2015.
Wake up Sydney Central – Cheapest Prices – £32.50 a night for an 8 bed mixed dorm BUT you must stay at least 7 nights.
Jolly Swagman Backpackers – £35.95 a night in a dorm but you must stay 14 nights.
Blue Parrot Backpackers – £111.00 a night in a dorm but you must stay 7 nights.
As you can see, for two people this would cost a fortune. Especially if you are at the end of a 18 month trip like we were. So how did we spend New Year's Eve in Sydney on the cheap?
We slept in the park.
Only joking, even we would not go that far! Here are our tips to have a great New Years Eve in Sydney:

1. Where to stay in Sydney on New Years Eve
Did we find cheap accommodation during NYE? Yes, we did. We used Gumtree to book our accommodation in Sydney. We ended up staying in student accommodation for a week and it cost us around $220 Australian dollars. Granted it was not the best room we have ever stayed in but we were hardly at the place as we were out exploring the city.
You can also use Airbnb to find some great deals. I just checked and found places that are cheaper than the hostels. You get your own room and you don't have to stay for a minimum of 7 or 14 days.

2. Things to do in Sydney on New Years Eve
Now that you have your accommodation sorted, what to do in Sydney during New Years Eve? Like any great city, Sydney has loads of options for you. However if you are visitor to this great city and it's your first time there is only one place to be. By the harbour!
Lets be honest, if you have gone to all this trouble of being in Sydney for New Years Eve, you want to make sure you have a good spot for the night itself. The trouble is, so does everyone else. People start arriving early and I mean early. If you want a spot in front of the Harbour Bridge and next to the Opera House then we suggest getting down there for midday. Yes, that is not a typo, I really mean Midday. We got there around 13:00 and were one of the last few let in. There is a maximum capacity in that area which we were grateful for as it did not feel too crowded.
If you do make the effort to get down there early (and it is worth it. How many times will you be in Sydney for NYE?) then we recommend you taking your own food and soft drinks. It will be a long day and you could end up spending a fortune on food and drink while you are down there. All drinks must be in plastic bottles as glass is not allowed. Unfortunately, you can not take your own alcohol but there are plenty of bars dotted around all the vantage points. This will be the only thing you spend your money on if you bring your own food.

3. Transport in Sydney on New Years Eve
Opal is the ideal way to get around on public transport during New Year's Eve in Sydney. An Opal card lets you travel on all modes of public transport, giving you flexibility if your plans change. Plus, plan to get to the celebrations early and save 30% with Opal off-peak train fares – simply travel between 9am and 4pm on Sydney Trains, or 8am and 4pm on NSW TrainLink intercity services. There will be extra trains running on New Years Eve and New Years Day. 
There you go, hopefully some of these tips will save you some money to spend on booze during the big night. New Years Eve in Sydney is a special thing and everyone should attend it at least once in their life.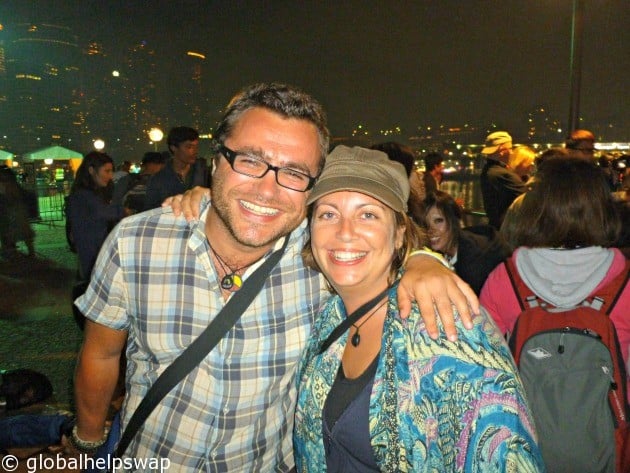 Happy New Year! Safe travels home.
For more information visit the official New Years Eve website.
Have you attended New Years Eve in Sydney? Or are you a local? We would love to hear your tips on cheap ways to spend in Sydney during NYE. Please leave a comment below.
#LoveYourTravels
P.S. Most responsible travellers who read our blog sign up for regular updates. You can join them by filling in the orange box below.