Local Travel
Guest Post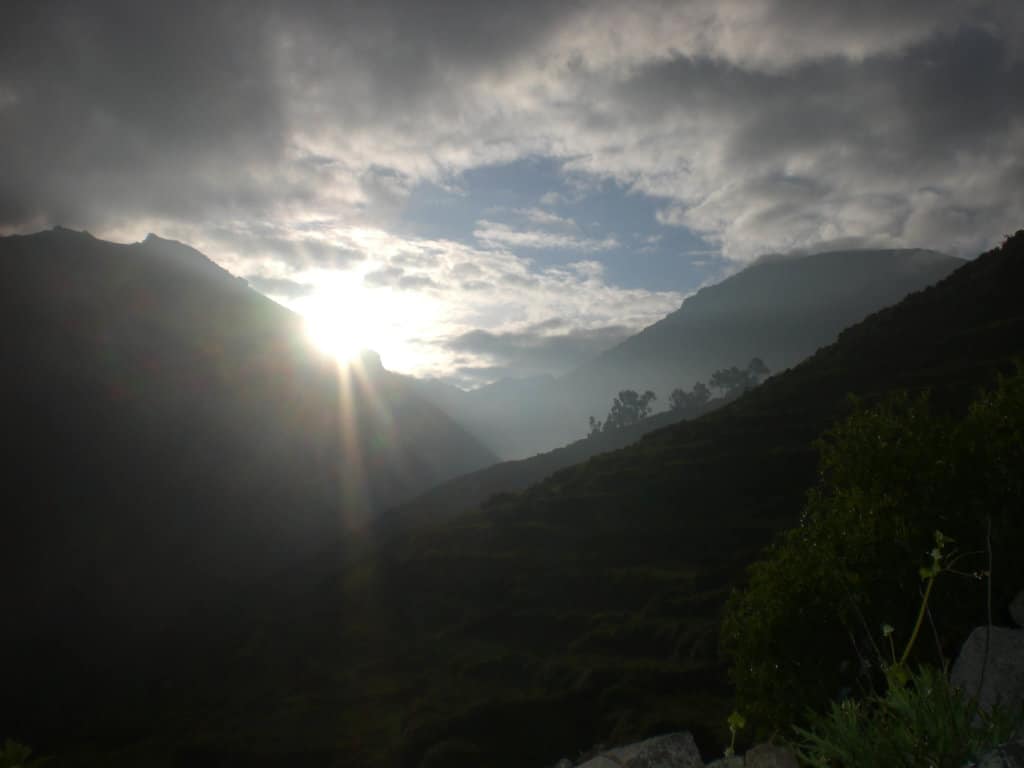 Many are those who like to point out that they are "travellers, not tourists". I don't really care for such a distinction. What I am interested in is seeing beautiful places, that transmit a positive energy, and if they do so, I really can't be bothered if there are a million people around, all busy snapping pictures, or if I am the only one. Sure, it is nice to be alone at a site sometimes, but I don't really put much of an effort to get off the beaten path. If I happen to be there, I embrace it. After all, I am of the opinion that, if a place attracts so many visitors, there's got to be a good reason, and I am hardly ever disappointed by it.
Having said so, when I visited Peru for the second time in four years, I liked to play with the idea of getting off the gringo trail, which I diligently followed my first time in the country. That time I was on a long-term trip, and I could spend more time savouring each place without having to rush from attraction to attraction. Thus, when the owner of my hostel in Trujillo mentioned a place called Marcahuasi, of which I had heard nothing, saying that it was "only" 100 km away from Lima, where I was heading, I did some basic research and I was quickly hooked.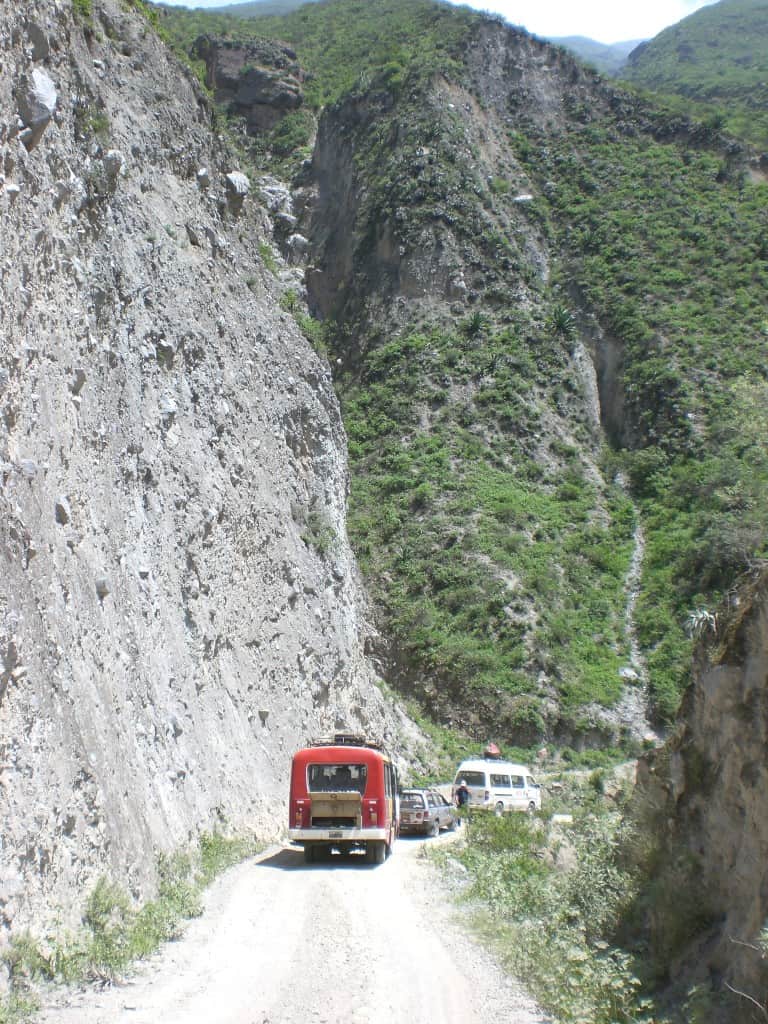 Marcahuasi is an archeological site located in a plateau at 4100 meters above sea level, and that is (supposedly) known for its rocks which have the shape of animals and even peoples' faces, allegedly signs of a pre-Inca culture or, most likely, natural erosion. Most people who had been there and whose tales I read claimed that there was a special mystic energy in Marcahuasi. I was definitely interested; I decided to go and I had one of the most incredible experiences in my many years of travel. I thought it may be a good place to spend a couple of days before catching my flight to Cusco and visit the Sacred Valley and hiking the Inca Trail to Machu Picchu.
When I finally set to leave from Lima, I realised that it would take me way longer than expected to reach San Pedro de Casta, the last village before the site. Those 100 km from Lima implied a bus from my hostel to get to another stop, from where I had to catch a colectivo to Chosica, and eventually a rickety bus that took 3 full hours to ride along the 42 km of a tiny one lane dirt road with high cliffs on one side that left me wooing at the beauty of the view yet a bit scared at what might happen if only a tire went 10 cm more to the right. It took me total of 5 hours to get to San Pedro from Lima.

When I finally arrived in San Pedro de Casta, at 12 pm, it was starting to get foggy and clouded over and it did not seem a good idea to embark on the hike, so I decided to spend the night in the tiny village, that has no more than 500 inhabitants and is located at 3000 meters above sea level. It is not hard to figure why not many people visit Marcahuasi: it is really too far off from anything, the main village is so isolated and there hardly is any comfort for visitors. There is a "hotel" (the Hospedaje Municipal, which has plenty of rooms, but no running water after 8 pm, let alone any hot water), a few local restaurants in the main square, a library with occasional internet access but no wi-fi, and a tourist office where all visitors have to sign themselves. Once I signed the register, I realised I was the only tourist in a week. I loved the local feel, and decided to go for a walk around the village.
It may have been still summer, sunny and hot in Lima, but San Pedro de Casta was freezing cold when I got there. At about 1 pm the rain cut short my plans to go for a walk in the surroundings. I thus just sat around sipping some mate de coca to fight the altitude and the cold weather, observed the locals going about their business and the children getting out of school, went to the public library and just rested. It wasn't like I could exchange a word with another backpacker – in fact, I was the only guest at the hostel. I was in for an early night anyways, since I had set to start my hike at 6 am to avoid the afternoon rain and catch the 2 pm bus back to Chosica. When it got dark, the village turned completely quiet and the only thing I could hear were the occasional bellows of the village donkeys – quite a difference from the noise of traffic in the crowded Lima.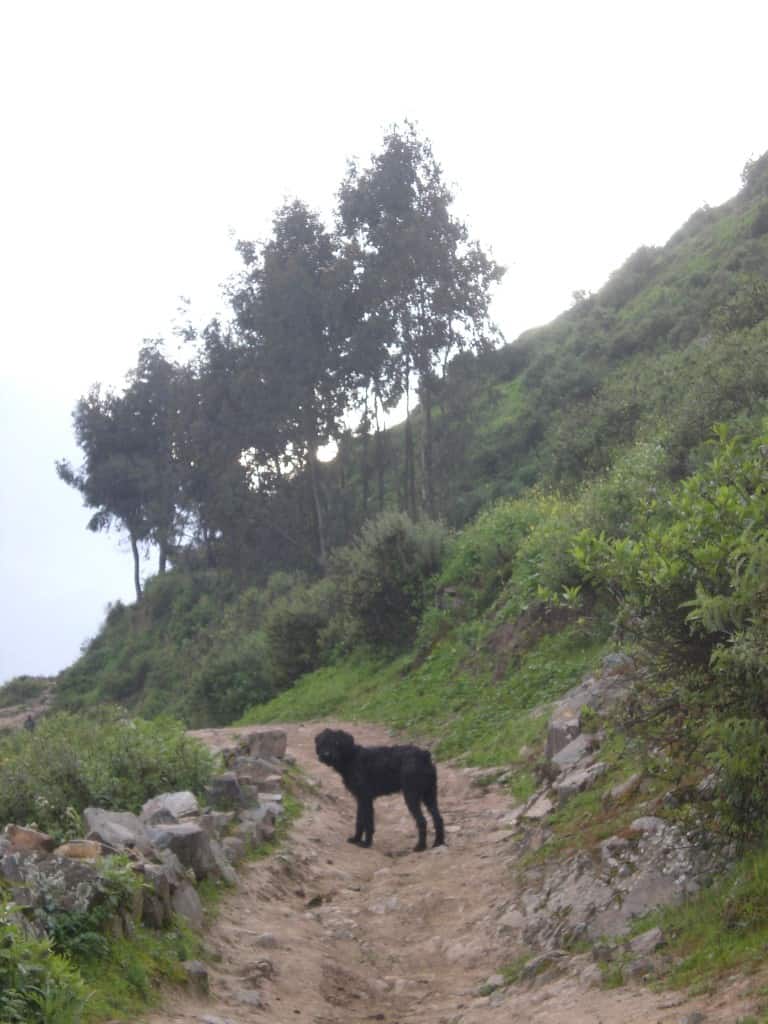 When I left for my hike, the village was starting to wake again. Peasants were going to the fields, children getting ready to go to school. I started walking and a dog decided to follow me. I thought he may soon give up, but instead Barbon – that's how I named him – kept a good pace. I should really say I followed him, since any time I stopped to catch my breath or take in the spectacular view he would softly bark and incite me to keep on walking. It was a hard hike – the cold weather, the altitude and the steep path made it very difficult. I hardly met anybody on the way up: a woman and her donkey and a few workers in the fields around. When I reached Marcahuasi, I knew that the long hours on the many buses, the freezing night in that plain hostel in San Pedro the Casta and the hard hike were all worth what I saw. I had an entire site all to myself, I could hear the echo of my voice. The site is truly gorgeous: rock formations in just about any shape, surrounded by mountains, clean air, grass and not much else.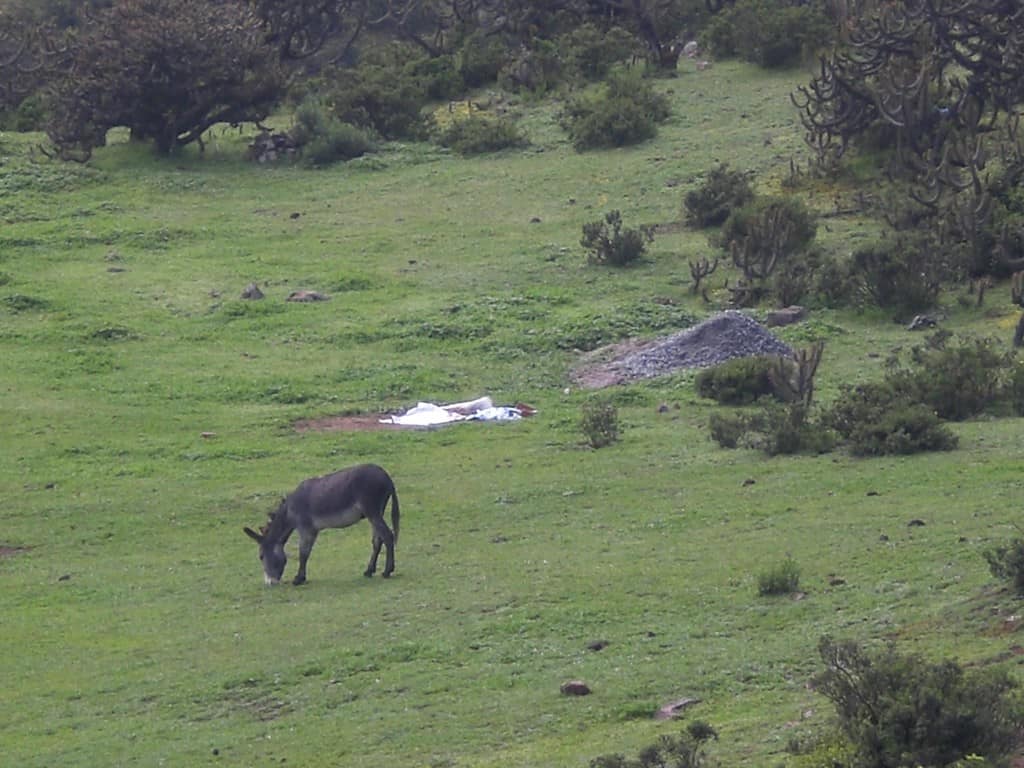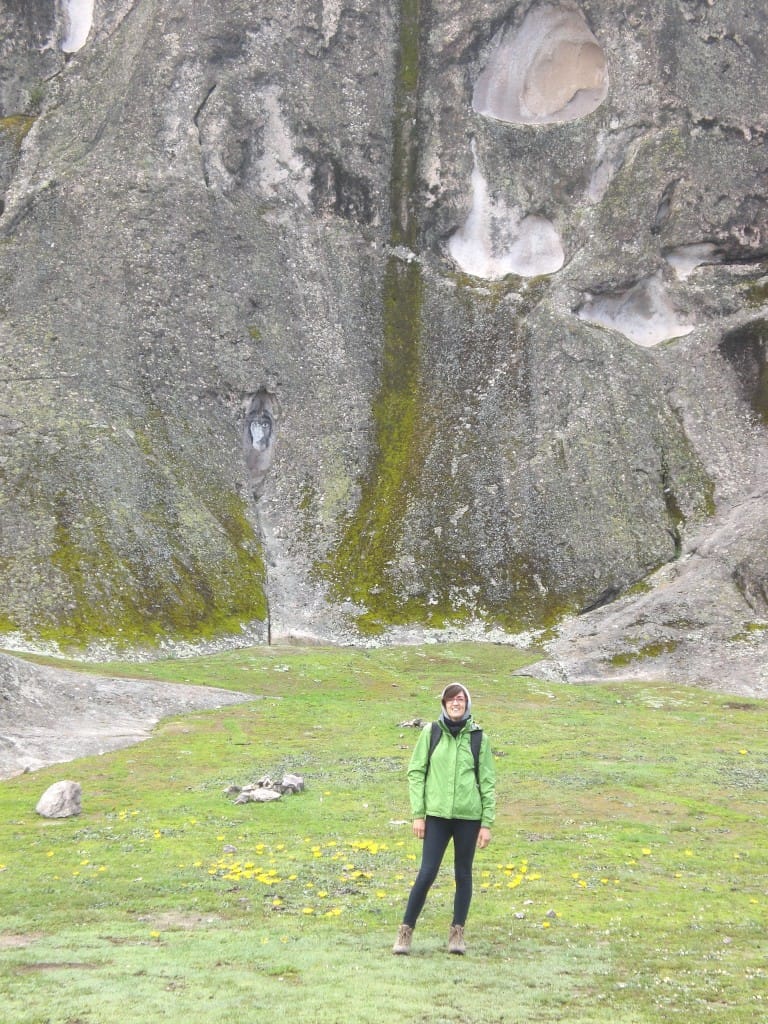 It is possible to camp, and in fact I have read stories of people who spent weeks up there, occasionally going down to San Pedro de Casta to buy food and water. I can only imagine it gets freezing, so it really is necessary to have appropriate gear and to use horses to carry it all up. I wished I could have had more time to recharge my batteries, but I had a flight to catch to Cusco and I had reservations to hike the (by far less lonely) Inca Trail, so I had to make my way back to Lima.
That's when I realised that yes, I really was off the beaten path. Soon after getting back to the village and having parted from Barbon – who went to look for chicken – the bus arrived. I eagerly got on, only to find out that – for unknown reasons – the scheduled 2 pm bus to Chosica would not leave that day. When I explained to the lady at the tourism office that I had to be back in Lima so that I could catch a flight the day after, she went in search of a ride for me. We literally knocked on every door in the village, asking if someone was planning a trip to Chosica (rumours had it that someone had to go get eggs in town). We enquired with the local teacher, we made phone calls. How hard could it be to find a ride? Well, that is pretty hard, considering that only 500 people live in San Pedro and that no more than one or two families actually own a car there.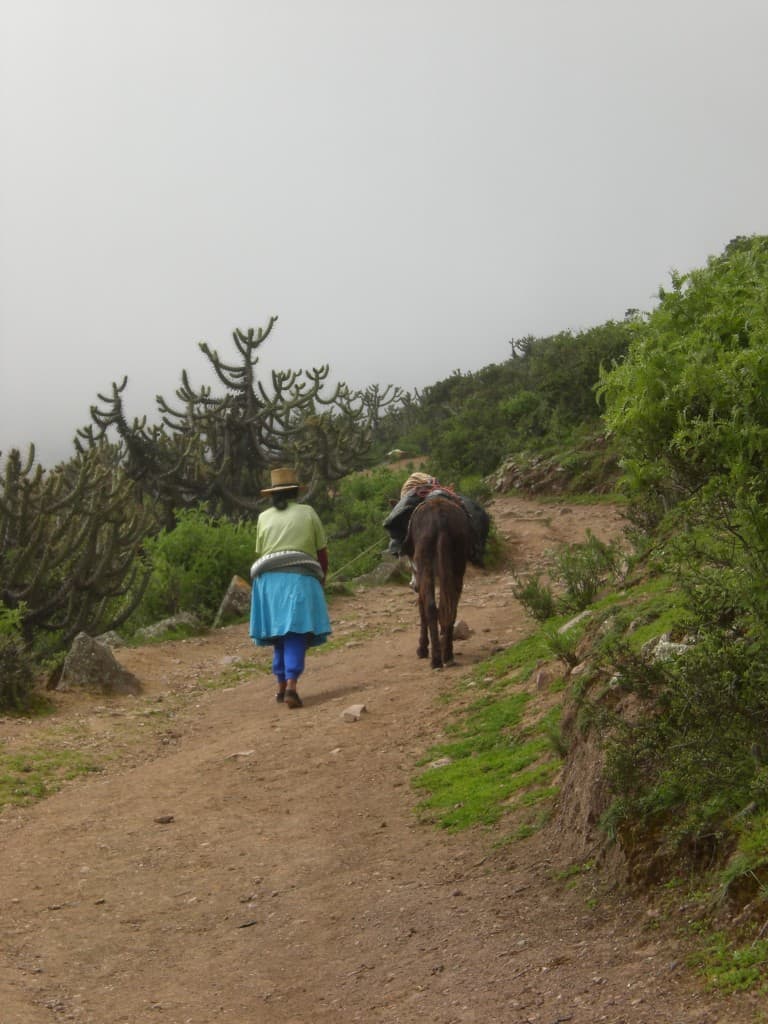 Within one hour, we had managed to find a car that would take me to a crossing, where another bus would pass. It was heart warming to see that so many actually worried to help me out. As I got on the car, I remember waving at so many people who meantime had gathered to find out what was going on and how they could help that little crazy Italian woman who was travelling all by herself.
It was an overall incredible experience, and I appreciated Peru and its beautiful people even more after it.
Heading to Peru? Do you need accommodation? Book now in the box below!
About the author: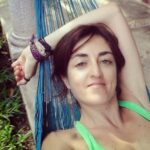 Claudia Tavani is the author of My Adventures Across the World. She is from Cagliari  (Sardinia) and is obsessed with  travelling. A former human rights lawyer and  academic, after devoting her life to the  protection of cultural identity, in November  2013 Claudia decided to give in to her biggest passion and started travelling around  Latin America, and she has hardly stopped since. Blogging came as a natural  consequence, for Claudia wanted to let her family and friends be updated with her  adventures.