How to buy the best hammock in Mexico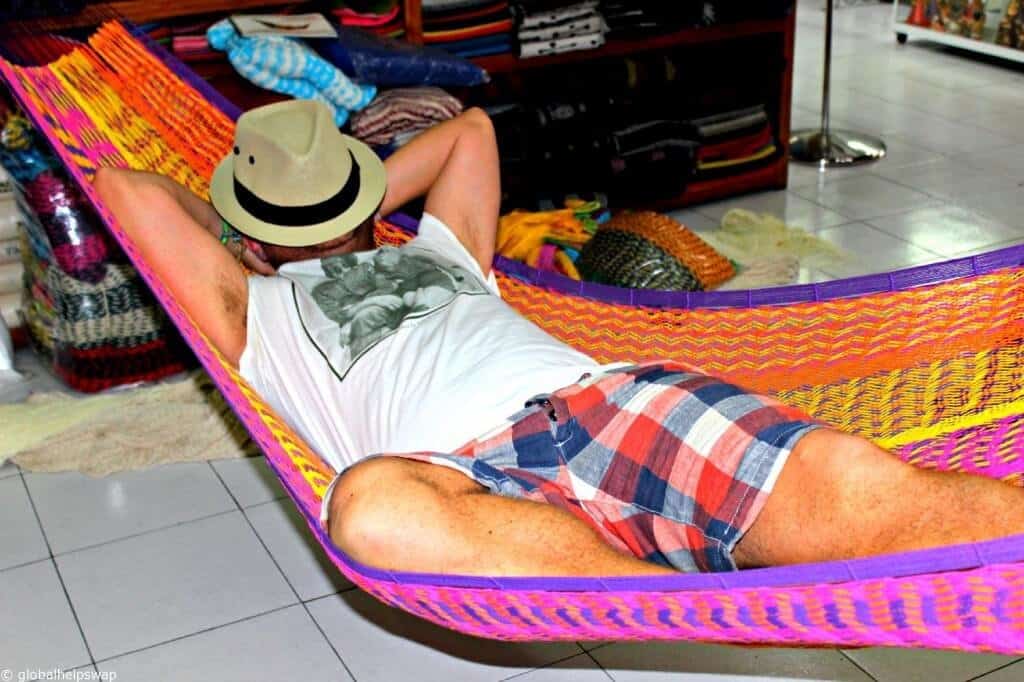 How did this happen? One minute we were sitting in Merida's piazza having a beer and the next we were lying on a double hammock in a store reading the hammock Kama Sutra! This was not what we planned when we left the hotel this morning. However we did want to buy a hammock on our travels in Mexico and not any old hammock either as we have gone through our fair share of shoddy hammocks. No we wanted to buy the best hammock in Mexico.
So, back to the hammock Kama Sutra, no, I mean the hammock.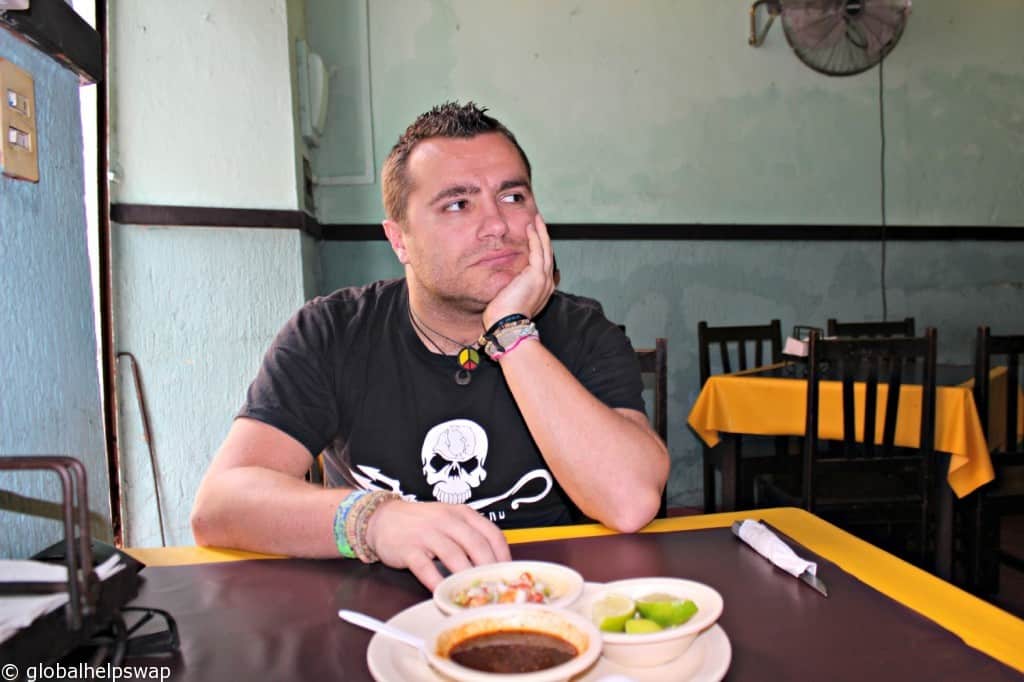 As we were watching the world go by in the piazza we got chatting to a local guy sitting next to us. For around 30 mins we chatted about Merida, The Maya, Travel Blogging, etc. Believe it or not this was part of his sales pitch. No self-scan machines here! He mentioned that he was from a village outside of Merida that is famous for its hand-woven hammocks and that he was part of a cooperative that had a store right around the corner. How very handy!
Now normally we would have just politely declined his offer and moved on, but we did want to buy some hammocks so we agreed to see what he had. As we walked in his store he offered us a shot of tequila. Now this is what I call customer service. (Please take note: Sainsburys!)
The first hammock we tried out was a double hammock. It was okay but we felt that when we were on a hot beach sitting so close to each other it would have been uncomfortable and sticky. We then tried the individual hammocks which were a lot more comfortable. So here we were in a hammock shop with two hammocks that we liked. The trouble was we had no idea how to tell a good hammock from a bad one (hence this blog post.) He did explain to us the differences between his hammocks and the ones you find in markets but was he telling the truth?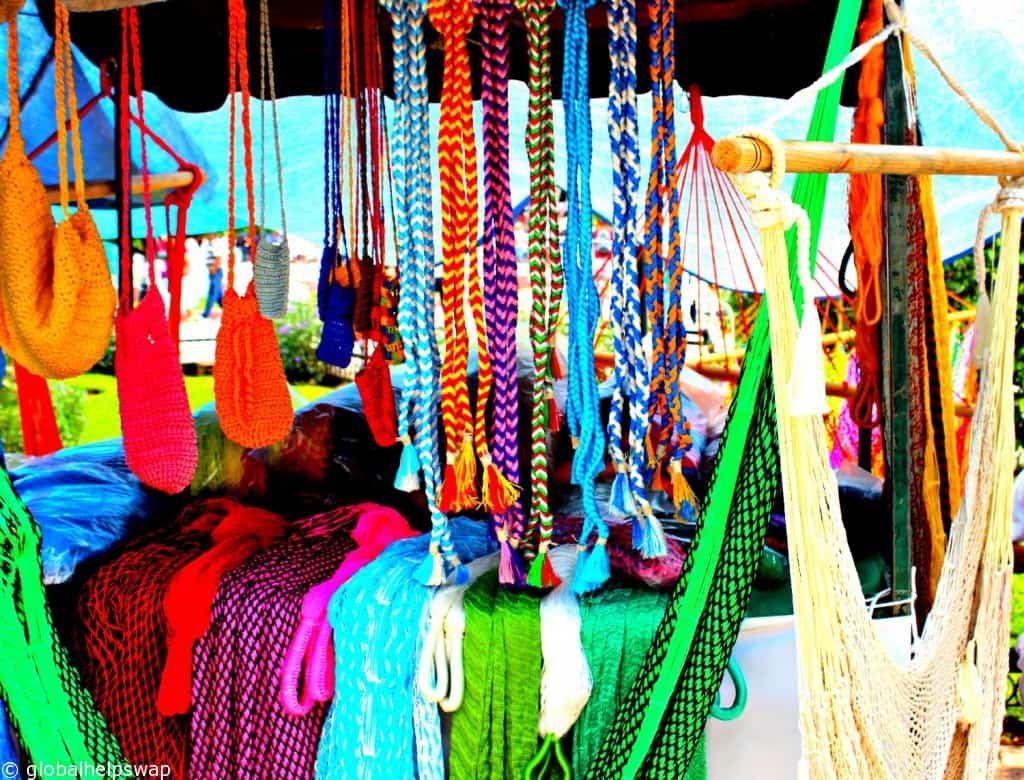 We came to THE moment where we asked how much. He quoted us a price that was way over our budget. This was where our travel skills kicked in. We said we did not have that kind of money (true), we really did not want any hammocks (lie), we had hammocks at home that were just as good (lie). In the end we ended up paying $35 for each hammock which we were happy with. He probably still made a killing but we were happy with the price and that's all that matters. Plus we got to learn about the Hammock Kama Sutra!
What to look out for when buying a hammock in Mexico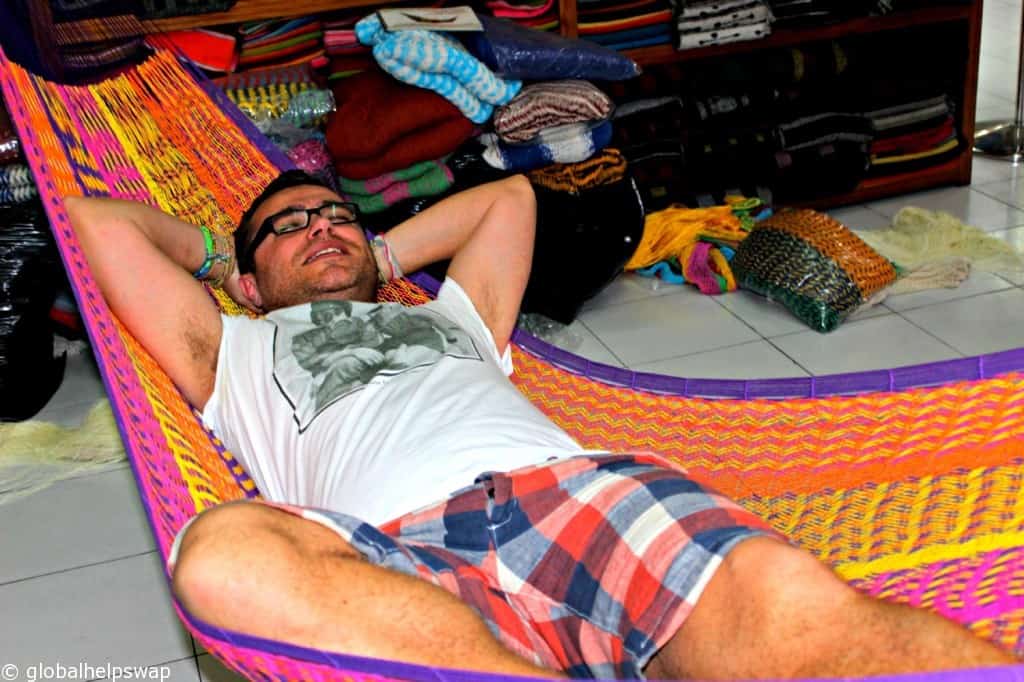 1) Look for triple woven hammocks which is a technique where three threads are interwoven in a continuous, overlapping manner throughout the whole hammock body.
2) Look at the weave of the hammock. Is it tightly woven? Threads that are closely woven together are far superior and will give you a lot more support.
3) Ask what material the hammock is made with. Cotton is the most comfortable material. Avoid Nylon hammocks as they get very uncomfortable in hot weather. Treat claims that a hammock is made from 'sisal' – a natural plant fibre, with A LOT of caution. Hammocks are rarely made from this material nowadays.
4) Ask if the hammock has been "tension checked" which means that no threads bear excessive weight by being too tightly stretched. 
5) Make sure that the hammock is hand-made not machine-made.
6) Merida is famous for its great quality hammocks. So buy it from here if you are in the area.
7) This is a tip we wish we'd followed ourselves. If you are buying a hammock from Merida and you're not too keen on haggling, check out Hamacas De Merida on Calle 65 as they sell their hammocks by weight at a fixed price.
A little history:
Hammock weaving is a tradition that dates back over 4,000 years. The skills needed to create a traditional handmade hammock have been passed down through the generations. The basic design has hardly changed during that time. The weaving of Mexican hammocks is an integral part of Mayan culture.
Hammocks are very handy for the independent traveller. You can use them on the beach and save money from renting a sunbed. You can also use them as ultra cheap accommodation. Here in Mexico there are places where you rent a beach shack to leave your backpack and sleep on your hammock outside under the stars with the sounds of the crashing waves lulling you to sleep.
No hammocks were harmed during the making of this blog.
globalhelpswap
tips for memorable and meaningful travel
#loveyourtravels
Voted as a top travel website by:
http://www.theguardian.com/travel/2013/sep/18/top-travel-websites-globalhelpswap