Where do Red Squirrels Live? I have lived most of my life in the UK and I have never seen a Red Squirrel. Like most people, I have seen plenty of Grey Squirrels in the UK but few Red Squirrels. Grey Squirrels are not native to the UK (they are from North America) so they don't count. Sorry, Grey Squirrel. Which got me thinking, where is the best place to see Red Squirrels in the UK?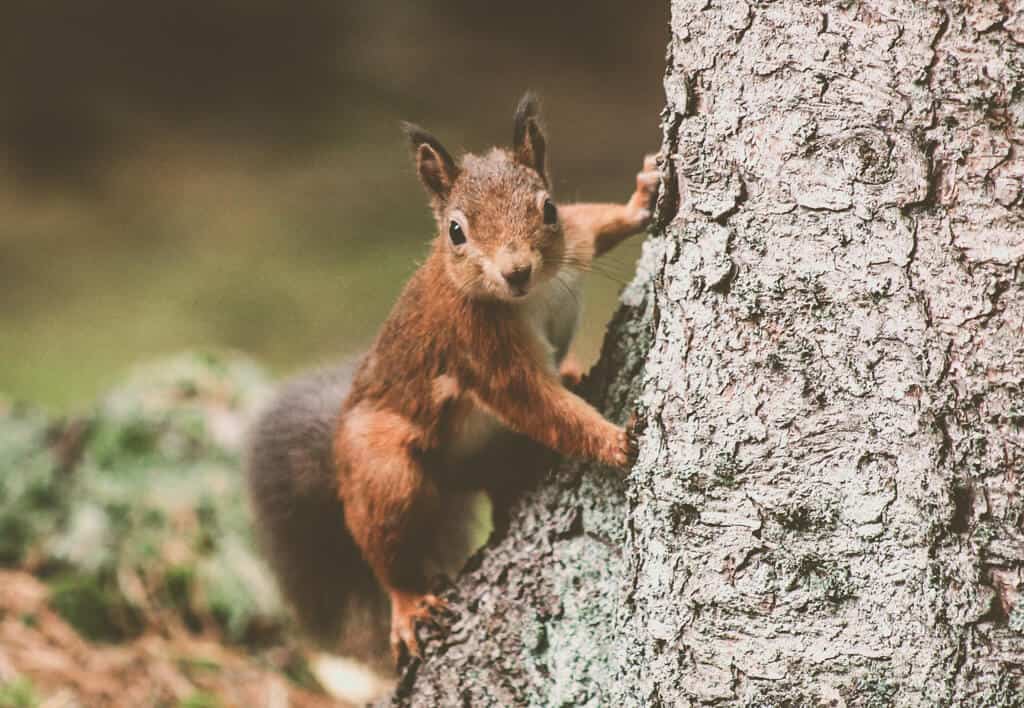 Why is the Red Squirrel Endangered?
Before I list the areas to see Red Squirrels lets find out why they are in so few places. Basically, in most areas of the UK, the Red Squirrel is classed as near threatened. Grey Squirrels are the main cause of the declining population of the Red Squirrel because the grey carries a virus that is lethal to the reds. One of the other reasons is the Grey Squirrel outcompetes the smaller Red Squirrel for food and habitat.
Numbers of Red Squirrels have fallen dramatically since grey squirrels were introduced as an ornamental species in the 1870s. Since then, the UK population of reds has dropped from around 3.5 million to between 120,000 to 160,000 individuals (according to different estimates). The population in England is thought to be as low as 15,000.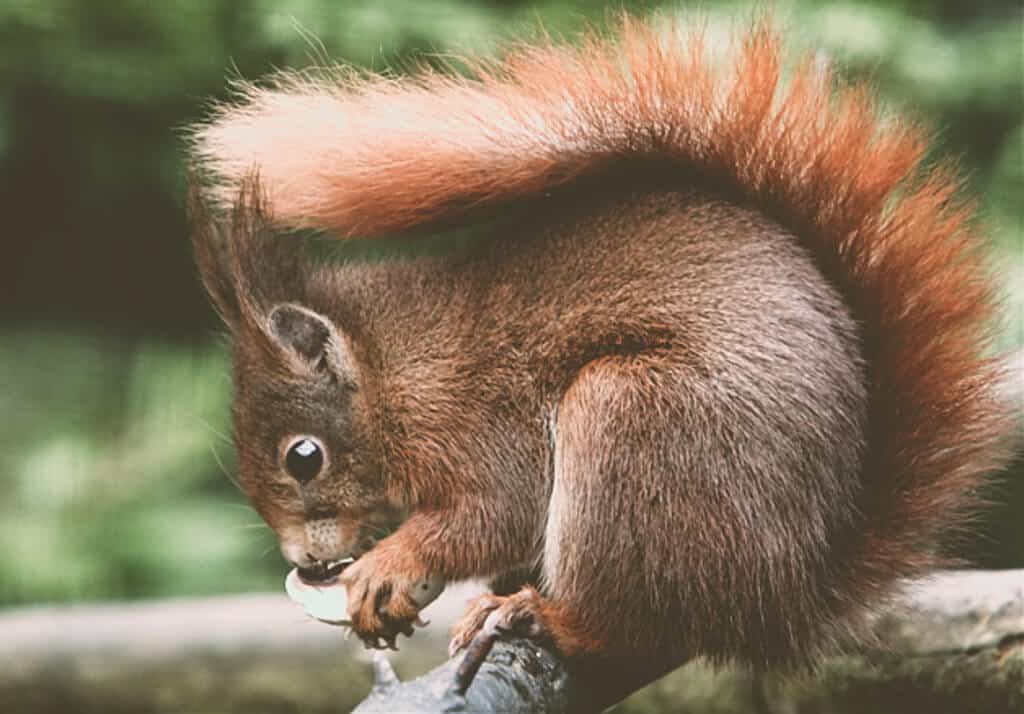 How to spot Red Squirrels
Even though you can find Red Squirrels in Europe and Asia I am going to list the places you can see them here in the UK. They like to live in coniferous forests and deciduous woods. If you want to see them in the wild, prime spotting times are morning and late afternoon because that's when they're most active. Autumn is the best time of year to spot red squirrels as they spend more time on the ground burying nuts and seeds.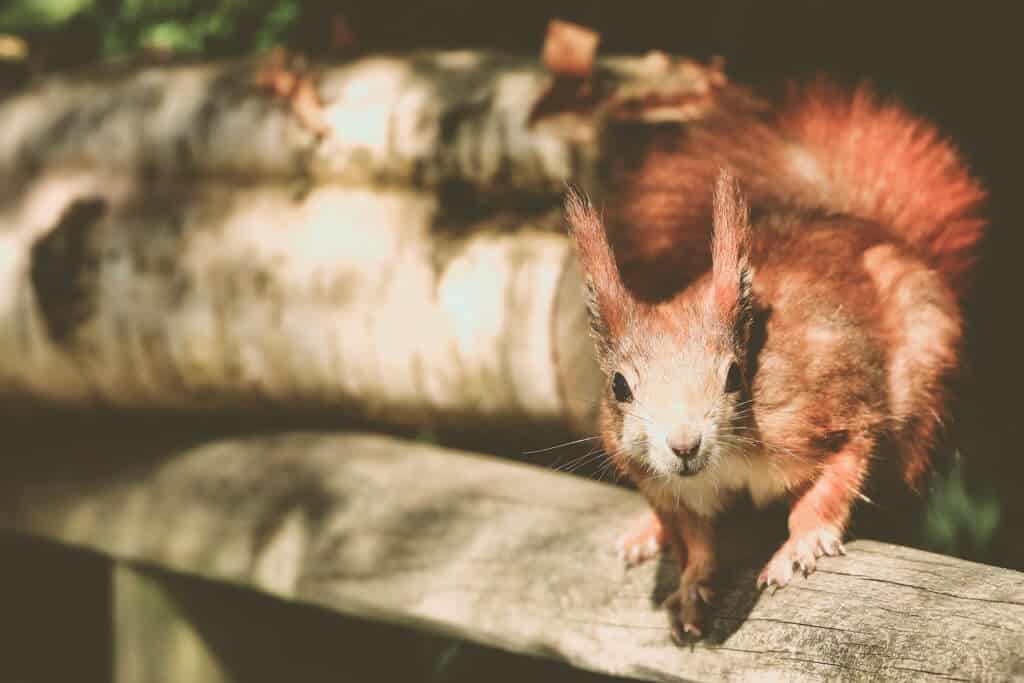 They love to eat hazelnuts and pine cones. If you look on the floor and find pine cones that have been nibbled then red squirrels are nearby. They make their nests high up in the tree canopy. The nests are made from strips of bark, leaves and twigs. They are shy animals so it is best to be as quiet as possible when trying to spot them. However, if there are bird feeders where you are visiting then take a look there as Red Squirrels are as opportunistic as their grey cousins when it comes to a free meal!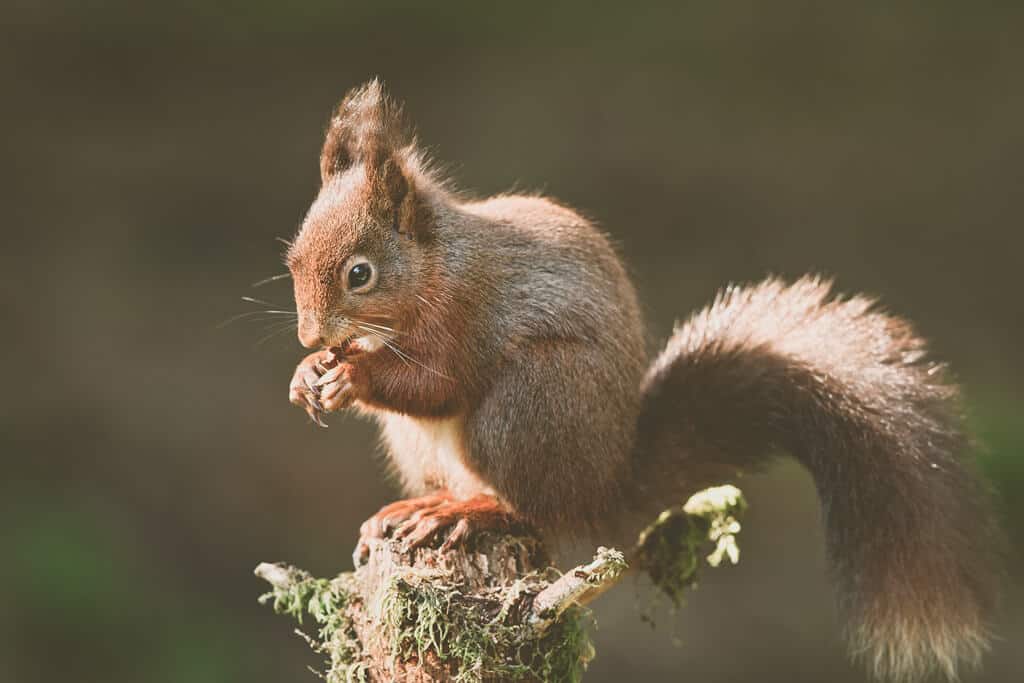 Where to see Red Squirrels in the UK?
Aira Force, The Lake District. Aira Force, in the Lake District, is a great spot for red squirrel watching, and there's even a volunteer squirrel ranger who looks after the resident population. There is a wildlife hide here which looks at the squirrel feeders.
Smardale Gill in Cumbria is a top nature reserve and a great place to see Red Squirrels.
Wreay Woods, Cumbria is another top location to spot Red Squirrels. It is also a great place to see Kingfishers, Otters and Grey Wagtails.
Brownsea Island Nature Reserve, Dorset. There are not many places in southern England to see Red Squirrels. Thankfully, Brownsea Island is one of them. This internationally renowned nature reserve has 250 of our little red friends as well as wildfowl, avocets and black-tailed godwits.
Bouldnor Forest Nature Reserve, Isle of Wight. There are no grey squirrels in Bouldnor Forest Nature Reserve so our native red squirrel is thriving. It just shows you the impact of introducing a non-native species to an environment.
Freshfield Dune Heath, Lancashire. This stunning nature reserve is a great place to spot Red Squirrels. However, they are not the only species to look out for here. The insects here are pretty spectacular too. Keep an eye out for dragonflies, moths and grasshoppers.
Formby, Liverpool. Formby is one of our top places for squirrel-spotting. They come out first thing in the morning to eat – look out for the feeders in the trees as this is often a good place to catch a glimpse of these shy creatures.
Holystone Burn, Northumberland. Holystone Burn contains a wide range of upland woodland and moorland vegetation. Red Squirrels have been spotted here as have pied flycatcher, merlin, and green woodpeckers.
Tony's Patch, Northumberland. There have been regular sightings of Red Squirrels at Tony's Patch over the last few years. It is a great place to visit in spring to see the beautiful bluebells.
Plas Newydd, Anglesey. Plas Newydd offers one of the best places to see Red Squirrels in Wales. This area has the largest population of Red Squirrels in the country.
Loch of the Lowes, Perthshire. Loch of the Lowes is probably one of the best places in the UK to see Red Squirrels with all year sightings. Here you can get up close and personnel with the squirrels as there are feeder boxes scattered around. There is also rope walkways set up in the woodland feeding station, within metres of a large observation window.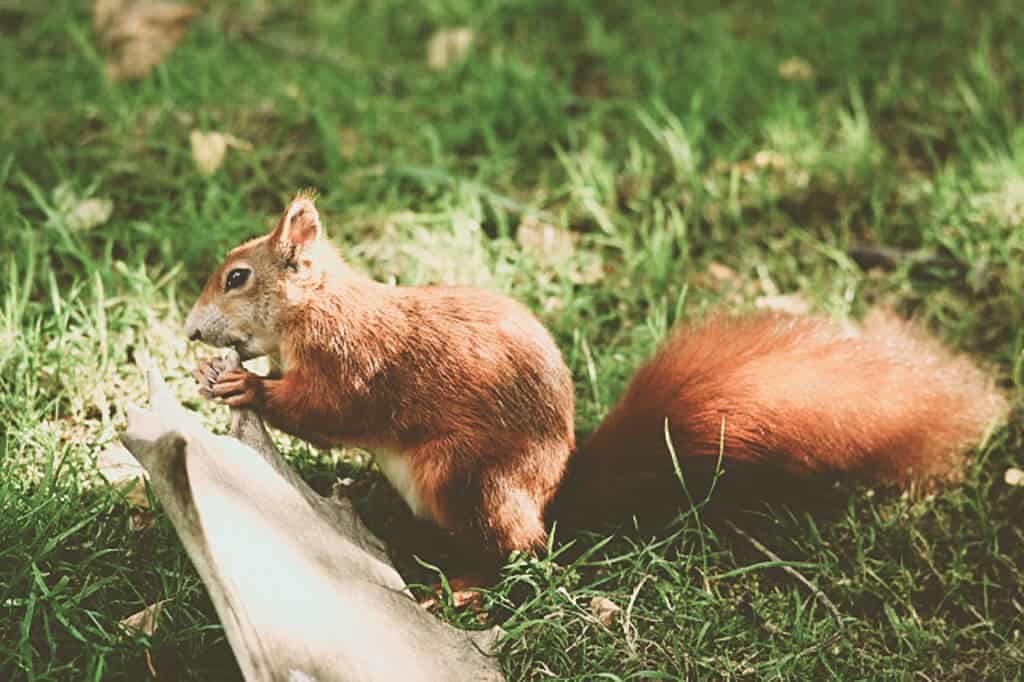 Nature has really helped us during the past year and as soon as lockdown is finished we will get out to see as much wildlife as possible. There are many scientific studies that have proven the benefits of nature on our mental and physical health. After the past year, we all need a bit of help with those.
Do you love wildlife? Check out our other posts on the natural world:
Where to see whales and dolphins in the UK – From Cornwall to The Shetland Isles, The UK has many spots to see whales & dolphins.
Manuel Antonio Costa Rica: An incredible National Park full of wildlife –  Read why this compact National Park blew us away with its wonderful wildlife.
Observing the Orangutans of Sumatra in Gunung Leuser National Park –  Are you looking to watch Orangutans in the wild? Read why you should consider visiting Gunung Leuser National Park.