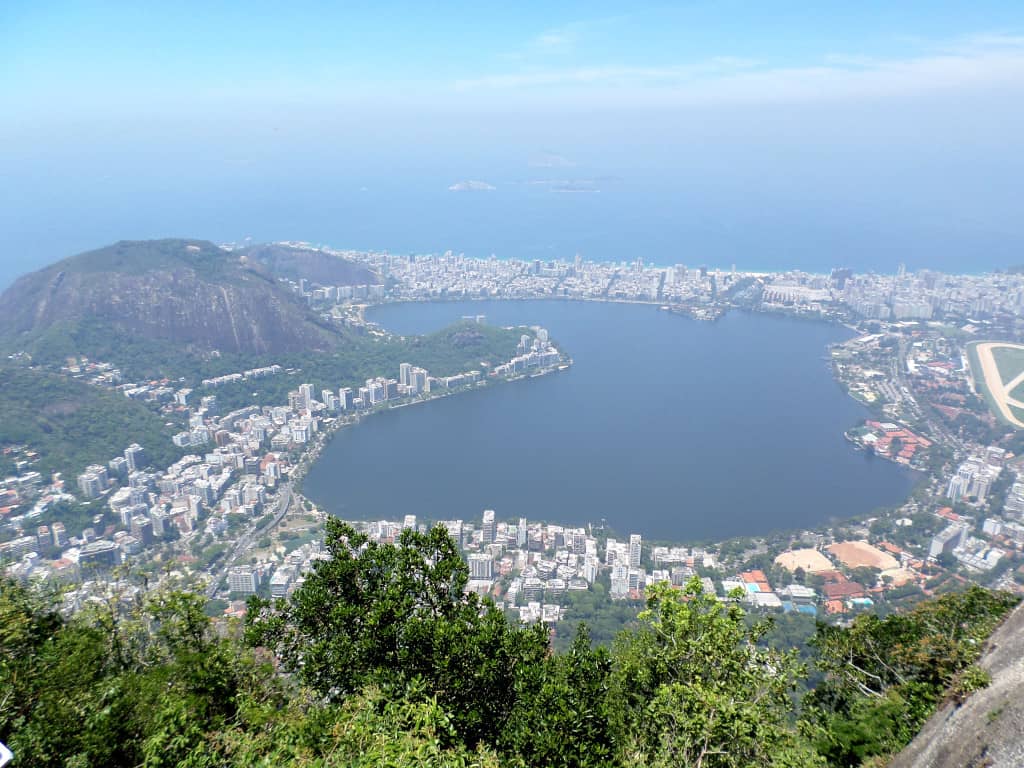 This is a guest post by a very good friend of ours. Val Mallia recently travelled to Rio, Brazil with a group of friends where they truly became locals and took part in an authentic Rio experience:
Following a move to the exciting country that is Brazil by two close friends in 2013, last year my partner and I decided to visit this vibrant place. So in 2014 we headed to South America, first stop: Sao Paolo –  a fun, busy but not particularly pretty city, had a stop in cute and quaint ex-colonial fishing village: Paraty, and then moved  with anticipation to Rio which was no disappointment, and in fact delivered all that we expected and more!
This was January 2014 and there was one very clear recurring question with every person we met in the country: 'Why didn't you come for Carnival?'
I always had a clever answer when probed with this, an answer which I thought made me look clever and somewhat cultured, and my bold statement?: 'I want to see Brazil being Brazil – not Carnival' – I said with conviction!
How wrong was I!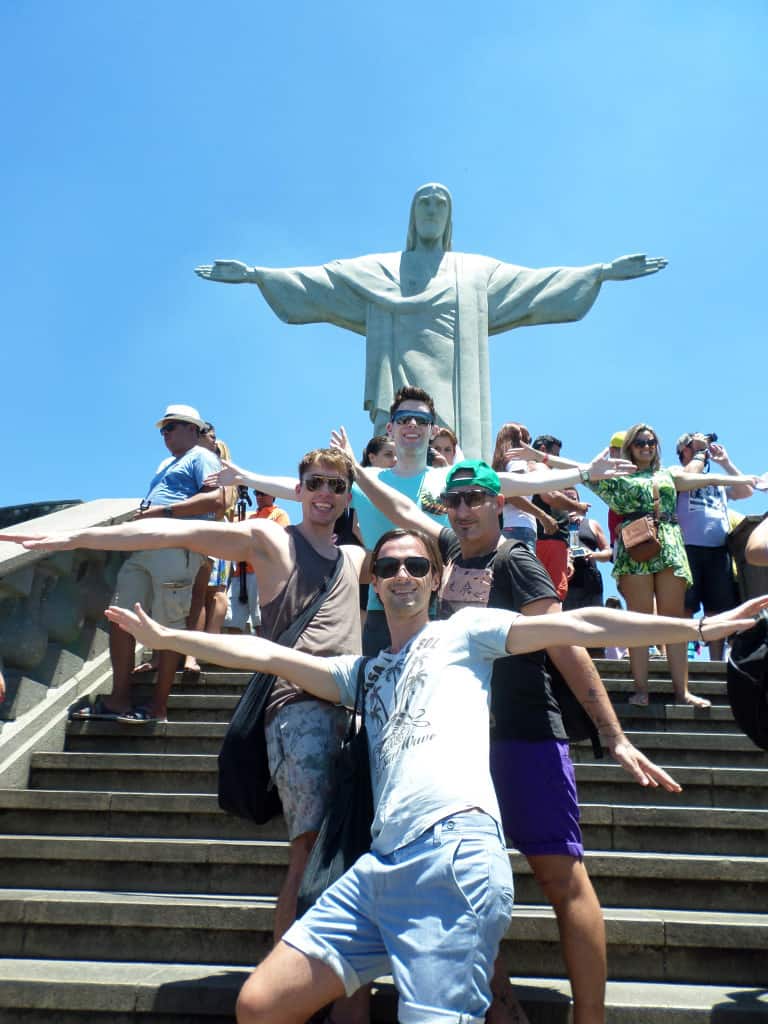 So after 10 days of justifying what was to any Brazilian a disservice to myself and their culture I decided I had to see Carnival, and as our time in the country drew to a close that seed was planted…. Another trip to America del Sur in 2015 was looking more than likely.
2015 was going to be pretty different though!  This time we were a whole bunch of us….and a pretty colourful international Bunch too:  English, French, Maltese, Latvian, Uruguayan and Brazilian…
So while we booked our flights and found a spot that could host such a large group, David: our resident Travel expert sends a group e-mail:  'So we are thinking of taking part in the Sambodromo'  (that's that huge colourful Parade you see on Tv for you and I­) ….. To which I of course replied: 'Yeah Right!' – Little did I know that he was being dead serious.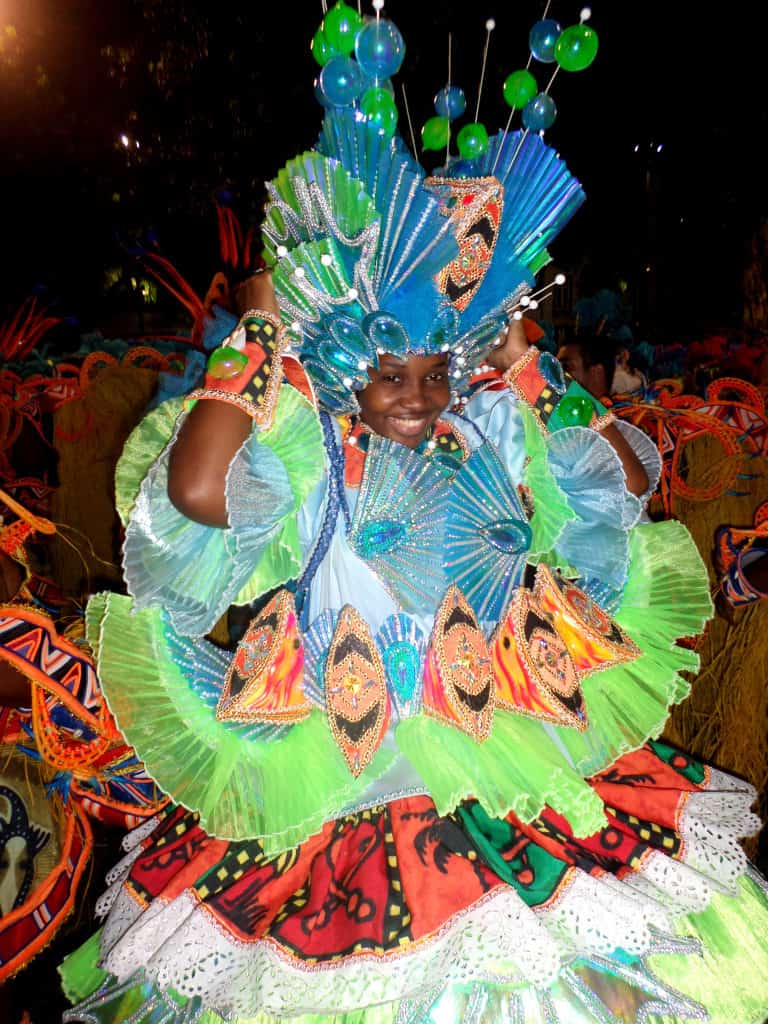 But let me explain something about this gorgeous parade. Unlike what I thought it is not just a Parade showcasing huge floats and costumes that leave very little to the imagination but it is actually a competition.
The Competition is between Rio's Samba schools – it is super fierce and it is taken very very seriously!
For you lads out there think Football serious!
It even has the typical league characteristics: You got The Premier league, division 1, 2 etc etc…. The winner of each division makes it to a higher division while the one with the least points gets relegated! – and of course the winner of the Premier league are crowned Carnival Champions!
Now do not even think that I am in any way a Samba dancer…. I can try and bust a move here and there, but certainly not competition material – especially against Brazilians!!! – Rhythm is like in their DNA!! – as is partying clearly!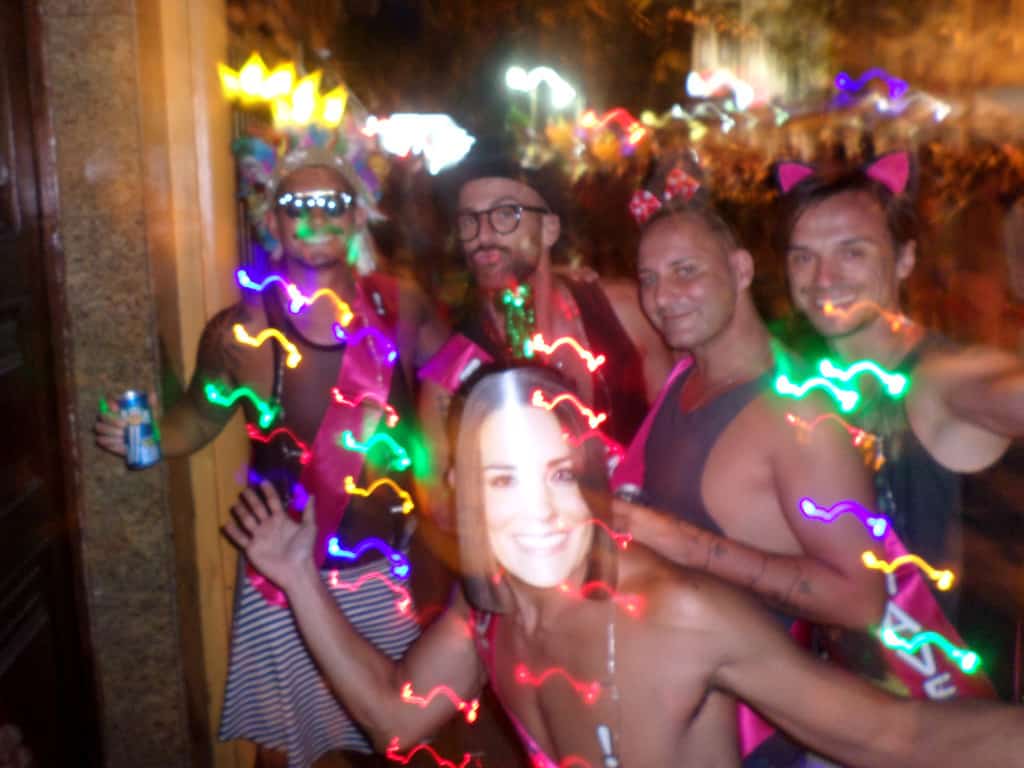 Carnival for Brazilians is just HU-GE!!!!! – the whole country is on holiday and  in party mode – and while there is the greatest show on earth going on in the Sambadrome, everywhere else you have a Blocco happening.
The best way to describe a Blocco would be to call it a street party, though I somehow feel I would not be doing it justice by calling it a mere street party, as I have been to many a street party in various countries, but they do not even begin to compare to the divine mayhem that is a Blocco.
People are out to party and when I say Party I mean PARTAAYY!!! –  Bloccos are not necessarily a night thing either in fact most will start late afternoon. We did however go to one that started at 9am! – Think partying to a marching Samba band in blistering sun and you got a rough idea!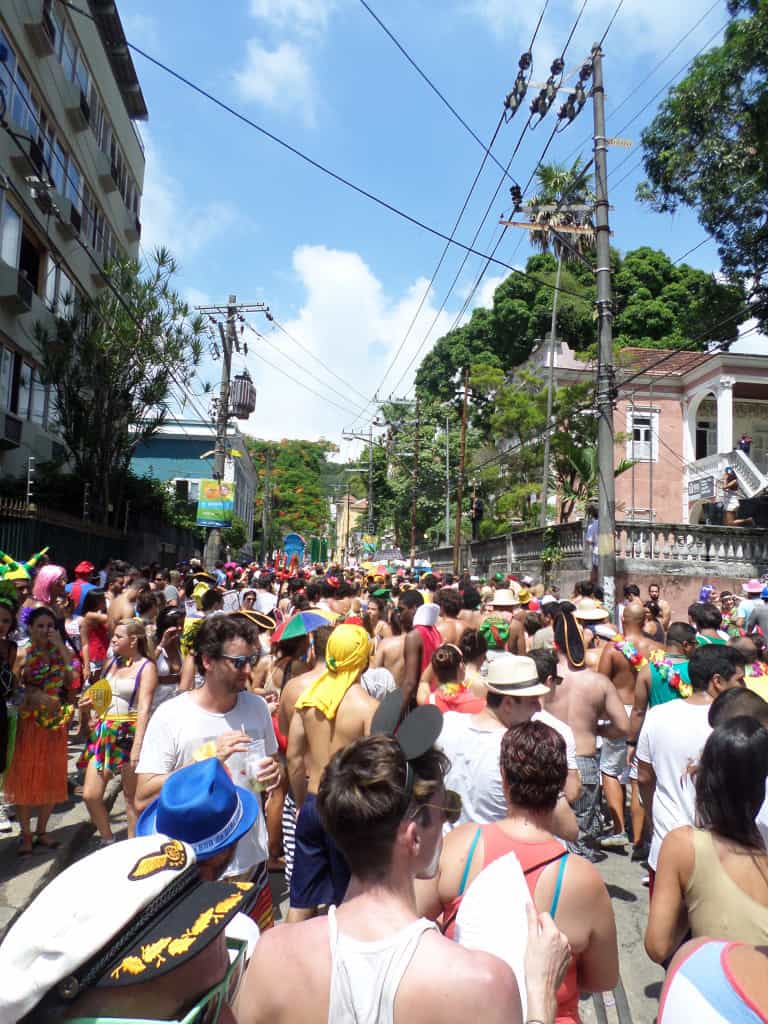 Do not expect some elaborate venetian costumes, that is not what this is about (it would be way too hot anyway) It's about pure un-adulterated fun – costumes are mostly things thrown together, or in the case of most of the guys, borrowing their girlfriend's clothes and putting on a wig, though still in flip flops or trainers of course, kind of looking like Vicky Pollard's darker skinnier prettier sister trying to be sexy on a sunny London summer's day.
If you were feeling you needed to jazz-up your look! stalls are pretty much everywhere, selling masks, hats, crowns, wands, you name it  – if you wanted to put something together quickly and channel your inner pirate, princess, prince, Frog…….you get the picture .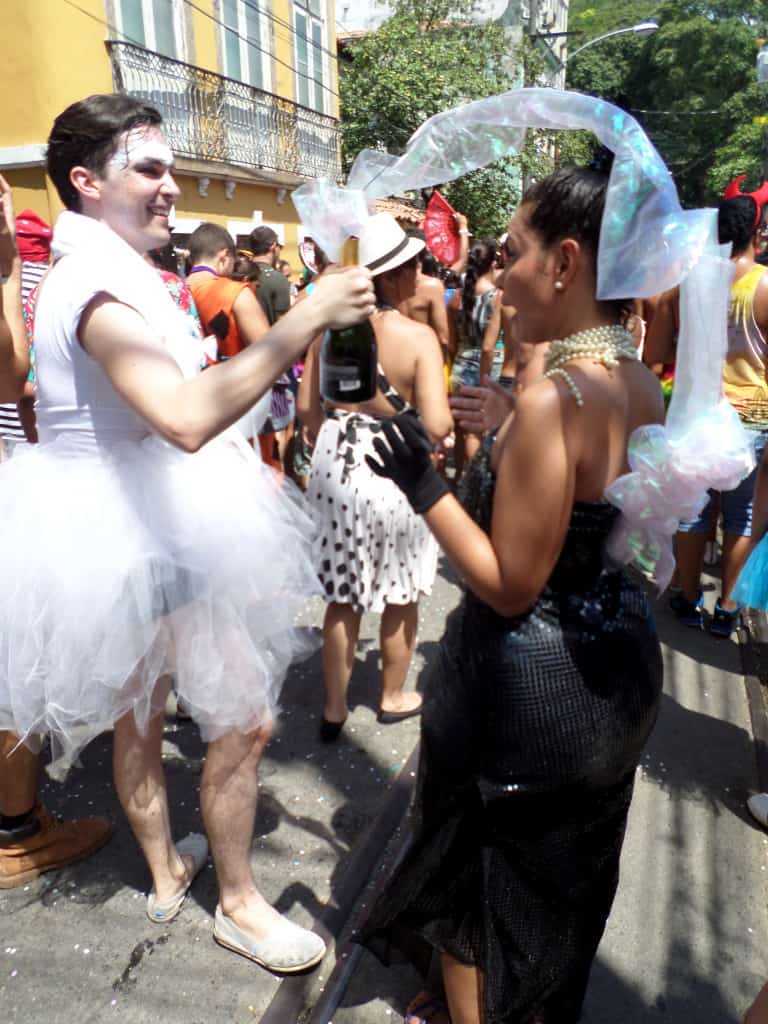 As a large number of our group was gay we decided to attend a few 'gay bloccos' – it did not mean they were exclusively gay in any way – Brazil is very good at non-segregation – but it was organised by a gay group or movement….. and it showed! – the Gay Bloccos  were all themed and clearly there was a lot more thought put into these costumes then what we had seen at other bloccos.
Being Brazilian and (annoyingly) incredibly in shape maybe there wasn't a need of a lot of material per costume –but this is one of those cases were one could use the term 'less is more' and have different facets to the actual phrase!…..and even though I had more material per square-inch on my body I felt seriously under-dressed!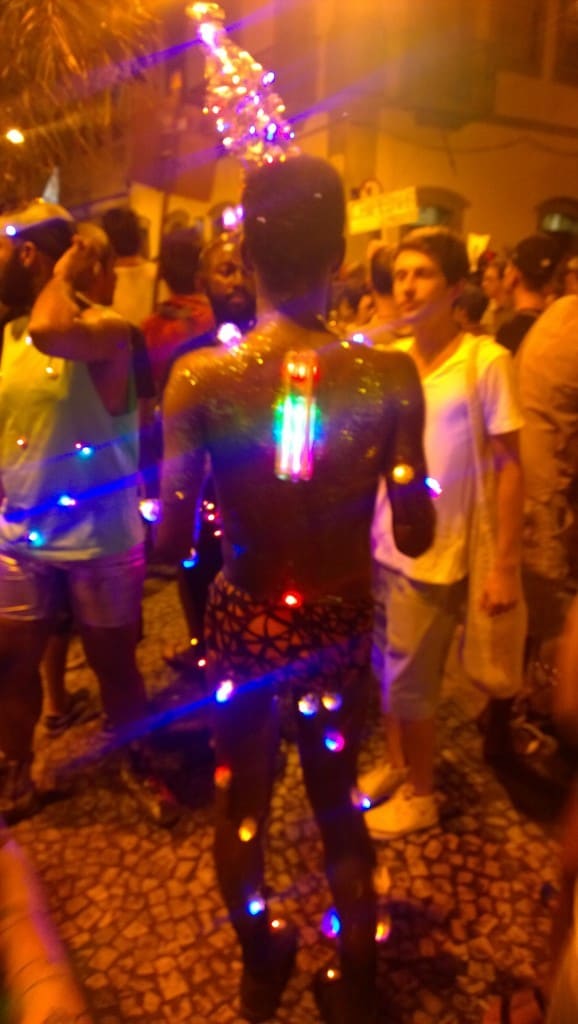 On a more serious note Carnival can also shine a light on the stark contrast between classes in this country, as while you have tens of thousands of people partying, you also have thousands working – lugging big boxes with ice or coolers selling water, beer, and soft drinks, giving a clear reminder that while distracted with the glitter and the feathers this is still partly a poor country, where the divide between rich and poor is significant.  Descending to Rio where the tourists are to make some money is imperative even if it means sleeping on the streets between one blocco and another.
If not working, this was the most important occasion on the Brazilian Calendar, families had scraped everything they had together to support their local samba group. Their loyalty and passion means there is a lot they are willing to go without in order to go.
But back to the parade ……
The actual sambadrome structure was designed by the Brazilian Architect modernist Oscar Niemeyer and inaugurated in 1984. In reality it now does look a bit dated – quite a concrete monstrosity really, but such a colourful spectacle does not need a glamorous back-drop – maybe that was always the intention after all, letting the show do the talking!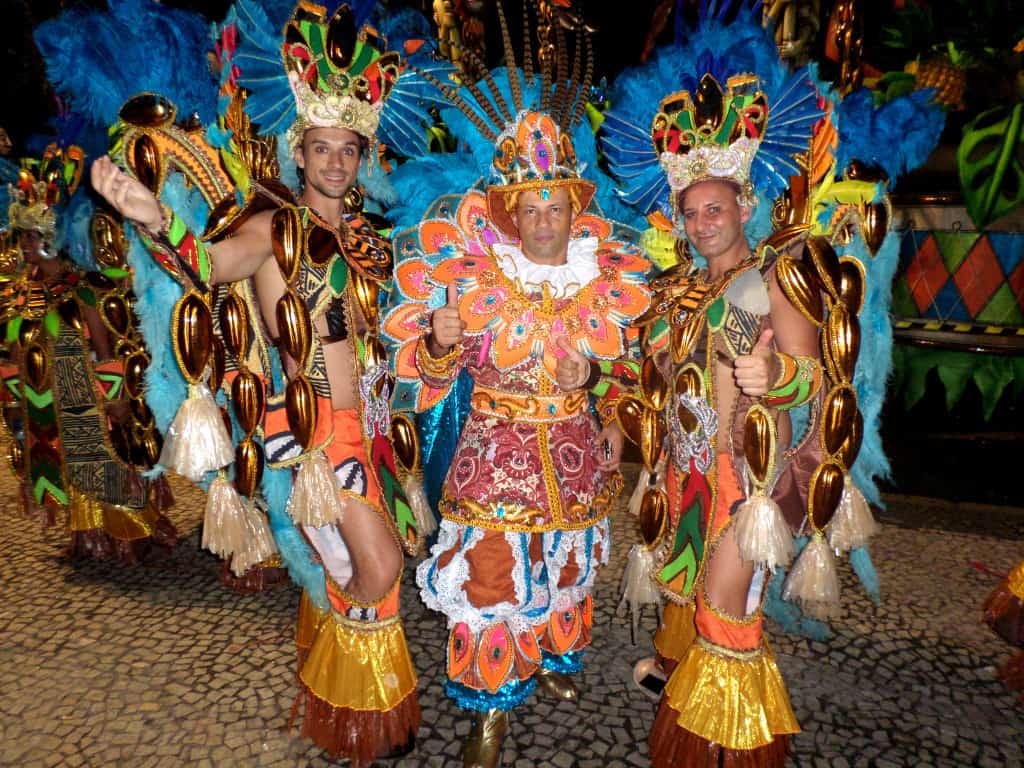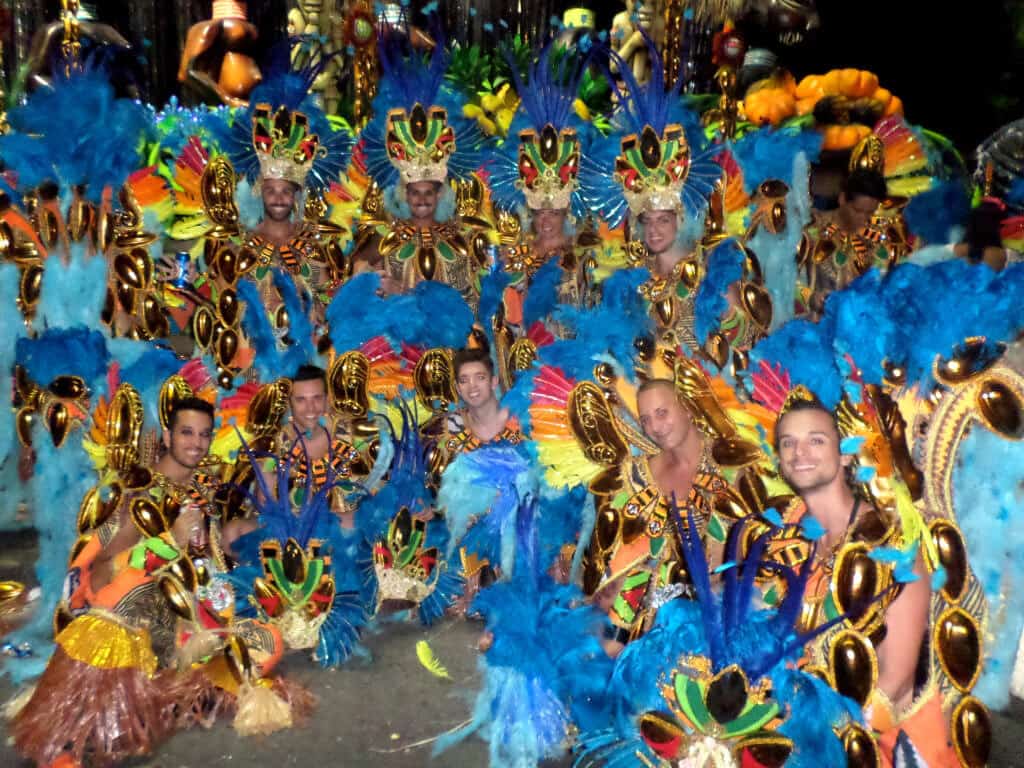 And there we were the 9 of us – taking on the greatest show on earth…. Lip-synching for our life giving it a shimmy and a twirl! – and we were definitely not the only foreigners – we bumped into people from all over the place Uk, France, Italy, other parts of South and North America even Russia!
But the professional dancers did not need to fear the foreign competition 😉
There is a certain level of hierarchy with each Samba school's show…. You had the people on the float who are pretty much the V.I.P's  you had the proper dancers at the front of the float making the whole spectacle look amazing… a mix of teachers and students  who can really move!
We were with the ones behind the float that look decidedly clumsier compared to the ones at the front – but looked like they were having one hell of a time!

This barrel of fun however does not come cheap – of course you have to order one of the costumes from the Samba school of your choice which is then made to measure by hand,  ready for your big day in Brazil! – do expect to part with a couple of hundreds of pounds – but hey, you are going to be in the biggest show on earth!! –  Tickets to the show especially on the final night (Premier league) are not cheap either – so our reasoning was:  'watch it or be a part of it?' – It was a no-brainer!
Amazingly,  Beija Flor (Humming bird),  the School we decided to dance for (I will use that term very loosely) also went on to win the competition –  that truly was the icing on the cake, or even better: 'the honey and nuts on your Acai!' – We were now officially Kings and Queens or Carnival!
About the author: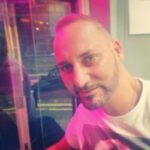 Val Mallia is a Hair Stylist and a DJ originally from Malta now residing in London,  with a flair for travel…. He keeps trying to reduce the countries on that bucket list,  but it just seems to be getting longer! You can listen to Val's podcast  here: www.ianvaler.podomatic.com
All images are by: Edgar Brambis book him for your next fashion shoot now.