We love slow travel. There is no better way to discover a place and it's people than by spending an extended amount of time in one place. However, for most of us that is not practical, what with work commitments, family time and following your local football team, time becomes a precious commodity. That's why we have started this new series where we highlight the erm, highlights of a particular place, things you can do in a day. Our first entry is Bucharest. Here's a list of the top things to do in Bucharest in one day.
Bucharest is big so its best if you start early. The metro system is reliable and cheap compared to other major cities so use it as much as possible to avoid the notorious Bucharest traffic.
Palace of Parliament Bucharest

Start off your day with a guided tour of the world's second largest building, the Palace of Parliament. (the Pentagon is the first). Normally I avoid guided tours but at the Palace of Parliament having a tour guide is the only way you can see this behemoth of a building.  My guide was very good. There were many facts that I would not have known about the building if he was not around.


Work on the Palace of Parliament began in 1984 and amazingly it is still incomplete even though there are 12 storeys, and 3,100 rooms! Built at the request of the last dictator, Ceausescu's project cost £3 billion at a time when Romania was going through financial turmoil. Thankfully the building did not become mothballed at the fall of Communism and is now used for many different purposes. You can even hire some rooms yourself. We imagine it would be a great place to play hide and seek. When you visit bring your passport as you will need it to purchase your ticket.


Bucharest old town

Bucharest Old Town is a pretty special place to wander around. We loved the cobbled streets and the cute store fronts. After walking around all 3,100 rooms of the Palace of Parliament you rightly deserve to have a break. We recommend having lunch at La Mama in Lipscani (The Old Town). They serve traditional Romanian fare at decent prices. Once you have finished lunch, explore the surrounding streets. I loved this area and gladly would have stayed all day if I could have.


The old town is full of shops, restaurants and bars so take your time on your wanderings. The national history museum is located in the area so if it's a rainy day you can head in there. Luckily when we were there the weather was sunny and warm so we just wandered the streets. Also look out for the beautiful churches that are dotted about.
Visit Herastrau Park


The northern part of Bucharest is where the city gets it's lungs. This is the area that is most leafy and green. If you have time and with weather permitting we really recommend you visiting Herastrau Park. It's a beautiful park with a huge lake in the centre. As this is the area where the wealthy live there are some very good high-end restaurants right next to the lake that cater for the locals. Once again, compared to western prices the restaurants are good value but if you only have one night we recommend you eat here…..
Have dinner at Caru' cu Bere

We are sending you back to the old town in the evening to have dinner at Caru' cu Bere restaurant. As this website is about memorable travels, Caru' cu Bere ticks all the boxes. Great food, great wine, beautiful building, live entertainment, oh and this could happen to you……………………….

We can honestly say that this has never happened to us in a restaurant before. One minute we are minding our own business, the next minute we are dressed up! It was certainly memorable!
Once you have finished your meal, the local area has plenty of bars to have a nightcap.
This concludes your one day in Bucharest. We hope you enjoyed your day.
Have you been to Bucharest or do you live there? Is there anywhere that our readers can't miss? Let us know in the comment section below. Thanks.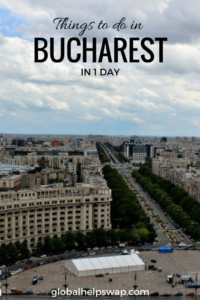 #LoveYourTravels