Welcome to our Volunteering in Malaysia page. Search for free and low-cost volunteering in Malaysia below.

---
How to find volunteering opportunities in Malaysia
You can access these opportunities in two ways.
Your first option is to buy our Directory of Volunteering opportunities which lists these opportunities in a PDF. This gives you a document that is easy to search, and which you can use even when you're not connected to the internet.
More importantly with the directory, you will also get a list of questions to ask to make sure you get the most out of your volunteering experience. We know how important it is to clarify expectations and to get a clear idea of what you're signing up for before you volunteer. I know that there are opportunities we signed up for that didn't end up being what we expected. A conversation with the hosts before we turned up would have helped us avoid a few uncomfortable situations. You can find our Directory of Volunteering opportunities abroad here.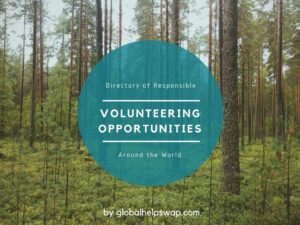 The second option is to look for the opportunities below.
We consistently add new volunteering opportunities to each country so do check in regularly to find some great responsible volunteering opportunities abroad. We would also love your help in keeping this list up to date and useful. If you know of any other places that should be featured, or maybe you've visited a place and would like to share your story, please get in touch.
We really hope this information helps you volunteer abroad in a way that makes your travels feel meaningful and memorable.
---
You can also read this article by the wonderful People and Places: Key questions and answers before you volunteer
---
Organisation: Langkawi Animal Shelter & Sanctuary Foundation
Location: Langkawi Island, Malaysia
Website: http://www.langkawilassie.org.my/
The Langkawi Animal Shelter and Sanctuary Foundation is set-up to receive, rehabilitate and care for animals that are neglected, abused and in need. They are always looking for passionate volunteers that have a real love for animals.
Langkawi Animal Shelter and Sanctuary Foundation (LASSie) currently houses neglected, abused and needy animals. We no longer run the trap, neuter and release programme and hence shifting our focus on the well being of our residents.
We are aided and supported by the beautiful Bon Ton and Temple Tree resorts with whom we are neighbors, as well as China House which brings food, arts and culture together in Penang. A visit to these establishments means more help for our furry friends at LASSie.
You can help us by volunteering in your free time, walking dogs, spending time with the cats, adapting your pets from us, donating toys, treats, medicine, building materials, food, and money.
Throughout the years, the LASSie clinic & shelter have seen numbers of passionate volunteer vets and volunteer helpers coming to Langkawi and dedicating their stay on the island to the welfare of our furry residents.
As the shelter is expanding and the number of animals to be treated and cared for is constantly increasing, we are more than ever in need of generous hands and feet to help us take care of the shelter and walk our friendly dogs. We welcome your application and are willing to help you make the best of your stay in Langkawi.
Please contact us to find out more.
---
Organisation: Turtle Watch Camp
Location: Batu Batu Pualu Tengah, Malaysia
Website: Turtle Watch Camp
Pulau Tengah has long been a safe haven for Hawksbill and Green turtles to land and lay their eggs. The initial development of the hatchery dates back to the spring of 2014 when dive instructors at the time were faced with the problem of poachers at the back of the island. When confronted face to face with poachers on turtle beach, they were left with the dilemma of relocating the eggs somewhere safer and more secure where the eggs could be guarded against human poachers and other predators such as monitor lizards, rats and wild boars. With this, came the collaboration with the Marine park and Batu Batu's conservation team to design and construct a turtle hatchery. February 2015, the hatchery was enlarged and the island's new dive instructors Adam & Carmen arrived and the name Turtle Watch Camp (TWC) was born.
Volunteers will assist the Project Coordinator in different aspects of research and conservation. Every day your duties will include monitoring nesting beaches either during the night or early in the morning. In the afternoon, other activities such as collecting data on the beach, preparing materials for research, helping with guest/tourist information and educational activities for kids or camp maintenance etc. will be carried out. To find out more, please visit our website above.
---
Organisation: Moonriver Lodge
Location: Kelantan, Malaysia
Website: Volunteer on a farm in Malaysia
In keeping with our tradition, we continue to accept volunteers or WWOOFers* at Moonriver Lodge. At Moonriver Lodge, volunteers are exposed to a wide variety of tasks and will learn new skills that they may never have explored  before. There is also an opportunity to learn more about hospitality and farming.
Volunteers will be expected to do a combination of lodge and farm work, depending on our current priority. Lodge work includes housekeeping, cleaning and assisting in preparing meals. Farm work includes sorting and packing vegetables, planting and maintaining plants. We may also decide to assign volunteers to a specific project if they have skills that are of interest to us. We look for volunteers who are independent, energetic, flexible and those who aren't afraid of hard or mundane work! As we are a bed and breakfast, volunteers must maintain cleanliness around the lodge at all times for the comfort of our guests. Volunteers will stay in our staff rooms at the lodge and may occasionally be required to share rooms with volunteers of same gender if we have more than one volunteer.
At Moonriver Lodge, we usually limit volunteers to stay a minimum of 7 days and a maximum of 10 days. If volunteers wish to extend their stay, we can review this at the end of their stay.
To find out more, please contact us.
---