Hello from the beautiful town of Pai in Northern Thailand!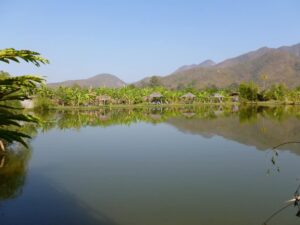 Yes, that's right we've left freezing London to thaw out in sunny Thailand. We've been here a week and we're still pinching ourselves.
So why are we here? Well at the end of our big trip we looked at our aspirations for 2012 (happy new year by the way) and the 3 big dreams we had for were
1. Launching this website,
2. Living a location independent lifestyle
3. England winning Euro 2012! (Okay this one was an impossibility but at least we did well in the London 2012 Olympic/Paralympic games!)
I am very happy indeed that we have managed to achieve the first 2 goals. So it's not all lazing in hammocks and sipping cocktails in Thailand. We're here to work and find some more amazing volunteering opportunities along the way. Not that I am complaining, especially with these views from my work desk in our £16 a night bungalow!
We will not be moving around as much, as our plan is to settle in one place and live like a local whilst we are here. Pai is an extremely strong contender but I think it will be sacrilege to be in Thailand and not visit the wonderful Andaman sea.
We've only been back in London (where we love living) for 10 months and here we are back on the road, which got me thinking..why do we love travel so much?
My favourite bit is the interaction with local people.  At home it is inevitable to get into a routine and rarely venture out of your comfort zone. Whereas when travelling even the simple task of eating becomes an adventure. In Bangkok we wanted to ask a street vendor if the green parcels he was grilling had chicken in them but he spoke no English. Five minutes of 'arm clucking' and 'pok pok pok's' later we were all laughing before we found out that no there was no chicken in the parcels. It's not quite the same in your local supermarket! Although our favourite experience in the capital was when we discovered the best Pad Thai in Bangkok.
I also love the "not knowing" aspect of travel. Yes, there are millions of web pages dedicated to every destination imaginable but because of that sheer number we tend not to bother or trust most of them. For example, the road to Pai is notoriously bendy, in fact it has 762 bends! Now if we looked at all the information on Pai and read all the horror stories about the road it may have put us off from coming here. In fact the road is perfectly smooth and very scenic. I just put my ipod on, zoned out and enjoyed the scenery  (although if you suffer from motion sickness take some pills before starting the journey). So sometimes it's better to just go and not know!
Being out of our comfort zone is very good for us. Who wants to live wrapped up in cotton wool? As Mark Twain famously said: "travel is fatal to prejudice, bigotry, and narrow-mindedness." It is so true. The more we interact with people from different cultures and backgrounds the more we understand each other. I could give you another million reasons on why we love travelling but I think these few capture the point.
We are starting to really enjoy Bangkok. It has been a long courtship but we are finally understanding each other. The few days we were there felt like we had arrived home. (Asia does that to us). We went to Taling Chan floating market for the first time which was fantastic. It's basically floating restaurants where you get amazing cooked fish, prawns and satay cooked from little boats attached to the jetty! Yum.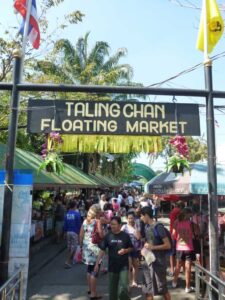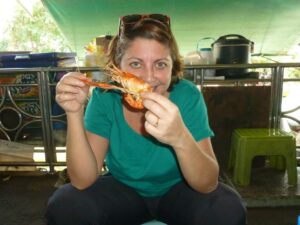 We also went to Chinatown for the first time which gave us mixed emotions. We loved the typical hustle and bustle of the place but we were very saddened to see so many places selling shark fin soup. It's a real sad state of affairs when we have so much food in the world that we have to kill an estimated 100 million sharks a year for this "delicacy". To help stop it please click on the link and sign up: Stop shark finning! 
On a brighter note we had the best Som tam salad ever from a street seller for 40p! I am addicted to that stuff.
Okay, that's us for now. Please feel free to leave comments and pass on our site to anyone you know.
Take care and love and peace as always!
Paul & Karen xxx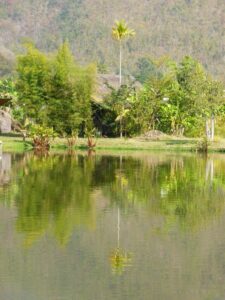 Related articles