Culinary Delights – Mongolia's mighty food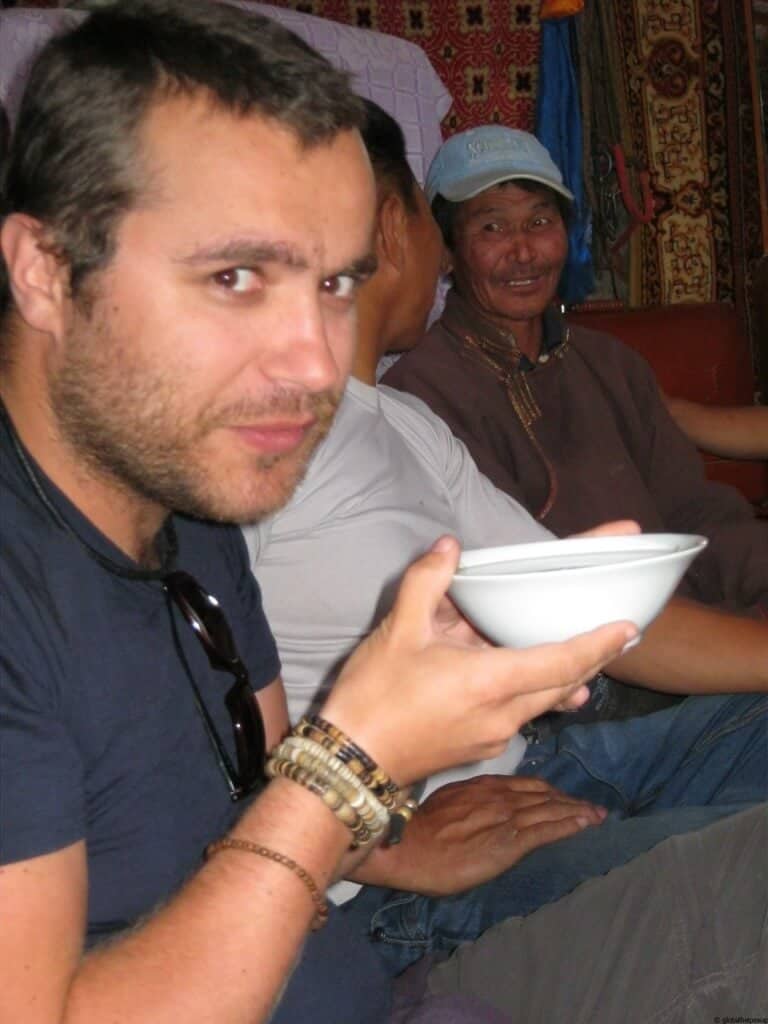 Mongolia is famed for many reasons and in up coming blogs you will see why we think it's one of the most the amazing places we have been to. It has many wonderful aspects, unfortunately food isn't one of them. Mainly treated as a source of fuel, typical Mongolian food aims to fatten you up rather than tantalize your taste buds. Vegetarians are duly warned that if they come to Mongolia sticks of carrot and a few potatoes will be their main source of nutrition. Whilst we'd normally steer well clear of the ever-present MacDonald's
unless we needed the loo or the internet, I think we would have greeted the familiar sight with some enthusiasm in Mongolia, but alas even MacD's has chosen to stay away. Nevertheless here are a few 'Mongolian delicacies' (an oxymoron as good as our Conservative Liberal Government) we came across.
Rating scale:
Taste: * Try a teeny weeny bit just so you can boast about it; ** Eat only when nothing else is on offer and your next meal is a day away *** How to lose friends and alienate people – offer them some of this; **** A real treat; ***** There's no such thing in Mongolia
Fear factor:  * Watching 'Scary Movie'; ** Watching 'I know what you did last Summer'  ***Watching 'Scream'; **** Watching 'The Ring (Japanese version), ***** Watching 'The Exorcist' followed by 'The Omen'.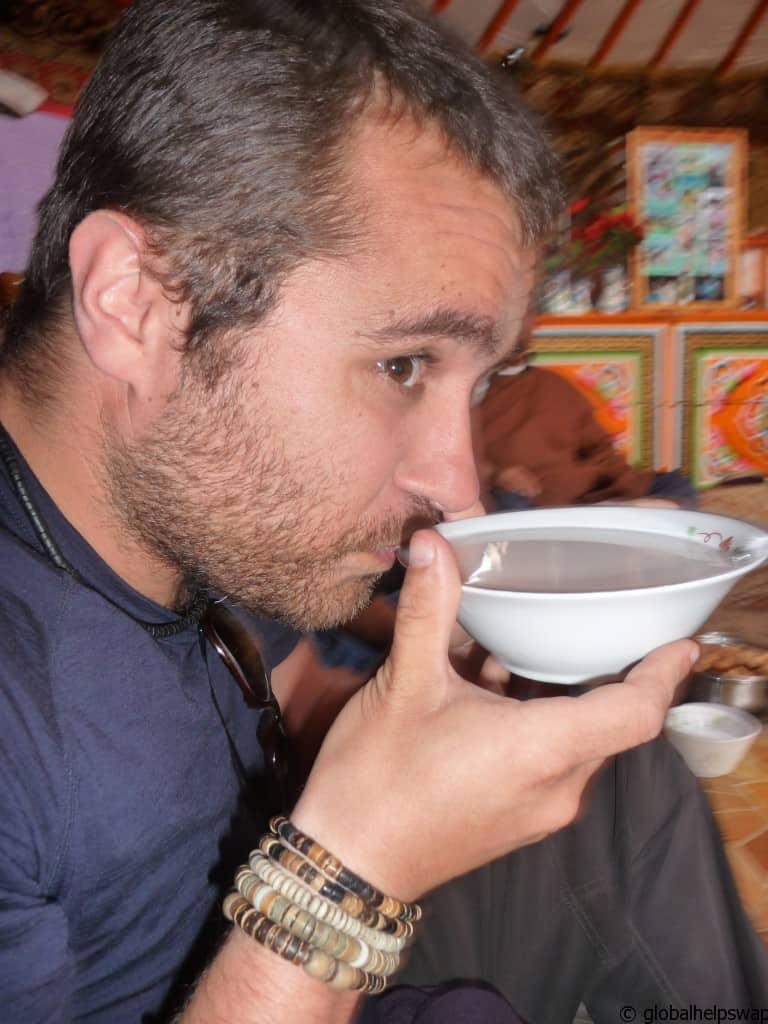 Aierag, (or Fermented Mare's milk to you and me)
This was our first foray into the world of Mongolian dairy products. As we were driving to the Gobi our driver took a detour to visit a family that had a huge herd of horses. As we entered the ger and sat down we were offered bowls of the mildly alcoholic mare's milk that they had fermenting in a plastic barrel.
My first whiff of it made my stomach do a little churn and I had to work hard not to grimace as I took a sip. For the Maltesers reading this, the milk tasted like melted, watery, old 'Gbejniet' and smelt like the really old Gozitan ones that you buy in glass jars. (Gbejniet are a Maltese type of goat's cheese that are sometimes dried for months and smell quite strong). Needless to say I wasn't interested in having more of the stuff and I craftily passed my bowl on to another guy before he got one of his own. Brrrrrr! Paul managed to drink the whole thing though which was quite impressive… or disturbing, depending on which way you look at it. On a more positive note Mongolians say that there is nothing healthier than Aierag to start the day with. Yes, probably because things can only get better after a bowl of the stuff.
Taste: 1
Fear factor: 4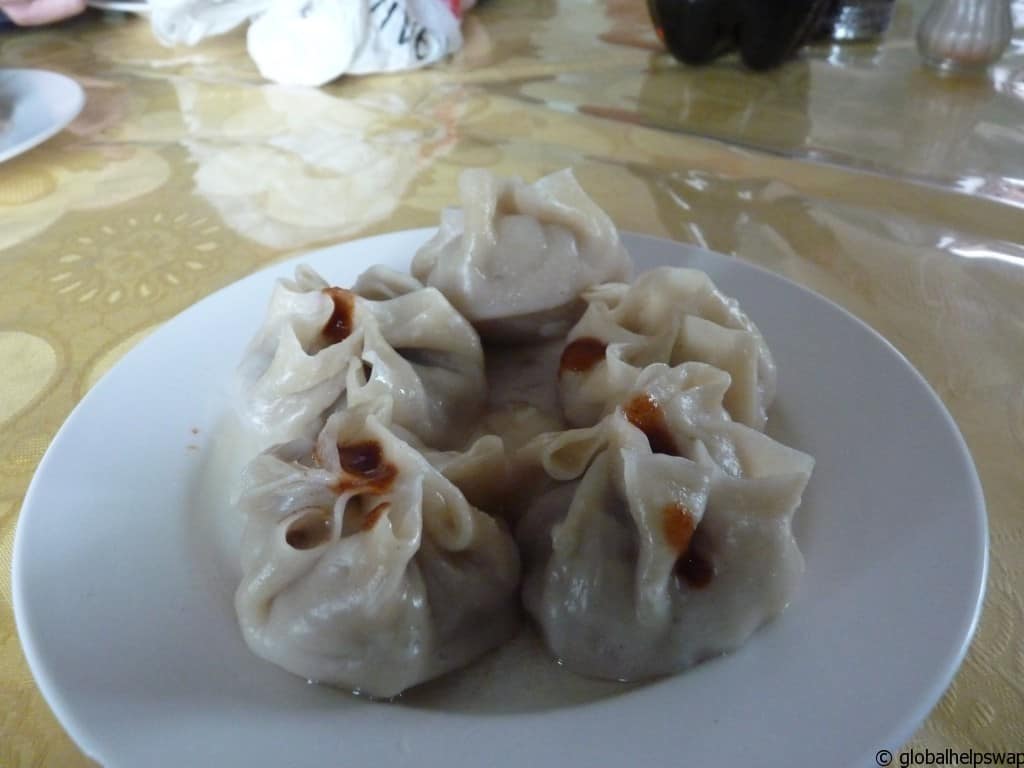 Buuz – Mongolian dumplings
Buuz is a very popular dish in Mongolia. In theory, these palm sized dumplings should be quite tasty. Parcels of dough containing meat and spices. When done well I'm sure they are just as good as any other dumpling. The problem with these though is that when eaten in tiny shacks in the middle of nowhere the quality tends to dip a little.
Most of the 'meat' is actually sheep or goat's fat and if you take too long to eat the things you will soon see a white layer of congealed fat on your plate…not very appetizing to say the least. Eating them every other day also doesn't help matters much. On the other hand they could potentially be a great weight loss aid. The thought of eating another Buuz often made me prefer to skip lunch entirely.
Taste: 2
Fear factor: 1
Dried stringy smoked cheese
We were offered some of this when we were invited into a ger by a group of Mongolians who were also enjoying a trip at Ogii lake. Inside their ger they had a huge pot with goat's innards cooking (luckily we got offered heart rather than intestine!). Next to the heart were thick noodle like strings of this cheese.
By this point (day 13 of our Gobi trip) we'd eaten so much bland food that anything remotely salty tasted like Nirvana. I loved the pungent cheese so much that I decided to go buy some when we got to UB. Bad move. This time it was Paul's turn to think I was weird. It seems that whilst I'd acquired the taste for it, everyone else hadn't. So when I'd offer some to a fellow traveler I'd be met with a polite but firm 'No thanks' as they backed away a little from the offending cheese. Hmmm, not a crowd pleaser I guess. I eventually had to admit defeat and chuck the offending cheese when we were on our train journey to Beijing. It stank to high heavens and our whole cabin reeked of the stuff. Not very nice, especially as we were sharing the cabin with another two people. By then even I couldn't bear the smell…oops.
Taste: 3
Fear factor : 2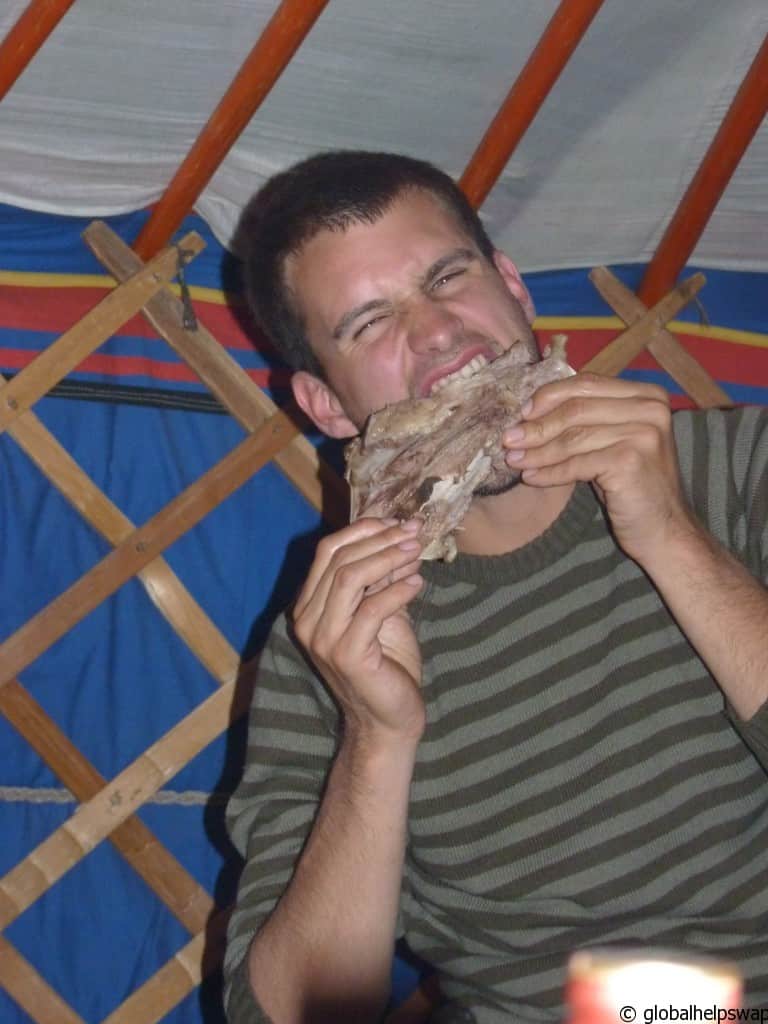 Khorhog
MMMMMMMMMM! Now we're talking! This is a true Mongolian specialty and one that we really enjoyed. Khorhog is made by getting huge chunks of meat from a goat or a sheep, mixing them with hand sized stones (yes stones, no misprint there), sealing them in a huge pan called a Khorhog, and letting the whole thing cook for a few hours.
Ok so no great culinary skill is involved but somehow the end result is delicious tender meat that tastes like heaven. (At least we thought it did after 10 days of eating tiny scraps of canned meat with overcooked noodles). It is served directly from the Khorhog and people just dig in with their hands. With it we had another pan of potatoes, carrots and cabbage which we also ate with our hands. The whole meal felt very medieval and added to the flavour. The photo here is of Simon attacking a huge bone with gusto!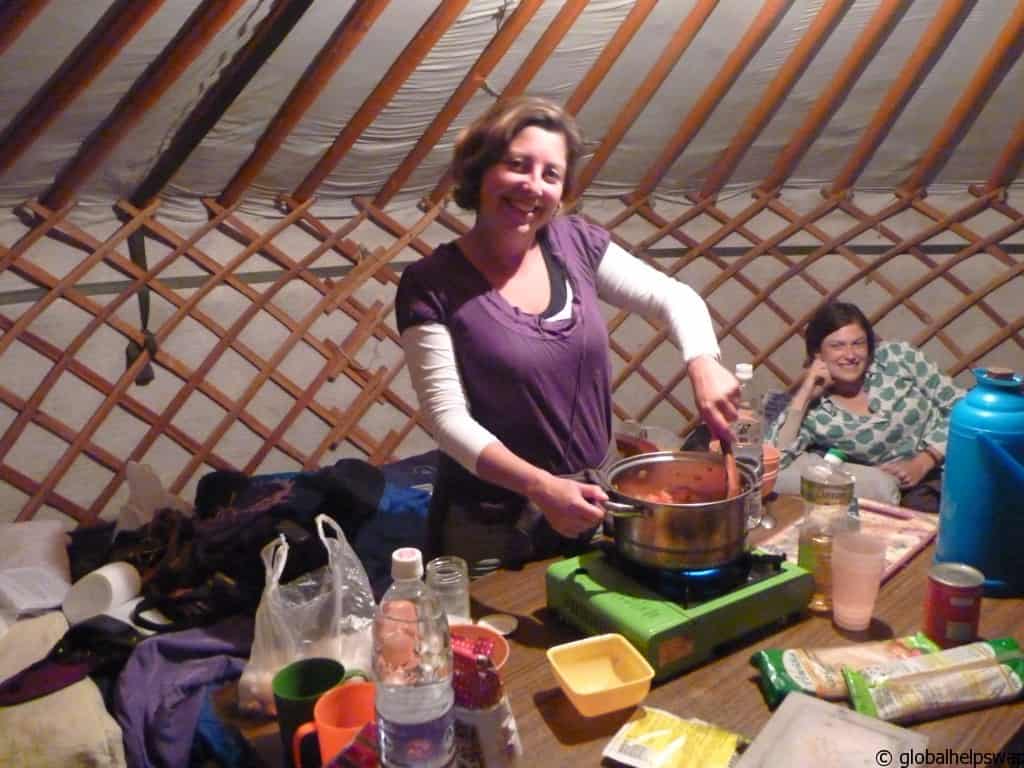 Karen cooking a much better meal in our ger
As we mentioned at the start of this blog, Mongolia is one of our most favourite places. You will see why in future posts.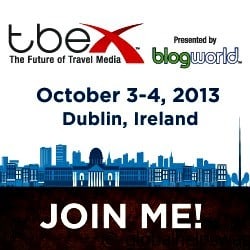 Which country's cuisine tested you to the limit? Please let us know in the comments section.
Have a great day!
Peace & Love,
Paul & Karen
globalhelpswap
help your way around the world
globalhelpswap helps travellers save thousands of dollars of volunteer agency fees by providing a free service for travellers & charities to connect. We rely on donations to keep the site running. Thank you for your support.
Related articles